Every Doctor Who actor ranked from worst to best
24 October 2022, 14:47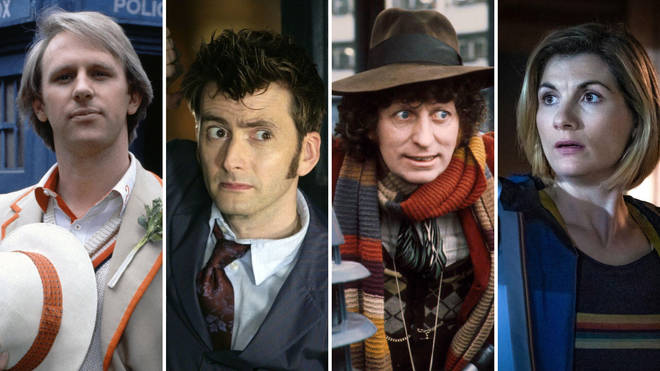 Doctor Who celebrates its 60th anniversary in 2023, and there's not any other show like it.
Throughout the decades, the long-running sci-fi TV series has seen many changes, in and out of the TARDIS.
Whether battling Daleks, Cybermen or Weeping Angels, The Doctor has been on hand to save the Earth using their timey-wimey skills.
But just who is the best Doctor of all time? We've ranked them in order of greatness in our own humble opinion, so let the debate begin!
We're only including 'proper' Doctors who had their own series, so honourable mentions go to John Hurt's War Doctor and Jo Martin's Fugitive Doctor, among others.
Colin Baker (Sixth Doctor)

Colin Baker in Doctor Who.

Picture: Alamy

We feel mean putting Colin last, but someone has to!

Poor Colin had to deal with various behind-the-scenes issues, poor writing in comparison to what came before and after, and dwindling viewing figures.

Saying that, he did put in some memorable performances, and kept the ship going in difficult times.

Sylvester McCoy (Seventh Doctor)

Sylvester McCoy as The Doctor.

Picture: Alamy

It was Sylvester's know-it-all take on the Doctor saw the series come to an end in 1989, with many viewers assuming it would be for good.

Viewing figures had dropped considerably during this period, but his Doctor still felt iconic enough to leave us wanting more eventually.

Paul McGann (Eighth Doctor)

Paul McGann as Doctor Who.

Picture: Alamy

We really wish Paul McGann had more chances to play The Doctor, as he only played him once in the 1996 TV movie.

The American-style attempt to bring Doctor Who back from the dead almost scuppered its resurrection for good, but McGann's performance was at least pretty darn good.

He gets extra points for his appearances in official audio dramas, plus special cameos including Jodie Whittaker's recent swansong.

Peter Davison (Fifth Doctor)

Peter Davison as The Doctor.

Picture: Alamy

Peter Davison brought a much younger and less eccentric version of The Doctor following Tom Baker's iconic tenure, as the show entered the 1980s.

While his version was relatively understated in comparison, Peter gave some charming performances and was the last truly great Doctor in the original run before it began running out of steam by the end of the decade.

Jodie Whittaker (Thirteenth Doctor)

Jodie Whittaker as The Doctor.

Picture: Alamy

Jodie Whittaker took on the challenge of being the first female Doctor brilliantly, and was one of the most likeable Doctors ever.

However, she was arguably hampered by relatively disappointing stories in comparison to the Doctors who came before her.

She played it as a friendly and loving Doctor, and one we may look back on years later as an underrated Time Lord.

William Hartnell (First Doctor)

William Hartnell as The Doctor.

Picture: Alamy

No one could have imagined where Doctor Who would have gone during the first few episodes of William Hartnell's stern and grandfatherly take on The Doctor.

But his performance was brilliant enough to keep the show going and not just end after one series, and he will always be beloved because of that.

Peter Capaldi (Twelth Doctor)

Peter Capaldi as The Doctor.

Picture: Alamy

Peter Capaldi brought a huge amount of gravitas to the role, and was a totally different iteration compared to Matt Smith before him.

His Doctor was cold and dark in comparison, and the show had a different tone because of it.

It might have put off some fans due to what came before, but his gruff nature was a unique take that had us rooting for him.

Jon Pertwee (Third Doctor)

Jon Pertwee as The Doctor.

Picture: Alamy

Jon Pertwee's Doctor brought some action to the series, and he didn't mind a scrap or two if he needed it.

He was the meat in the sandwich between Troughton and Baker's iconic yet totally different periods as the Time Lord, and saw the introduction of Sarah Jane, the Master and brought back the Daleks.

Christopher Eccleston (Ninth Doctor)

Christopher Eccleston as The Doctor.

Picture: Alamy

Christopher Eccleston might have raised eyebrows at the time of his appointment, and he may have only had one series, but he was the perfect person to bring the show back after so long in 2005.

His rather dour attitude was explained later due to his predecessor The War Doctor's actions, but his relatively short tenure helped bridge the gap before David Tennant took over.

Matt Smith (Eleventh Doctor)

Matt Smith as The Doctor.

Picture: Alamy

At the time, the main reaction by most to Matt Smith's appointment was: 'Who?'

Thankfully, the youngest-ever Doctor won a legion of fans thanks to his eccentric portrayal.

His era might have been aimed more at children compared to previous iterations, but his performance was always a joy to watch.

Patrick Troughton (Second Doctor)

Patrick Troughton as The Doctor.

Picture: Alamy

It's a shame that so many of Patrick Troughton's episodes are still lost, but that just goes to show just how good his tenure was that he's still thought of as one of the very best.

He was the first actor to get fans used to a new face playing the role, and even managed to surpass his predecessor.

Playing it with loveable whimsy was much-needed after Hartnell's stern take, and he was always going to be a tough act to follow.

David Tennant (Tenth and Fourteenth Doctor)

David Tennant as The Doctor.

Picture: BBC

David Tennant was so good as The Doctor, that he's the first to play it twice! In 2022, he shocked everyone by taking over from Jodie Whittaker's 13.

For those fans that watched from 2005 onwards, Tennant is the definitive Doctor that helped make the show a massive international success.

His eccentric and loveable nature also had moments of pathos and danger, including some of the show's best-ever episodes like 'Blink'. This was Doctor Who at its utter peak. It will be interesting to see how he fares in take two.

Tom Baker (Fourth Doctor)

Tom Baker as The Doctor.

Picture: Alamy

Chances are, when you think of Doctor Who, you picture Tom Baker and his iconic scarf. And that's why he's the greatest.

He was what made Doctor Who such a British institution and not just a decent but long-forgotten sci-fi TV show. He was the perfect mix of eccentricity and seriousness that made us get invested in the show all these years.

How long will it take before he gets a Knighthood?