12 blockbuster movies we can't wait to see in 2019
4 January 2019, 16:33 | Updated: 4 January 2019, 17:03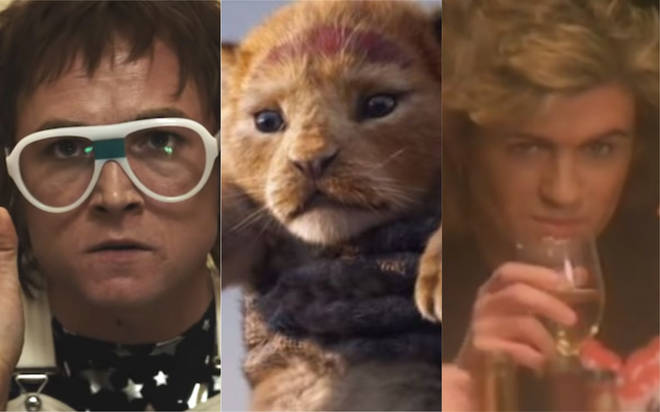 Disney remakes, massive sequels and musical biopics...
2018 was a great year for movies, from Bohemian Rhapsody to A Star is Born to Black Panther.
This year promises to be another fantastic year, as we've compiled a list of films you should definitely check out:
Dumbo

UK release date: March 29

One of three classic Disney animations getting a live action update in 2019, starting with this beloved tale of a cute elephant.

Colin Farrell, Michael Keaton and Danny DeVito also star in this heartwarming story, and you're bound to need some tissues for this one.

Avengers: Endgame

UK release date: April 26

It's all been heading to this point. Over 10 years of Marvel movies reach an incredible climax, as we finally found out what happened after Thanos snapped his fingers in Infinity War.

Not only that, but we also have Captain Marvel and the next Spider-Man to look forward to over the next 12 months. Marvel, you really are spoiling us.

Rocketman

UK release date: May 17

After the success of Bohemian Rhapsody follows another biopic about a music legend. This time, it's Sir Elton John's turn.

Taron Egerton stars (and sings) as Sir Elton in this origin story of how a talented songwriter became an international superstar.

Aladdin

UK release date: May 24

Another classic Disney movie getting an update, is this adaptation of the 1992 film of the same name, directed by Guy Ritchie.

Will Smith stars as the Genie, and we're ready to be transported into a whole new world once more.

Toy Story 4

UK release date: June 21

Woody, Buzz and the gang are back for a fourth instalment, nine years (yes nine) after their last cinematic outing.

This time, they embark on a road trip with friends old and new, alongside new owner Bonnie.

The Lion King

UK release date: July 19

The huge 1994 animated musical is getting a live action remake. Well, we say live action but it's essentially all CGI.

The trailer shows just how much it honours the original, and with the likes of Beyoncé and Donald Glover in the cast, it's bound to be emotional and nostalgic.

Downton Abbey

UK release date: September 13

It's time to take a trip back to Downton, several years after we thought we'd said goodbye for good.

Pretty much the entire cast is back, so it will be intriguing to see whether how it makes the transition to the big screen this autumn.

Last Christmas

UK release date: November 15

Yes, this is really happening. The Wham! classic is being transformed into a romantic comedy, starring Emilia Clarke.

Emma Thompson is also involved in this festive romcom, which is said to also feature unreleased material by the late George Michael.

Frozen 2

Picture: Disney

UK release date: November 27

Frozen became the highest-grossing animated movie ever when it was released in 2013, and so it's only to be expected that a sequel is on the way.

We'll reunite with Anna, Elsa and the gang, and hope there's at least one song that's as catchy as 'Let It Go'.

Star Wars Episode IX

Picture: Disney

UK release date: December 19

The third and final instalment of the Star Wars sequel trilogy will be unleashed just in time for Christmas.

No doubt this won't be the last Star Wars adventure we'll see in the near future, but it's still bound to be an explosive finale.

Cats

Andrew Lloyd Webber. Picture: Getty

UK release date: December 20

The classic and hugely popular Andrew Lloyd Webber musical Cats is finally getting a big screen adaptation, and the cast list alone is amazing.

Judi Dench, Idris Elba, James Corden, Ian McKellen and Taylor Swift are just a few big stars who will take on the iconic West End musical.

Little Women

Meryl Streep. Picture: Getty

UK release date: December

The eighth adaptation of the classic novel by Louisa May Alcott is coming this year, starring Meryl Streep, Emma Watson and Saoirse Ronan among others.

The film will apparently jump back and forth in time, making it a totally new way of telling the famous story.