Dame Julie Andrews facts: Actor's age, children, husbands and career revealed
21 September 2021, 15:06 | Updated: 30 November 2022, 13:28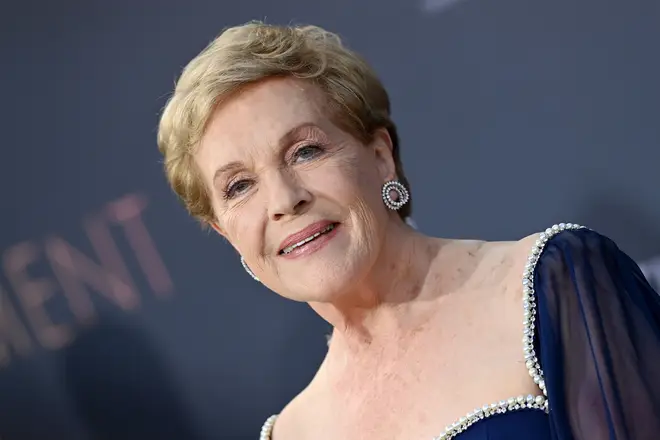 Dame Julie Andrews is one of Britain's most beloved performers and has had several iconic roles in theatre, film and television.
Known for her memorable performances as Mary Poppins and Maria in The Sound of Music; Julie Andrews is one the most well known actresses of all time.
Here's everything you need to know about Julie Andrews' career and personal life.
Who is Julie Andrews?

Dame Julie Andrews facts: age, children, husbands and career revealed.

Picture: Alamy

Julie Andrews is an actress, singer, performer and author who has starred in major roles for over half a century.

Julie had a number of leading roles in her early career including Eliza Doolittle in the My Fair Lady musical production in 1956 and Cinderella in the Cinderella TV movie in 1957.

In 1964, Julie landed the unforgettable role of British nanny Mary Poppins in the original Disney movie Mary Poppins. The following year saw Julie star in the leading role of Maria in the 1965 movie The Sound of Music.

These two roles established Julie and she went on to win multiple awards for both roles.

Dame Julie Andrews facts: age, children, husbands and career revealed.

Picture: Getty

Julie continued to work in roles across theatre, television and film, and went on to have a number of memorable roles in movies throughout the 2000s.

In 2001, Julie played the role of Queen Clarisse Renaldi alongside Anne Hathaway in The Princess Diaries and also appeared in the franchise's second movie in 2004.

In 2003, Andrews returned to Disney to play the role of Nanny in Eloise at the Plaza and Eloise at Christmastime.

Julie also voiced characters in the Shrek and Despicable Me franchises.

How old is Julie Andrews?

Julie Andrews was born on October 1, 1935 and will soon celebrate her 86th birthday.

She was born in Walton-on-Thames, Surrey in England. Her full name at birth was Julia Elizabeth Wells.

Did Julie Andrews ever get married?

Julie Andrews and husband Blake Edwards in London in 1973.

Picture: Getty

Julie Andrews has been married twice and her first marriage was to set designer Tony Walton. Julie and Tony got married in 1959 and had one child together in 1962, however, they divorced a few years later in 1967.

Julie's second marriage took place in 1969 to director Blake Edwards, and the pair remained together until Blake's death in 2010. Blake directed a number of iconic movies including Breakfast at Tiffany's and The Pink Panther. Julie and Blake worked together on the 1982 film Victor/Victoria.

How many children does Julie Andrews have?

Julie Andrews and daughter Emma Walton Hamilton in New York in 2010.

Picture: Getty

Julie Andrews has five children from her two marriages and her first child is Emma Walton Hamilton. Emma is Julie's only biological child and is from her first marriage to Tony Walton.

When Julie married Blake she became the stepmother to Blake's children from his first marriage – a girl named Jennifer Edwards and a boy named Geoffrey Edwards. In the 1970s, Julie and Blake adopted two more daughters named Amy and Joanna.

In addition to being a mother of five children, Julie is also grandmother to nine and great-grandmother to three.

Was Julie Andrews in Bridgerton?

Yes, Julie Andrews was in the popular 2020 Netflix series Bridgerton. Julie didn't appear on screen in the first season but she voiced the role of Lady Whistledown.