Morecambe and Wise's greatest ever moments and sketches
23 December 2021, 12:31 | Updated: 11 September 2023, 14:48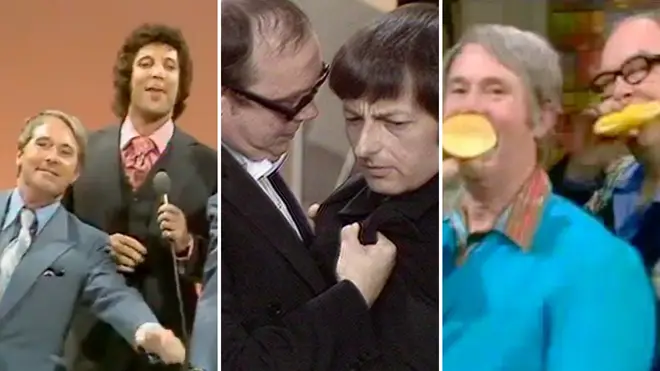 Christmas isn't Christmas until you've sat around the TV and watched some of the finest Morecambe & Wise clips from back in the day.
Along with The Two Ronnies, Eric Morecambe and Ernie Wise were two of the nation's best-loved entertainers and comedians.
Their Christmas specials in the 1970s are still among the most-watched shows in British TV history, and they still make us laugh out loud decades later.
To celebrate the discovery of a 'lost' Morecambe & Wise episode, here are just some of their best ever moments:
Breakfast Time

Classic Comedy Morecambe and Wise

So simple, but so, so funny.

Eric and Ernie prepare breakfast to the tune and timing of 'The Stripper'. Now, where are those oranges?

Singin' in the Rain

Singing in the Rain Routine

Morecambe & Wise take on Gene Kelly with this unforgettable sketch, as Eric totally drenched while Ernie leaves the scene as dry as a bone.

Backing up for Tom Jones

"What's your name?" "Tom".

Try not to laugh as the boys back Sir Tom up with their "yeah yeah yeah"'s.

"I'm playing all the right notes..."

Andre Previn: Playing All the Right Notes! A tribute from the Morecambe and Wise Christmas Show 1971

Possibly their most famous sketch of all time. Eric takes on legendary conductor Andre Previn (not Andrew Preview as he keeps calling him), but is he playing all the right notes?

Bring Me Sunshine

Tv Theme Morecambe And Wise End Credits

Not so much a sketch, but their signature sign-off tune. It's impossible not to smile when they sing it together.

Angela Rippon and "PEANUTS!"

Angela Rippon with Morecambe & Wise.

Picture: BBC

Nowadays, we're used to seeing newsreaders getting up to all sorts at every charity telethon going - but back in the 1970s, seeing Angela Rippon jump from over her desk was truly surprising.

Sadly there's no footage on YouTube, but you've all seen it, right?

Shirley Bassey's stagehands

Shirley Bassey has a tough time performing her number when the incompetent Eric & Ernie try and fix things. Mind that boot!