Pierce Brosnan facts: James Bond actor's age, wife, children and movies revealed
17 May 2023, 16:40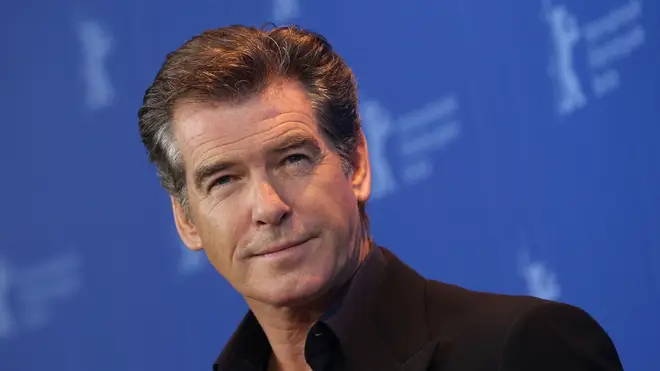 Pierce Brosnan is one of Ireland's greatest-ever actors.
The beloved actor is one of only a handful of stars to play James Bond, having starred in four 007 films from 1995's GoldenEye to 2002's Die Another Day.
Pierce Brosnan also appeared in the Bond films Tomorrow Never Dies and The World Is Not Enough, and played the title role in Remington Steele from 1982 to 1987.
He first trained in commercial illustration, before attending the Drama Centre in London for three years. After a stage acting career, he first appeared on film in 1980's The Long Good Friday opposite Bob Hoskins.
He found fame on TV before appearing in the Cold War spy film The Fourth Protocol in 1987.
Pierce's other famous roles include The Lawnmower Man, Mrs Doubtfire, Mars Attacks!, Dante's Peak, Robinson Crusoe, The Thomas Crown Affair, The Matador, Mamma Mia (and its sequel), The Ghost Writer, Percy Jackson, Eurovision: The Story of Fire Saga, and Black Adam.
He has received two Golden Globe Award nominations, for the miniseries Nancy Astor (1982) and for the comedy film The Matador (2005).
Pierce is also known for his charitable work and environmental activism, and in 1997 he received a star on the Hollywood Walk of Fame.
How old is Pierce Brosnan and where was he born?

Pierce Brosnan in 1988. Picture: Getty

Full name Pierce Brendan Brosnan, he was born on May 16, 1953. He celebrated his 70th birthday in 2023.

He was born in Drogheda, County Louth, and was the only child of parents May (née Smith) and carpenter Thomas Brosnan.

He has the same name as his grandfather, Pierce Brosnan, who was named after his parents' surnames: John Brosnan and Margaret Pierce.

Pierce's father abandoned the family when he was a young child. When he was four years old, his mother moved to London to work as a nurse. He was mostly brought up by his maternal grandparents, Philip and Kathleen Smith.

After their deaths, he lived with his aunt and then his uncle, but was eventually sent to live in a boarding house run by a woman named Eileen.

He later said: "Childhood was fairly solitary. I never knew my father. He left when I was an infant. To be Irish Catholic in the 1950s, and have a marriage which was not there, a father who was not there... the mother, the wife suffered greatly.

"My mother was very courageous. She took the bold steps to go away and be a nurse in England. Basically wanting a better life for her and myself. My mother came home once a year, twice a year."

When filming an episode of Remington Steele in Ireland, he met his father. He said he expected to see a "very tall man" but instead described his father as "a man of medium stature, pushed-back silver hair, flinty eyes, and a twizzled jaw" who "had a very strong Kerry accent".

Pierce spoke of his regret at meeting under such public circumstances, and wished for a more private arrangement.

Who is Pierce Brosnan's wife and how many kids does he have?

Pierce Brosnan with first wife Cassandra Harris and their kids Charlotte and Christopher in 1985. Picture: Getty

Pierce Brosnan has been married twice, and was widowed once.

He met Australian actress Cassandra Harris through her stepson David Harris, the nephew of actor Richard Harris, shortly after leaving drama school.

"What a beautiful looking woman," he said of Cassandra. "I never for an instant thought she was someone I'd spend 17 years of my life with. I didn't think of wooing her, or attempting to woo her; I just wanted to enjoy her beauty and who she was."

They married in December 1980, and had one son together, actor Sean, who was born in 1983.

Pierce with son Sean Brosnan in 2015. Picture: Getty

He also adopted Cassandra's children Charlotte (1971–2013) and Chris in 1986.

In 1987, Cassandra Harris became seriously ill with ovarian cancer, and died on December 28, 1991, aged 43.

Pierce said of her death: "When your partner gets cancer, then life changes. Your timetable and reference for your normal routines and the way you view life, all this changes. Because you're dealing with death.

You're dealing with the possibility of death and dying. And it was that way through the chemotherapy, through the first-look operation, the second look, the third look, the fourth look, the fifth look.

"Cassie was very positive about life. I mean, she had the most amazing energy and outlook on life. It was and is a terrible loss, and I see it reflected, from time to time, in my children."

In 1994, Pierce met American journalist Keely Shaye Smith in Mexico.

They married in 2001 in Ireland, and they have two sons together named Dylan and Paris.

Pierce and wife Keely in 1996. Picture: Getty

Pierce and Keely in 2017. Picture: Getty

Pierce with wife Keely and sons Dylan and Paris. Picture: Getty

When and how did Pierce Brosnan land the James Bond role?

Pierce Brosnan was first linked to James Bond in the mid-1980s, thanks to his impressive appearance in Remington Steele.

He first met James Bond film producer Albert R Broccoli on the sets of For Your Eyes Only, as Pierce's first wife, Cassandra Harris, had been cast in the film.

Broccoli said, "if he can act ... he's my guy" to get the role of Bond from Roger Moore.

Pierce Brosnan through the years 📆 #Shorts #PierceBrosnan

In 1986, US TV network NBC cancelled Remington Steele. Pierce was offered the role of James Bond, but this publicity improved Remington Steele's ratings and it was renewed, contractually keeping Pierce in the show.

This meant that Bond producers had to look elsewhere, and went to Timothy Dalton.

Legal disputes between Bond producers and studio Eon over distribution rights resulted in the cancellation of a third Dalton film in 1991.

After being on hold for years, Dalton didn't return, and in 1994 Pierce was announced as the fifth actor to play Bond.