Strictly Come Dancing 2021: Nina Wadia's age, partner, children, height, career and more facts revealed
4 September 2021, 16:55 | Updated: 5 September 2021, 14:19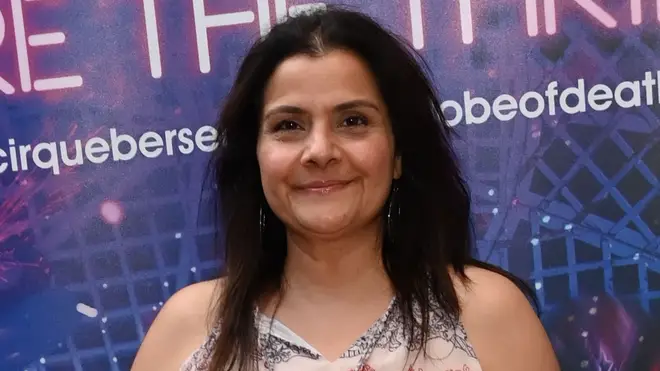 Strictly Come Dancing is returning to our screens later this year and there's a new line-up of all-star contestants. So, who is Nina Wadia OBE?
Strictly Come Dancing is making its way back to Saturday nights for its 19th season and is expected to air in autumn 2021.
Nina Wadia OBE has been confirmed as a contestant for this year's dance show. Here's everything you need to know about the former Eastenders actress.
Who is Nina Wadia?

Nina Wadia OBE is a well-known actress who has had a number of noteworthy roles. Nadia played the role of Zainab Masood in EastEnders. She also had roles in sketch show Goodness Gracious Me and the Open All Hours spin-off Still Open All Hours.

Nina has also starred in well-known theatre production The Vagina Monologue and also recently appeared in the live-action film remake of Aladdin.

With Nina's signature sense of humour, she joked about how she might be able to win Strictly Come Dancing 2021 with the right strategy.

"I've always danced like nobody's watching, so if we blindfold the judges I could actually win Strictly 2021," Nina said while speaking to the show.

How old is Nina Wadia?

Nina Wadia was born on December 18 1968 and turned 52-years-old in 2020.

According to IMDB, Nina was born in Mumbai, India.

Is Nina Wadia married and does she have children?

Strictly Come Dancing 2021: Nina Wadia's age, partner, children, height, career and more facts revealed.

Picture: Getty

Nina Wadia is married to producer and composer Raiomond Mirza. According to IMDB, he has worked on projects including Four, Manorama: Six Feet Under and Vincent.

The couple are thought to have got married in 1998 and have two children together - their daughter is named Tia Nina and their son is named Aidan.

How tall is Nina Wadia?

Nina Wadia is thought to stand at around 5 foot 2 (158cm).