Brit Awards: Remembering Mick Fleetwood and Sam Fox's dreadful hosting gig in 1989
8 February 2022, 13:30 | Updated: 16 August 2023, 16:38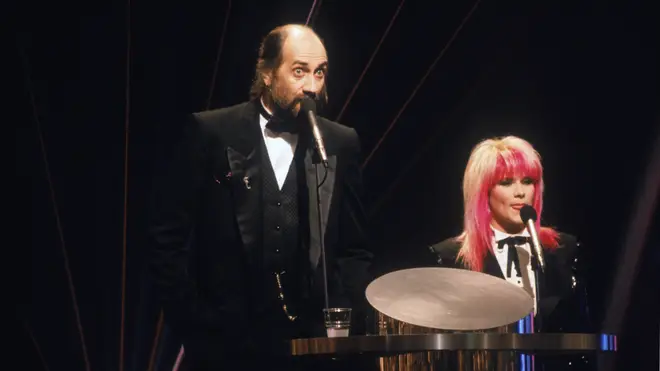 The Brit Awards returns tonight (May 11), with the biggest artists celebrating the very best of music in 2021.
Jack Whitehall will be the host of this year's event for the third year in a row, with the likes of Rag'n'Bone Man, P!nk and The Weeknd performing.
While the Brits may seem slick and well-polished today (and some might say it has suffered because of it), this wasn't always the case.
Flashback 32-years ago to 1989, and TV viewers were shocked to see a ramshackle of an awards show, hosted by – of all people – Mick Fleetwood and model Samantha Fox.
The night was hilariously bad, and comes across like some kind of comedy spoof than an actual awards ceremony.
1989 Brit Awards: What happened?

Embarrassing 80's - Brit Awards 1989

For some strange reason, the Brits decided to give the hosting gig to two very much non-presenters in the form of Fleetwood Mac drummer Mick Fleetwood and model/singer Sam Fox.

Back then, the awards were hosted live on TV, and it was a night filled with stuck autocues and a screaming mob of 'Brosettes' (that's fans of band Bros, in case you weren't aware) that drowned out the rest of the night.

It also didn't help that Fleetwood's 6'5" height and Fox's 5'1" didn't exactly look great on camera (there's a reason Ant & Dec work so well), let alone their lack of presenting skills.

Guests appeared at the wrong time, the wrong winners were announced (long before the La La Land fiasco), and Michael Jackson's acceptance tape was forgotten. Sam Fox tried to rescue the night with plenty of "Woo woo!"'s, but it didn't help.

What happened next?

Because of this one night, the Brit Awards were pre-recorded for the next 18 years.

They are now broadcast live again, but the days of a shambolic night with a Fleetwood/Fox-style presenting duo are long gone.

It would be like if Howard Donald from Take That hosted with Katie Price. We'd pay good money to see that.

Sam Fox later said: "I was only 19 and I had presenting experience, but if they wanted me to be quirky and fun, they should have put me with an experienced presenter.

"When everything started going wrong I just wanted the floor to swallow me up. Mick is a genius, but I'd look to him for help and he'd just look at me with that big vacant face; the lights were on but nobody was home.

"Anyway, I did my best with what I had, and that's all you can do when things go tits up. I'm presenting an award this year, and I know I'm going to have that horrible feeling again. But this time I'm determined to enjoy it."