90-year-old D-Day veteran beats Ed Sheeran to number one with incredible ballad - video
5 June 2019, 15:33 | Updated: 5 June 2019, 16:34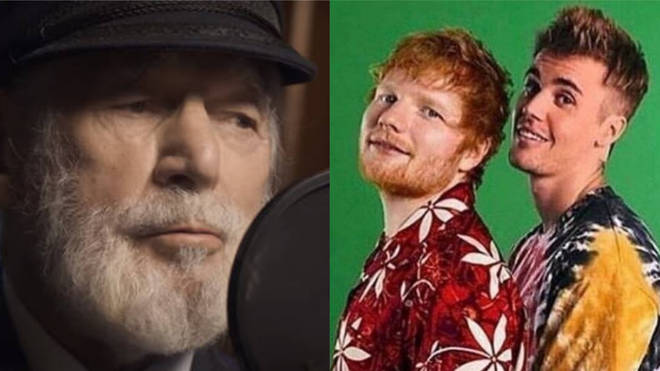 A 90-year-old Normandy veteran has released a moving folk ballad, and he's only gone and reached number one in Amazon's music chart.
Jim Radford, who is the youngest known D-Day veteran, has released a haunting ballad titled 'The Shores of Normandy' for the 75th anniversary of D-Day.
His new version of the song, which was released last week, has moved ahead of Ed Sheeran and Justin Bieber's current number one song 'I Don't Care' in the Amazon music chart.
The ballad was inspired by his experience of working on a ship back on June 6, 1944. The song's lyrics are about men who "stormed the gates of hell" and "died upon that blood-soaked sand".
Watch the video for the song below:
Profits from the song will go towards the creation of the British Normandy Memorial, which will note the names of the 22,442 men and women serving under British command who died in the Battle of Normandy.
The monument will be presented tomorrow (June 6) by Theresa May and French President, Emmanuel Macron.
Jim said of his chart success: "I'm delighted. I never in my wildest dreams thought I would be No. 1 in any list. The more copies we sell, the more money we raise to build this memorial.
"We want people to remember all those good men. They deserve to be honoured and remembered. The thing that I remember most is seeing [the bodies of] those lads floating in the water – the ones who had to run up the beaches into the machine gun fire and never made it. I can still see their faces now."
JIm was born in Hull and now lives in Lewisham, and he served as a galley boy with the Merchant Navy on the Empire Larch, aged just 15.
Speaking on the HMS Belfast on the River Thames to launch special single, Jim described his role on D-Day as the "most dangerous job".
"I didn't go back to Allamanches until about 1960, and I didn't expect to be moved," he told the BBC.
"But when I did go back and stood on the beach that I'd last seen covered in bodies, and saw children building sandcastles, I wept. And that's when I decided to write the song."
Britain's Got Talent next year, Jim?