Mariah Carey gets thawed out in festive video as she declares the start of Christmas
1 November 2023, 12:10 | Updated: 1 November 2023, 15:20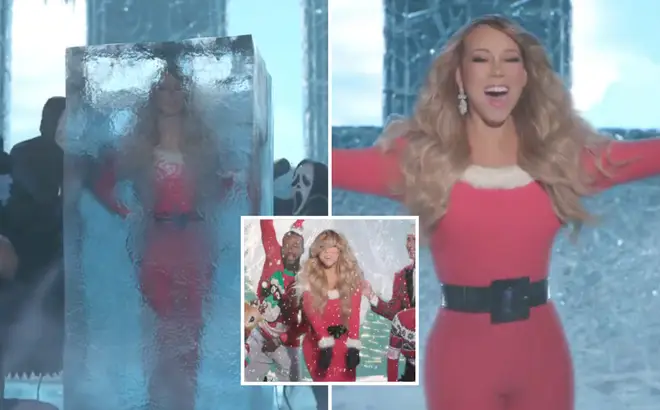 "It's time!"
As soon as the clock struck midnight on 1st November, when Halloween was officially over, it could only mean one thing.
Christmas is the next major celebration on the annual calendar, and Mariah Carey is getting warmed up for the occasion, quite literally.
Though the continuous playing of Mariah's perennial Christmas favourite 'All I Want For Christmas Is You' won't be music to everybody's ears this early in the year, she doesn't care.
In a light-hearted video clip, there's a clock counting down the minutes until the 1st of November above a vault in a wall made of stone.
As soon as the clock strikes, the vault purses open to reveal 'Queen Of Christmas' (a non-trademarked nickname) Mariah encased in a block of ice with ghoulish minions defrosting her.
Aiming their hairdryers in her direction, the ice finally cracks open to reveal Mariah ready as ever to burst into her iconic Christmas hit.
It's falling snow, twinkling decorations, Christmas bells and dancing to 'All I Want For Christmas Is You' from then onwards as she fires the gun on the 2023 festive season.
If there's anybody fitting to declare the start of Christmas, it's surely Mariah, as she's now become synonymous with 25th December and the build-up.
Ever since her Christmas song was released in 1994, it's become a modern standard for festive hits.
Though it took Mariah and 'All I Want For Christmas Is You' a quarter of a century to get officially recognised as the yuletide smash it truly is.
Re-entering the charts on an annual basis, the song eventually reached number one of the US Rolling Stone chart in 2019.
Mariah Carey - All I Want For Christmas Is You (Official Video)
Mariah has definitely leaned into her Christmas credentials in recent years, even revamping her classic Christmas song with an updated music video called the 'Make My Wish Come True Edition'.
Because of her continued dominance of the airwaves in December, she's even got in on the joke herself, posting memes about her counting down the days till the festive season.
The singer is even embarking on a Christmas-themed tour this month, called the Merry Christmas One And All! Tour, which starts in California on 15th November and ends at Madison Square Garden in New York City on 17th December.
Despite her attempts at owning Christmas all to herself, her efforts to trademark the moniker as the 'Queen Of Christmas' failed last year, as it was disputed by fellow festive music singers Darlene Love and Elizabeth Chan.
Meanwhile, fellow Christmas icon Michael Bublé has also been defrosted in a totally separate festive promo released on the same day.