The Queen tells off Princess Anne for not shaking Trump's hand in hilarious video
4 December 2019, 11:38 | Updated: 4 December 2019, 11:49
It's not often we get to see the Royal Family having an awkward moment on camera (recent TV interviews aside), but we were treated to a fantastic incident last night.
Princess Anne and the Queen were caught on video having a mother and daughter fallout in front of Donald and Melania Trump.
The video shows the Queen shaking hands with Donald Trump and the First Lady at a reception at Buckingham Palace on Tuesday (December 3), while the Princess Royal appeared off to the side.
While the Queen appeared to be peeved that her daughter was not standing in line to welcome the President, the 93-year-old monarch turns towards Anne and gestured for her to come over.
In response, Princess Anne hilariously shrugged, as if to say 'why?'. Watch the moment in full above.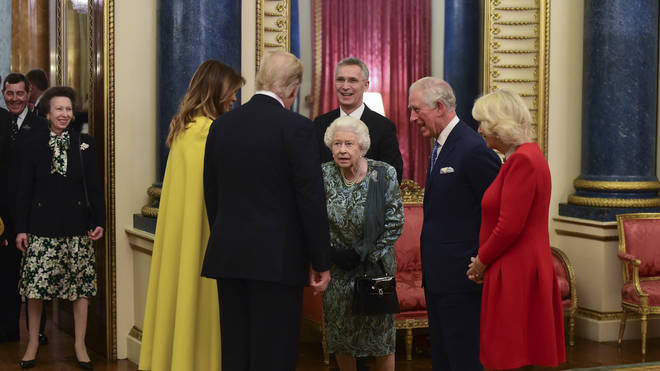 The moment has now gone viral, with many people on social media praising Princess Anne for refusing to speak to Trump. One fan wrote: "Princess Anne is the Queen of Shade. She is all of us." "All hail Princess Anne," said another.
Princess Anne was also seen speaking with other Nato leaders Justin Trudeau, Boris Johnson and Emmanuel Macron. The leaders are meeting at a hotel near Watford later today (Decmeber 4).