Who is Meghan Markle's half sister Samantha Markle and what has she said about the Duchess of Sussex?
11 April 2019, 15:24 | Updated: 11 April 2019, 15:56
The Duchess of Sussex's half-sister, Samantha Markle - also known as Samantha Grant - is a vocal member of Meghan's family who lives in Florida. The daughter of Thomas Markle has caused widespread controversy since her sister's engagement to Prince Harry.
Samantha Markle has become infamous across the world due to her outspoken and unpredictable outbursts to the press regarding her half-sister Meghan Markle.
The mental health worker from Belleview, Florida has sat down to do numerous TV interviews since her half-sister became engaged to Prince Harry, including calling Meghan a "narcissist" and "selfish."
So just who is Samantha Grant and what has she claimed about her half-sister? Read on to find out...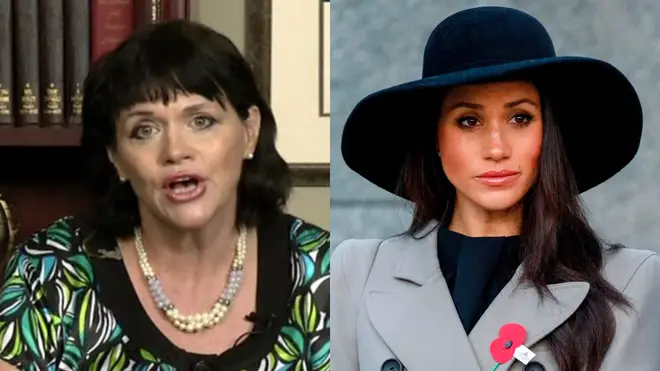 Who is Samantha Markle?
Samantha Markle - born Yvonne Markle in November 1964 who until recently called herself Samantha Grant - is the paternal half-sister of Meghan Markle.
Samantha, 55, who has been divorced twice, lives in Belleville, Florida with her partner Mark Phillips and is confined to a wheelchair after being diagnosed with multiple sclerosis in 2008.
Grant - who has started referring to herself as Samantha Markle in the last year - has previously worked as a mental health worker, has three children and is estranged from her mother and brother.
How are Meghan Markle and Samantha Markle related?
Samntha Markle and Meghan Markle, the Duchess of Sussex are half-sisters.
Both women share father Thomas Markle, however Samantha's mother is Roslyn Markle and Meghan's is Doria Ragland.
Thomas Markle married Roslyn Roslyn Loveless in 1964 after meeting at a party in Chicago. They have two children, Thomas Markle Jr, 53, and Samantha Markle, and divorced in 1975.
Thomas went on to marry Meghan's mother Doria Ragland in 1979 and had their only child together, Rachel Meghan Markle - now the Duchess of Sussex - on August 4, 1981.
Timeline: What has Samantha Markle said about Meghan Markle?
Where do we start?
Samantha has been very vocal about her half-sister Meghan Markle since rumours started that Prince Harry was dating the American actress and was speaking out about her half-sister a full year before the couple became engaged.
Writing on Twitter she said: "The Royal Family would be appalled by what she's done to her own family. The truth would kill her relationship with Prince Harry, he wouldn't want to date her anymore because it puts her in a bad public light."
Speaking to The Sun in November 2016, Samantha claimed: "Hollywood has changed her," she said. "I think her ambition is to become a princess."
In January 2017, when Meghan travelled to India with World Vision Canada, Samantha reportedly slammed her half-sister on Twitter: "When people are starving or dying of thirst, it is an insult to use one's voice—exploitation. Go to the desert with a truck full of water when people are dying and offer them your voice."
When question about her reaction, Samantha followed up: "She is the one with the hardened heart. I've always been supportive of her but I won't enable the lies and hypocrisy."
Tonight, our exclusive interview with Meghan Markle's sister. Reporter Lauren Golman sits down with Samantha Markle in her rural Florida home, in an unmissable story on A Current Affair. Join us at 7.00pm on Channel 9. #9ACA pic.twitter.com/6w7yYvpog4

— A Current Affair (@ACurrentAffair9) February 4, 2018
In March 2017, Samantha tweeted that Meghan: "Ignored a sister in a wheelchair because it is an embarrassment to her." and for the first time discussed her tell-all book: "Excited about my book 'The Diary of Princess Pushy's Sister.'"
Expanding on her book, Samantha spoke to The Daily Star in April 2017 saying: "My book deals with my bi-racial family in a candid, warm, personal and socially important way. 
"Maybe when Meghan is more mature and reads the book she'll understand. Some of it she won't like, some of it she might."
In December 2017, after Prince Harry referred to the royal family as "the family that I suppose [Meghan's] never had" Samantha took to twitter to have her say.
"Actually she has a large family who were always there with her and for her. Our household was very normal and when dad and Doria divorced, we all made it so it was like she had two houses.
"No one was estranged, she was just too busy. Read my book complete with facts and photos," she wrote.
In April 2017 Samantha took to Twitter once again to announce that none of her family members had been invited to the royal wedding.
"The Markle family is looking forward to our wedding invites. No-one has one yet," she said. "Still waiting. I hope London is wheelchair friendly. Excited!"
She then became more heated: "Smoke and mirrors cannot hide the elephant in the room. Out of respect, tradition and humanitarianism, the #Markles should be invited if 2,000 complete strangers are invited.
"Our uncle who got her the internship, brother, me, best friend of 30 years Nikki Priddy, nephews. Fact."
In May 2018, days before the royal wedding, Samantha took the blame for the supposedly staged photos her father Thomas Markle took with the paparazzi: "The bad press over my father doing staged photos is my fault. The media was unfairly making him look bad so I suggested he do positive photos for his benefit and the benefit of the royal family," she tweeted. "We had no idea he would be taken advantage of. It was not for money."
It was during this time that Samantha, who is estranged from half-sister Meghan, changed her tune on when the pair last spoke, from 2008 to as recently as 2015.
Speaking to TMZ in May 2018, Samantha said she would not stop talking about Meghan: "There's something in this country known as free speech," she told the outlet. "[Meghan] doesn't have a copyright on that and she's not going to tell me that I can't speak my own life or my father's where it's a matter of public self defence because the media is disparaging us."
In the days after the royal wedding, Samantha spoke to The Sun with highly charged words regarding the royal family's treatment of her father Thomas Markle: "The royals had generations of scandal in their own family.
"You've got inbreeding, you've got substance abuse, you've got alcohol abuse, you've got infidelity. On what grounds could the royals feel that the Markles are somehow not worthy? That's the pot calling the kettle black."
Samantha Markle Slams Meghan Markle In New TLC Special | Access
In July 2018, Samantha took to Twitter declaring that Harry should have chosen his ex-girlfriend over Meghan: "She is much more like Diana. That's who Harry should have married," going on to controversially say: "How about you pay tribute to your own father?! Enough is enough. Act like a humanitarian act like a woman! If our father dies I'm holding you responsible, Meg!"
In September 2018, Samantha - who had by now employed a publicist, Rob Cooper - came to London in an attempt to confront Meghan.
Her new publicist tweeted: "After making numerous attempts in private to arrange a one on one meeting with The Duchess of Sussex to discuss their 74 year old father's health, Kensington Palace have refused to respond.
"I fear Meghan may not be made aware of these discreet attempts and therefore making this public is the only option we have left. I currently have Samantha in Europe with just one short flight away. This DOESN'T need to be public, we would prefer to keep this private. Samantha is coming to the UK this week, like it or not." 
"I think you should be with your dad, not coming over to STALK your sister."

Our caller laid into Samantha Markle this morning, who says people have the wrong idea about her because of the media. But what did you make of this morning's interview?@TheJeremyVine | #jeremyvine pic.twitter.com/8mhPurrmKw

— Jeremy Vine On 5 (@JeremyVineOn5) October 1, 2018
In October 2018, Samantha was back in London on the Jeremy Vine show where she proceeded to apologise to Meghan:
Addressed her half-sister directly: "I think everybody was hurt not being included or invited to the wedding, but I felt as though it could have all been nipped in the bud had everyone been included, and we all just agreed to move forward with positive resolve.
"The hurt feelings wouldn't have snowballed, but believe it or not, it doesn't mean that we love you any less, I just think that families can be this way when there's confusion and people are hurt. So moving forward, I apologise and wish things could be different."
Yet days later was pictured being turned away from Kensington Palace when she tried to deliver a letter to her estranged sister.
Upon returning to her home in Ocala, Florida, she sat down for an interview with DailyMailTV to talk about her palace visit: "I was not turned away from Kensington Palace. I'm pretty composed. I'm pretty mature.
"For all the PR and the public to say I was 'demanding' to see my sister? First of all, I'm not that tacky and rude—and I wouldn't just show up," she said, adding that she's: "not the kind of person that's turned away" from places.
When Meghan's pregnancy was announced, Samantha once again sat down to talk to DailyMailTV saying: "Everybody just needs to shut the heck up and let this be a great thing for them, for the world, for the family and that's where I'm at. It's so important that everybody put their egos aside.
Samantha Markle speaks out after being turned away at palace
"Meghan's done some things with my dad, but in my heart, I love her and I want her and the baby to do well. I was kind of overwhelmed with emotion [when I heard] and I just thought, I'm letting everything go. It's beautiful and I'm so excited for Harry too."
But Meghan's half sister once again backtracked on her kind words on October 24, taking to Twitter after Meghan's speech at University of the South Pacific on Fiji: "Our father paid for all of her education! This speech is not true," she tweeted.
"Stop the enabling!" Do not ever reward a lie it does not matter how fluffy it is! It is wrong and there is no force on the planet that will take this away from my father. She should inspire women with the truth and with gratitude! Roll [sic] model thankfullness and truth, not lies."
Whatever will Samantha say next? Stay tuned for more updates.