Ed Sheeran joins forces with Luke Combs for stunning version of 'Life Goes On'
12 May 2023, 11:52 | Updated: 8 November 2023, 18:16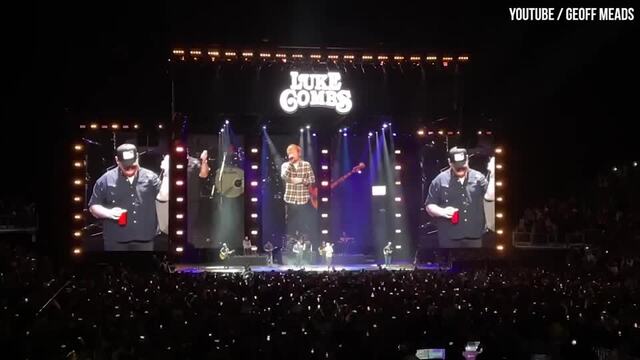 Luke Combs and Ed Sheeran perform together in London
Ed Sheeran ponders a move into country after his remarkable performance at the ACM Awards.
Ed Sheeran is known for his genre-hopping, mashing up indie guitar, pop balladry, quirky loops, and a touch of hip hop and grime.
And last night (May 11) at the ACM Awards at The Ford Center in Frisco, Texas, he made a leap into country music with a remarkable duet with Luke Combs.
The two superstars joined forces on a revamped version of new single 'Life Goes On', with Combs singing lead vocals on the second verse.
The original version of the track, written in memory of Ed's friend Jamal Edwards who died last year, appears on Ed's sixth studio album – (subtract), which was released earlier this month.
It's not the first time the duo have performed together, with Ed bringing Luke out on stage in London to sing ÷ (Divide) track 'Dive' with him earlier this year.
Ed Sheeran - Life Goes On ft. Luke Combs (Live at the 58th ACM Awards)
Asked by ACM Awards host Garth Brooks how the duet came together, Ed revealed that they've been friends now for quite a while.
"We met, like 2018," Ed said. "I heard Luke's music through a friend, and then I posted something online and we sort of got in touch and performed together.
"And, yeah. We've just been friends for like five years now. So it's been great."
Ed Sheeran - Life Goes On (feat. Luke Combs) [Official Visualiser]
Fans of the hook-up and Ed's change in direction will be delighted to hear that it might not be a one-off.
"I talk about this to my wife all the time," Ed told Billboard. "I would love to transition into country. I love the culture of it, I just love the songwriting. It's just like brilliant songs."
"I'd never really listened to country music as a kid growing up. It was only being on Taylor [Swift]'s Red tour and living in Nashville and her basically introducing me to that side of it."