Elton John and David Furnish mourn the loss of their dog Marilyn
10 March 2023, 10:09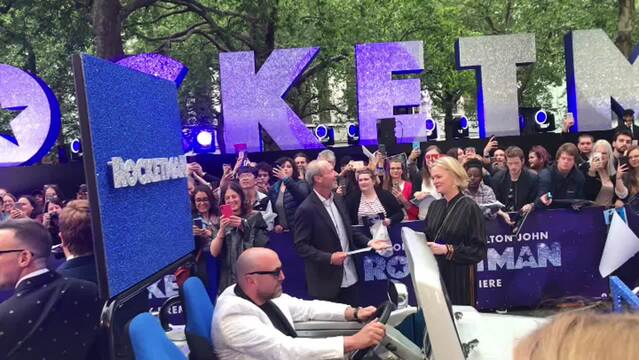 Elton John and David Furnish arrive at Rocketman premiere on a jeep
"She gave our family an abundance of joy and love."
Elton John and his husband David Furnish have bid farewell to their beloved dog Marilyn.
David posted an adorable photograph on Instagram an shared a touching tribute to her yesterday (March 9).
"A heartbreakingly sad farewell to our beautiful and gorgeous Marilyn, just shy of her 18th birthday 🙏🏻❤️" said David.
"She gave our family an abundance of joy and love. Marilyn joined the Furnish-Johns as companion to Elton's beloved cocker spaniel Arthur.
"Together they travelled the world with us - from backstage at Caesar's Palace to the gondolas of Venice. Life was never, ever dull with them charging around."
He added: Marilyn was like a sentry posted at the door when both Zachary and Elijah first came home from the hospital. Instinctively she knew about the importance of their arrival, and lay directly under their prams keeping vigil.
"Occasionally, she'd pop her head up over the edge to check on their well-being, with her tail wagging away madly. Nobody, and I mean NOBODY who wasn't a part of the family got near those boys. She was a fiercely loyal and protective mother.
"She's back together with Arthur now, charging around in doggie heaven and chasing rabbits. A dear friend once remarked 'A dog is the only love you can buy' and the love we got back from Marilyn was bountiful and immeasurable."
Arthur was given to Elton on his 56th birthday and was often spotted at showbiz events and red carpets.
He passed away in March 2018, with Elton announcing the sad news on stage during a show in Las Vegas and dedicating 'Don't Let The Sun Go Down On You'.
Elton and David Furnish married in 2014 after spending nine years in a civil partnership together. They have been a couple since way back in 1993.
Their first son Zachary was born on Christmas Day in 2010 via surrogacy, with his younger brother Elijah being born on January 11, 2013 to the same surrogate mother.