Who is Ray Williams? Meet the producer who discovered Elton John
24 May 2019, 09:47 | Updated: 24 May 2019, 09:51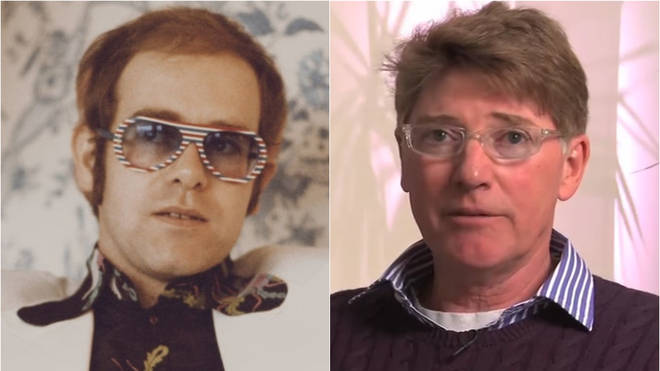 Ray Williams is credited as the man who discovered Elton John before he became an international superstar.
The music producer will be an important character in the Elton musical biopic Rocketman, but how did he discover Elton and how long did he manage him for?
Here's all the important facts you need to know:
Who is Ray Williams?

Ray Williams is an A&R music producer and publisher.

He is best known as the man who discovered Elton John, and introduced him to lyricist Bernie Taupin.

Williams has since been a major figure in the music and film industry ever since, and has worked as as a press agent, A&R head, artist manager, film music producer, and publisher.

In film, he was the music supervisor of films such as The Last Emperor, Absolute Beginners and Naked Lunch.

In the 1960s, Williams started his career by working with Cathy McGowan, who presented Ready Steady Go!

He also worked as a press agent for several artists such as Sonny & Cher, Cream, Robert Stigwood, and for Brian Epstein's Saville Theatre. He eventually became head of the A&R department for Liberty Records, where he signed then-new artists such as Jeff Lynne (ELO), The Bonzo Dog Doo-Dah Band and Mike Batt, among others.

He also helped launch the career of Gerry Rafferty and his band Stealers Wheel.

How did he discover Elton John?

Elton and Bernie in 1971. Picture: Getty

On June 17, 1967, when Ray was just 20, he put an advert into the New Musical Express, reading: "Liberty wants talent. Artists/composers/singers/musicians to form a new group."

After thousands of applications, Elton came along going by his real name Reg Dwight.

Ray later described Elton as "a bit fat, a bit forlorn-looking" when he walked into his office.

Ray told the Daily Mail: "Elton came along. I always remember a sentence that he used: 'I feel lost'. He just didn't know what to do. He was frustrated very much by the fact he was only a backing singer and a piano player.

"I had a piano in my office and asked him to go and play. He had a great voice and he was a great piano player but he couldn't write, he had no ability to write lyrics."

Ray then encouraged Elton to record a demo, but was unable to persuade his record label to sign him. He then gave Elton some lyrics that he had received from another applicant, a poet from Lincolnshire called Bernie Taupin.

He said: "I can recall his letter saying 'I'm essentially a poet, but I think my lyrics could work with music'. So I sent back a note saying come and meet me. In the meantime we had made some demos with Elton and then I gave Elton his lyrics, they were just abstract and I didn't quite understand them but Bernie had something."

Bernie then went to London where Ray set up a meeting for him with Elton.

The rest is history...

Did Elton and Ray fall out?

Ray managed Elton for five albums before moving on to other artists, and was replaced by John Reid.

Ray claims he was unceremoniously dumped by Elton, and was paid off to leave by publisher Dick James.

He said: "I tried to call Elton and of course there was a smokescreen of getting through to him. I think Dick did the dirty and Elton just avoided the issue because he had other stuff on, and that's been the same thing all his life, he's been able to avoid quite a lot of stuff."

Ray was later asked to help Elton in 1982 when the singer fell out with James and sued him for royalties and copyright.

Byt the 1990s, their friendship had petered out again, and they hardly saw each other for years.

In 2011, Ray read an interview Elton gave to Rolling Stone, where Ray was referred to as "a guy" that handed him an unopened envelope of Bernie's songs.

Ray wrote to Elton, before getting a negative response from Elton's lawyer and manager Frank Presland: "Frank sent me a very rude condescending letter.

"It basically said, 'really Ray you had very little to do with Elton, it was a serendipitous moment, a happy thing, and we're very sorry you've had no success in your career'. It was such an arrogant letter."

That was apparently the last time Ray has heard from Elton, who is also the godfather to Ray's daughter Amoreena.

Where is Ray Williams now?

Williams runs his own music publishing and production company, Crumbs Music, based in Raleigh, North Carolina.

He also continues to sign new artists and composers.

Who plays Ray Williams in Rocketman?

Picture: Getty

Ray Williams will be portrayed by Charlie Rowe in the Elton John movie Rocketman.

Charlie joins the all-star cast of Taron Egerton, The Bodyguard's Richard Madden and Billy Elliotactor Jamie Bell.

His first TV role was at 10-years-old on BBC's children's TV show Jackanory's Muddle Earth.

Charlie went on to play Billy Costa in film The Golden Compass in 2007, was in Never Let Me Go with Carey Mulligan and Keira Knightley in 2010 and as Peter Pan in Sky's production of Neverland.

Charlie's biggest stage role came was he was just 16-years-old and was cast as the youngest ever lead in a production at the Old Vic theatre.

The title role was in Terence Rattigan's The Winslow Boy where the youngster played Ronnie Wimslow who was expelled from naval college after being accused of stealing a postal order.

In 2018, Charlie made his period drama debut playing George Osborne in Vanity Fair - a seven episode drama based on the 1848 novel by William Makepeace Thackeray - starring opposite Olivia Colman.