Who is John Reid? Queen and Elton John manager in Bohemian Rhapsody and Rocketman
17 February 2022, 12:09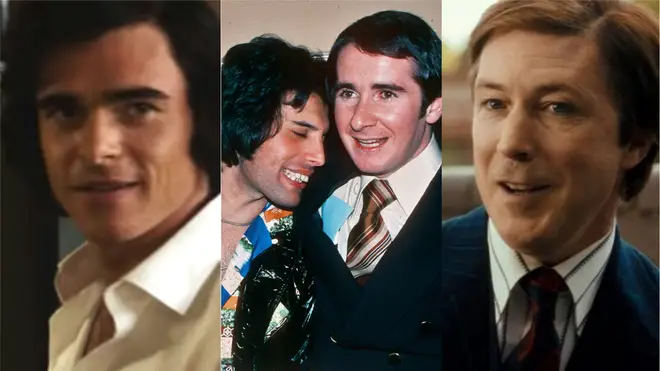 John Reid was one of the historical figures depicted in the 2018 hit film Bohemian Rhapsody, and he's making a return in Rocketman.
Aidan Gillen played John Reid in the Freddie Mercury biopic, and he also appeared as a character in the Elton John movie Rocketman, played by Bodyguard's Richard Madden.
But who is John Reid and what is he famous for? Here are all the important facts:
Who is John Reid and who did he manage?

John Reid and Brian May in 2013. Picture: Getty

John Reid is a retired music manager.

He started his career in 1967 at the age of 18, as a promoter for EMI.

At 19, he became the Tamla Motown label manager for the UK. In 1971, he set up his own company with a few hundred pounds in savings and a £5,000 loan.

He was the manager of Elton John from the 1970s until 1998, and he also managed Queen from 1975 to 1978.

In 1994, he was the manager for Riverdance star Michael Flatley. After Flatley left Riverdance and ended his relationship with Reid, Flatley paid Reid approximately £1 million to settle a wrongful termination lawsuit.

Reid retired from management in 1999. In 2005, he was a judge on the Australian version of The X Factor.

Was he Elton John's lover and when did they fall out?

Elton John And John Reid in 1988. Picture: Getty

Reid met Elton John, then known as Reg Dwight, at a Motown Christmas party.

They later moved in with each other and became lovers, while Elton became Reid's first client.

Their personal relationship ended after five years, but he remained Elton's manager until 1998.

In Rocketman, Reid is painted as something of a villain in Elton's life, treating him poorly and even hitting him on at least one occasion.

In recent years, their professional relationship ended over a leaked letter from Elton's accountants, which detailed Reid's spending, which was found by Benjamin Pell and published in the Daily Mirror.

This led to legal action in 2000, with Reid settling out of court by paying Elton £3.4 million.

Elton and his mother Sheila also fell out after a "petty" argument in 2008, after Elton asked her to cut ties with John Reid.

How old is John Reid?

John Reid was born on September 9, 1949. He celebrated his 72nd birthday in 2021.

He was born in Paisley, Renfrewshire, Scotland, and was the son of John Reid, a welder, and Betty, a shop worker.

He attended St Mirin's Academy, where he was a fellow pupil of singers Gerry Rafferty and Joe Egan.