Famously private Freddie Mercury sings in the bath as he larks around in adorable home video
28 October 2022, 14:55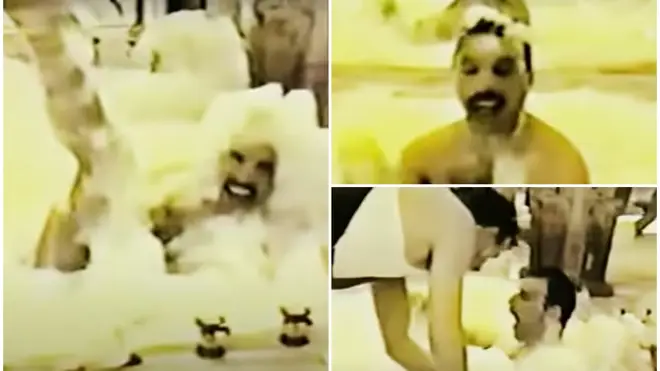 Footage of Freddie Mercury singing Marilyn Monroe's 'I Just Wanna Be Loved By You' and larking about in a bubble-bath is the best thing you'll see all day.
Queen's Freddie Mercury was notoriously private, living much of his life behind the high walls of his sanctuary; the star's London home, Garden Lodge.
The singer spent many of his favourite years living in the Kensington mansion, firstly with his ex-fiancé and best friend Mary Austin and in later years with his partner Jim Hutton and Freddie's loyal personal assistant, Peter 'Phoebe' Freestone.
The large Georgian home was not only the star's favourite place to relax and unwind away from the world's prying eyes, but also where Freddie decided to spend his last days before he died on November 24, 1991, when he was just 45-years-old.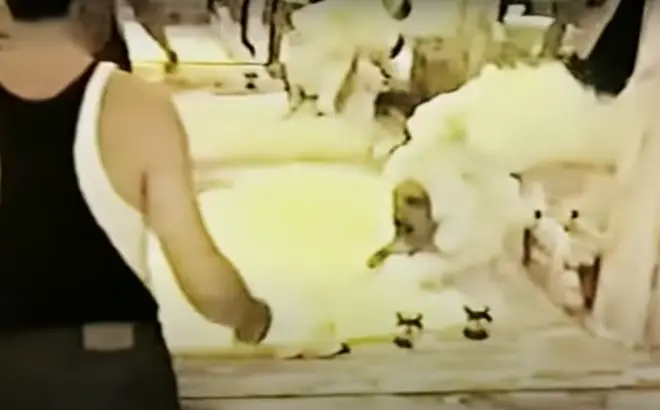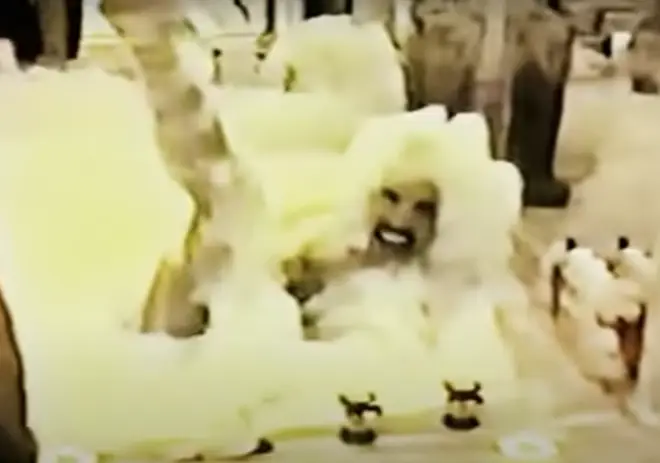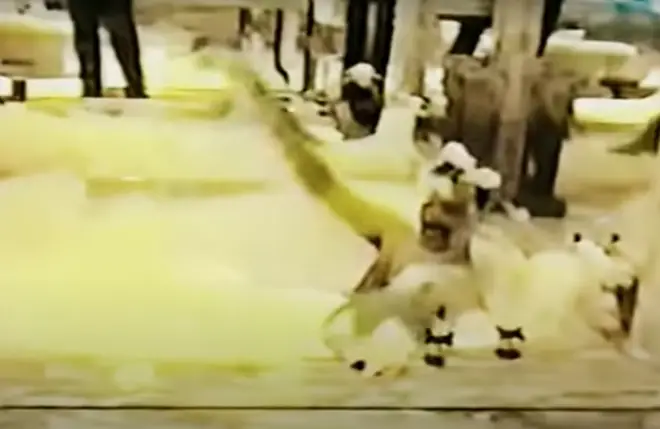 Footage from the star's life behind closed doors has gradually become public over the years, yet a video of Freddie Mercury playing in the bath as he makes a hat from its bubbles – is a fan favourite.
The video opens with Freddie singing, covered head-to-toe in bubbles and slowly raising one leg into the air.
Jim Hutton can be seen helping Freddie with his bubbles and chastising his theatrics, as Freddie refers to the camera proclaiming: "But she's got a video on, dear!"
Jim then silently continues to comically pile more and more bubbles onto Freddie's head as the Queen frontman gathers up huge amounts and throws them all over himself.
Wiggling, dancing and smiling to camera, Freddie is clearly totally at ease and enjoying himself immensely as his two friends humour him.
The star then begins to sing Marilyn Monroe's famous song 'I Just Wanna Be Loved By You' from the film Some Like It Hot before he yelps when bubbles go in his eyes: "Not in my face, thank you very much!" he exclaims to Jim.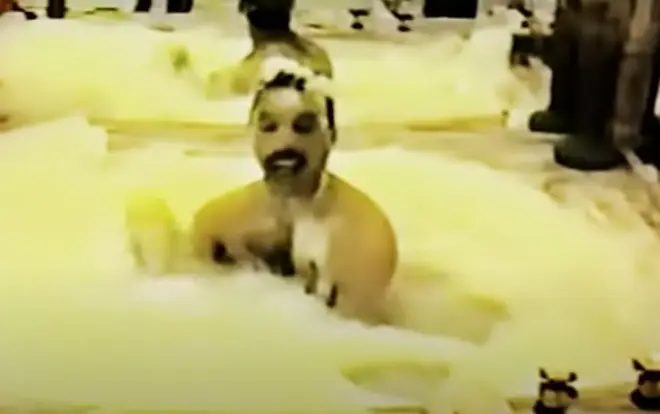 freddie mercury & jim hutton in the bath
The video continues with Freddie singing more lyrics from a variety of songs, before he finally turns to the camera saying to say bath time is over: "It's time to get out" he says with a smile.
The video was shot sometime between 1985 and 1991 – the years before his death when he was with partner Jim Hutton and his personal assistant, Peter Freestone, has since given fascinating insights into Freddie's private life at the house.
"Freddie's Garden Lodge generally had a quiet atmosphere," he says on his dedicated channel "Ask Phoebe" on the official Freddie Mercury website.
"It was his home, so while he had quite a few wonderful parties for anything up to 200 people, it was a place he felt secure in and a place where he didn't have to guard anything he said or did.
"He could get up in the morning and put on a mismatching tracksuit, he could be silent if he wanted to, or come downstairs from his bedroom, full of life. Freddie loved laughing, so was almost always with people who could make him laugh."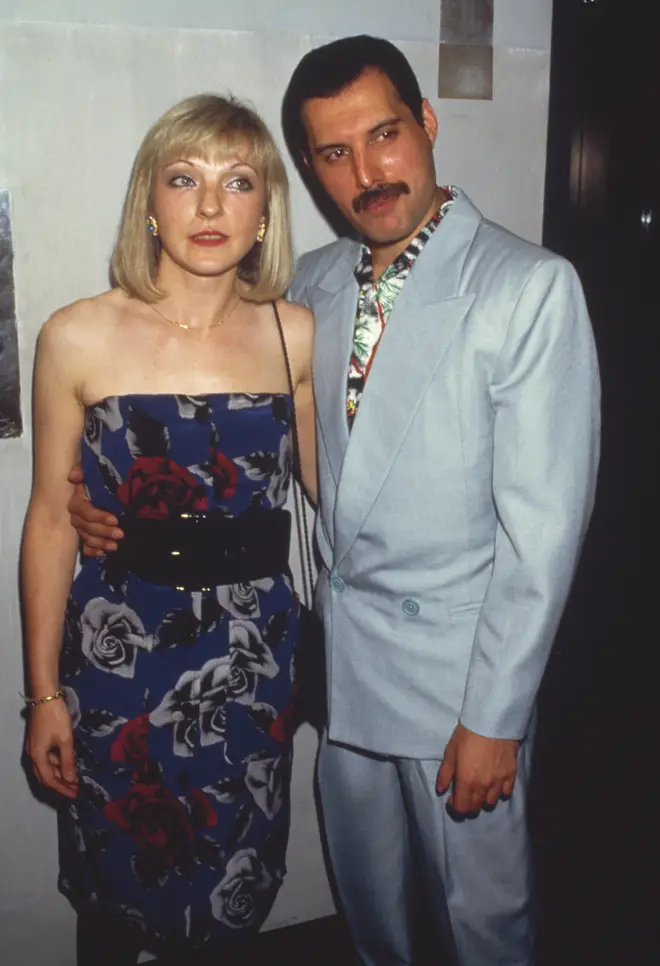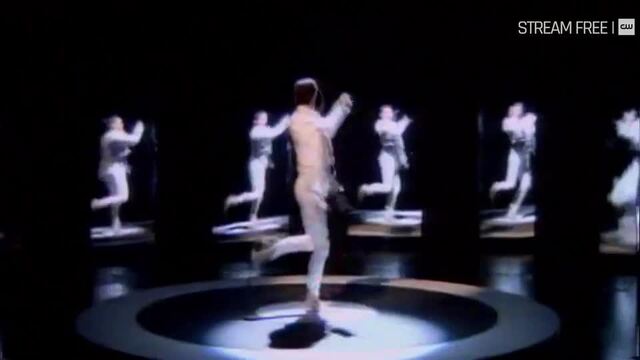 Watch the promo for Freddie Mercury - The Final Act
"While Freddie was alive, it was the warmest, most welcoming home that I could wish for. It was decorated most beautifully, it was filled with great furniture and as Freddie said, it wasn't a museum; it was a house to be lived in and enjoyed."
However, the memories of Garden Lodge were very much intertwined with the presence of Freddie, with Peter recalling that the atmosphere in the house changed after the star's death.
"For me, the minute Freddie passed away, it became just bricks and mortar, it lost the warm glow that Freddie imbued into it," he says.
Freddie's partner of six years, Jim Hutton, has also spoken out about the star's last few years at home and confirmed he took the last ever picture of the star, standing in the garden of the Kensington property.
"I was out in the garden photographing some of the flowers in full bloom and Freddie walked towards me. I trained the lens on - he wanted to move back a bit so it wasn't a close-up," Jim said.
"Then he posed while I took four pictures, and he managed a smile for each."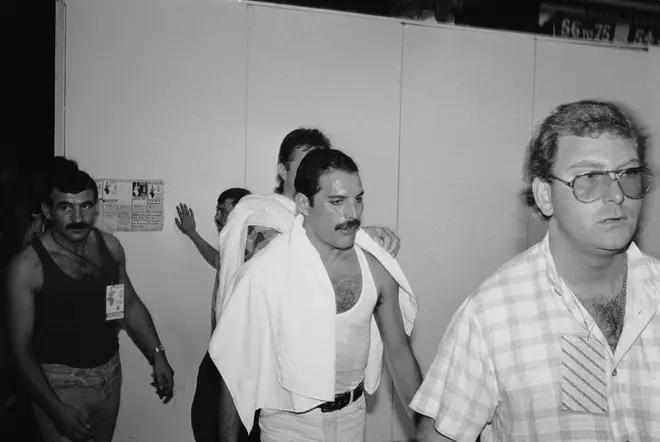 Despite being one of the most photographed people in the world, Jim Hutton reflected that these photos of the Queen frontman were the closest to his heart.
"He was so pale and drawn that he knew he didn't look his best, but it didn't matter a bit; of all the pictures I have of Freddie, those are the ones I love most," he wrote in his memoir of the star.
The third person with Freddie during his final days was his beloved 'true love' and 'soulmate' Mary Austin.
The pair dated after meeting in the 1970s, and went their separate ways when Freddie came out as gay, but remained as close as ever.
Freddie eventually left Garden Lodge to Mary in his will, which is where she reportedly still lives to this day.