Watch Olly Murs show off his spot-on Michael Bublé impression on The Voice UK
28 September 2022, 16:12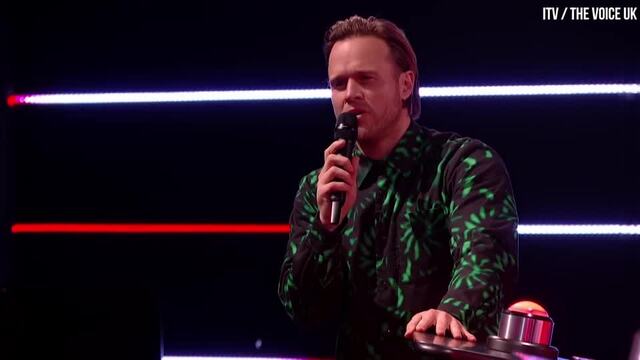 Olly Murs shows off spot-on Michael Buble impression
OIlly Murs takes to the stage to "do the Michael Bublé walk" on The Voice UK.
Olly Murs has spent more time as a coach on The Voice UK than a recording artist recently.
His last single was 'Moves' featuring Snoop Dogg way back in 2018, and he parted ways from his record label RCA earlier this year.
Murs continues to impress on our screens though, and not just by coaching series eight and nine winners Molly Hocking and Blessing Chitapa.
On last week's show, Murs showed off both his singing talent and his impersonation skills to his fellow coaches Tom Jones, Rita Ora and will.i.am.
He kicked off with a burst of Cher, which Jones recognised straight away, prompting Ora to show off her best Alanis Morissette.
Olly Murs Showcases His Singer Impersonation Skills | Blind Auditions | The Voice UK 2022
Olly then got to his feet and blew everyone away with a version of Michael Bublé's take on 'Feeling Good'.
Written by Anthony Newley and Leslie Bricusse for the musical The Roar of the Greasepaint – The Smell of the Crowd in 1964, 'Feeling Good' was made famous the following year by Nina Simone for her I Put A Spell On You album.
Michael Bublé's version was released in 2004 as the lead single from his fourth studio album It's Time, and was a slow burner, peaking on the charts at number 69 but eventually going Gold.
Michael Bublé - Feeling Good [Official 4K Remastered Music Video]
Olly did a pretty impressive note-for-note impersonation of Bublé, nailing his mannerisms too, apart from when he forgot the words, that is.
As he kicked into the second verse, Murs sang: "I don't know the rest of the words / So I'm going to stand here / I'm gonna do the Michael Bublé walk / As I come over here."
(For next time, Olly, it's "Fish in the sea / You know how I feel / River running free / You know how I feel").
Despite the lyrical mixup, Olly's performance went down a storm, winning massive applause from the audience and his fellow coaches.
Murs himself could chuckle about the whole thing, posting on Twitter; "Sound more like Michael Bubbles than Buble 🤣🤪👏🏻"
After Olly left his record label this year, The Sun reported that he had been in the studio for some time working on new music that he's eager to release soon.