Michael Bublé reflects on success and reveals why he's deleted all social media
31 January 2020, 10:38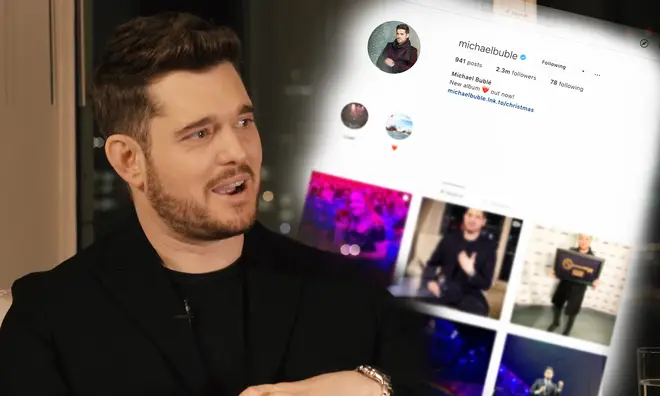 Michael Bublé has sold over 60 million records worldwide over the course of his extraordinary career, has had numerous number one singles, performed hundreds of sold-out shows to millions of fans, hosted seven NBC TV specials, and won four Grammys and multiple Juno Awards as a performer and songwriter.
The multi-platinum and multi-Grammy Award winning artist has just finished his latest 'An Evening With Michael Bublé' tour where he performed to sold-out crowds.
However, the 44-year-old revealed to Smooth Radio that following his eldest son Noah's cancer diagnosis in 2016, he was given a new perspective and removed anything else in his life that he couldn't control – from numbers, chart positions to social media.
Thankfully, Noah is doing well and has even joined Michael on-stage during the tour to sing and dance with his father.
Speaking exclusively to Smooth Radio, Michael revealed that he usually stays at the arenas, opting not to venture out.
He said: "You know what? I think I enjoy a lot of my — I mean, my relationships, in the last 17 years, have grown.
"I think it's funny to say it, but I don't go out. I don't really go outside. I sort of… my time is usually spent in The O2. You know, getting to The O2, rehearsing and hanging, and seeing all of the people.
You can watch the entire 15-minute-long interview with Michael Bublé, here:
"But I love that… I love the relationship I have with it, you know? You can imagine how it must feel for me to play the O2 22 times. 22 times, 22,000 people have paid their hard-earned money to come hang with me. So I feel a lot of gratitude. It's a joy. I think I said it last night.
"I said: 'You know, here I am. It's my favourite time of year, in one of my favourite places in the world. I'm with my favourite people. I get to sing my favourite music'. This has pretty much happened for me.
Michael has a very loyal following from all across the world, some who even attend every gig the Canadian star puts on.
Noting the familiar faces in the audience, Michael agreed it was nice to see and told Smooth Radio: "Oh, yeah, for sure it is. I think the reason that you see a lot of familiar faces – or some – is that there have been people, in the last 15 years or 17 years, that have come to every show.
"And finally, I just thought they had spent enough money on tickets. So I just give them the tickets. Because I think once you've spent whatever, you don't need to spend more. You've shown me – and that's enough. A lot of those fans, they're just invited guests each time I come."
Michael's supporters also gather together online as part of his official Facebook group, The Buble Insider which was first set up in 2011.
However, Michael revealed he no longer uses social media at all, adding: "I don't know."
Smooth told the singer how the group of 22,000 members was a positive community of fans loving and supporting him, to which he replied: "Well, I love that. I don't look at it. I know nothing about it. I'm really insulated from everything. No one's allowed to tell me anything.
"I just think that, you know, for me to have a healthy relationship with this thing that I do – I think I have to completely separate the real me and my life, and what's important, and then things I can't control like social media, or the results of what people are saying or thinking.
"I think I'm not strong enough to deal with it. So it's better for me just not to know. Ignorance is bliss sometimes."
Michael will be returning to UK shores in 2020 for a string of big summer concerts which will see him visiting picturesque open-air venues across the UK.
He will kick off his tour in Bath on July 24, 2020, going on to play in Hatfield, Derby, Durham, Leeds, Exeter and Norfolk, among other places.
It will be the first time he's performed at any of these UK venues, which range from stately homes and castles to cricket grounds.
UK 2020 Tour Dates:
24th July - Royal Crescent Bath
25th July - Royal Crescent Bath
26th July - Hatfield House, Hatfield
28th July – Blickling Estate, Norwich
29th July – The Pattonair County Ground, Derby
31st July – Warwick Castle, Coventry
1st August – Emirate Riverside, Durham
2nd August – Harewood House, Leeds
4th August – Powderham Castle, Exeter
5th August – Cardiff Castle, Cardiff
7th August - The 1st Central County Ground, Hove