How Paul McCartney and Stevie Wonder came together for their iconic duet 'Ebony and Ivory'
18 May 2023, 14:06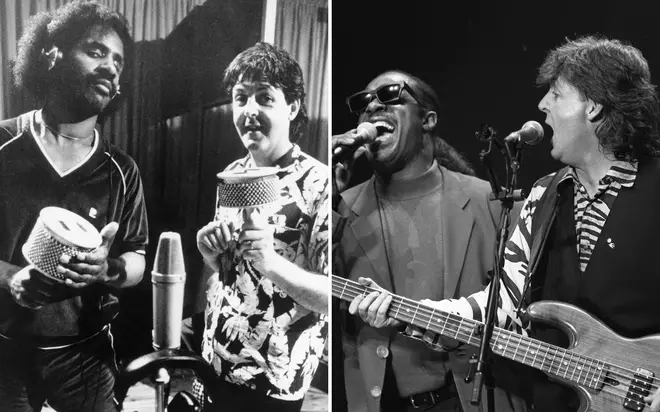 "Ebony and ivory live together in perfect harmony."
At a time when the fear and famine during the apartheid era were rife, and racial tensions closer to home continued to bubble, people certainly didn't live in harmony.
It was this tension which inspired Paul McCartney and Stevie Wonder to collaborate on one of the biggest songs of the 1980s: 'Ebony and Ivory'.
The 1982 ballad about racial harmony was an enormous hit, and brought together two of the most iconic artists in the history of pop music.
But why did Macca and Wonder choose to join forces, and how? What was the meaning behind the chart-topper and how was it received?
Let's look into how Paul McCartney and Stevie Wonder came together for their iconic duet:
When did Stevie Wonder and Paul McCartney first meet?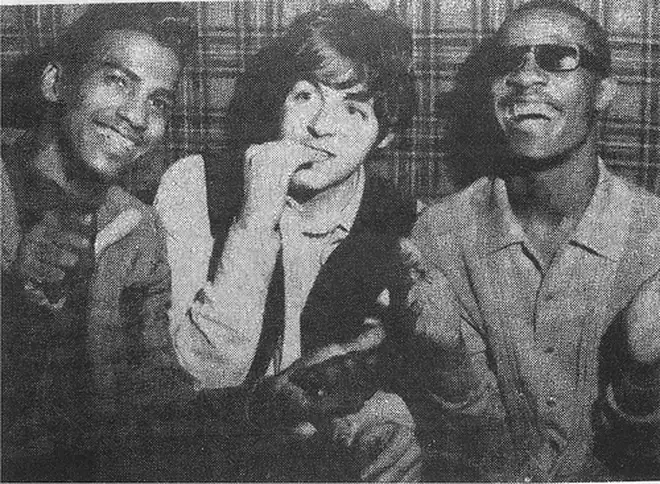 Paul McCartney and Stevie Wonder's friendship dates back many years before they actually hit the studio together.
Macca first saw Stevie perform in 1966 when he was still in The Beatles, at The Scotch of St. James nightclub in Mason's Yard, London.
Having been blown away by the young Motown prodigy's talent, McCartney introduced himself to Stevie immediately after the show and they hit it off.
In an interview with NME later that year, Stevie said: "When on tour I have to write essays about the places I visit."
"In the essay I'll be writing when I get back I'll certainly include my meeting with Paul McCartney. I met him in the Scotch Of St James club. He's a really swinging guy, the only Beatle I've met."
Where did the concept for 'Ebony and Ivory' come from?
Ebony and Ivory (1982) | Paul McCartney & Stevie Wonder
Paul McCartney wrote the song as a metaphor for social integration and racial harmony between various communities around the world.
Penning the song in at his farm in Scotland, he revealed the title was actually inspired by something the legendary British comedian Spike Milligan had said:
"Black notes, white notes, and you need to play the two to make harmony, folks!" referring to the two colours of piano keys having to work together to create music.
The figure of speech doesn't originate with Milligan however - it was popularised by intellectual and missionary James Aggrey in the 1920s - but it was Milligan's comedic take on the idea that inspired McCartney to write a song about it.
He told Mojo magazine in 2009 that he put the lyrics down after having a marital argument with wife Linda, saying: "It was like, 'Why can't we get it together - our piano can.'"
When did Paul McCartney reach out to Stevie Wonder about collaborating?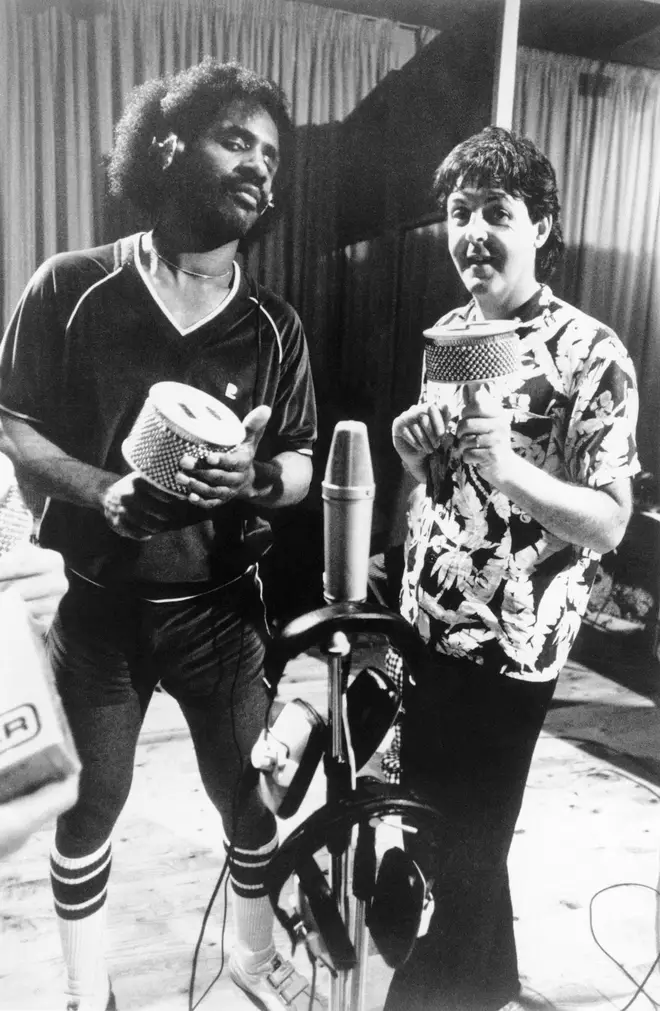 As a white artist, Paul McCartney felt he needed to sing the song as a duet with a black artist for it to have more of an impact.
Though he'd never performed a duet with a solo artist before, he reached out to his friend Stevie Wonder who he'd been friends with for years and had also called him a "genius".
Stevie was immediately behind the song's message and flew out to George Martin's AIR Studios in Montserrat, with the legendary Beatles producer also taking on producing duties for McCartney's upcoming album.
Paul was effusive in his praise for Stevie's musical talent, and admitted that he was nervous about being overshadowed in the studio.
"It was fascinating because he is such a musical monster; he just is music," Paul said in an interview with Jarvis Cocker in 2018. "You had to be super precise because any mistake he would hear."
"He asked if we were going to use a drum machine, and I said no, so he got on the drum kit, and he was a great drummer with a very distinct style, and that's him playing on the record. The whole song is just me and Stevie."
How was 'Ebony and Ivory' received when it was released?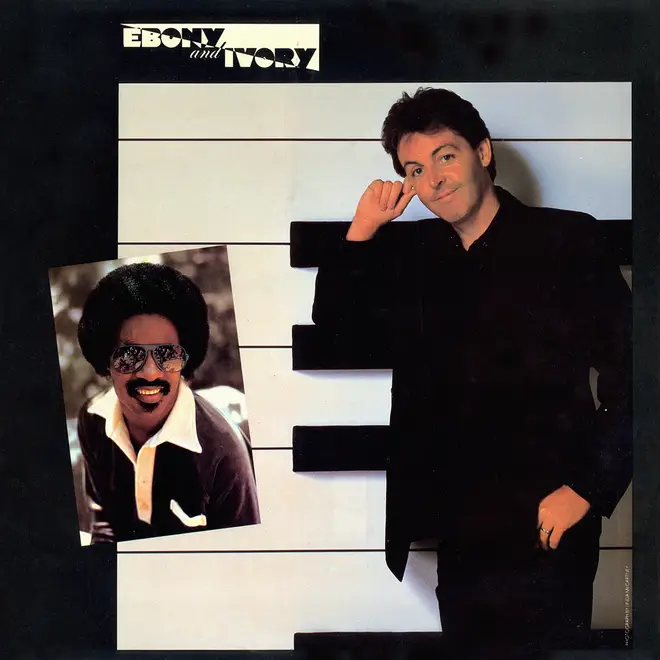 When 'Ebony and Ivory' was released in 1982 on Paul McCartney's third solo album Tug of War, it was an immediate hit.
The duet reached the top of the charts in both the UK and the US, and became both artists' longest-running chart song at the summit.
The song's reception was helped by the music video - although the musical pair didn't actually film their parts at the same time or location - due to the advent of MTV in the 1980s which helped popularise duets in pop music.
Because of the success of 'Ebony and Ivory', Paul McCartney remained to be a relevant artist throughout the decade, which spurred on the idea to duet with Michael Jackson on 'Say Say Say'.
Did Paul McCartney and Stevie Wonder ever perform 'Ebony and Ivory' live together?
Paul McCartney and Stevie Wonder - Ebony And Ivory (Live at the White House 2010)
What's That You're Doing? (Remixed 2015)
Paul McCartney and Stevie Wonder did in fact perform 'Ebony and Ivory' together live - for the first time in 1989 in Inglewood, California, then again at the White House for former US President Barack Obama in 2010, no less.
It was when Paul was awarded the Library of Congress Gershwin Prize for Popular Song, presented by President Obama, that Paul gave a speech highlighting the many achievements throughout Paul's career.
Their duet wasn't the only time Stevie had worked with Paul however, as they also collaborated on the track 'What's That You're Doing?' which also featured on Tug of War.
Years later the pair would put their heads together again, firstly in 2004 when Paul guested on Stevie's 'A Time To Love' and again in 2012 when he returned the favour for 'Only Our Heart's on Paul's album Kisses On The Bottom.