Robbie Williams wants to hire a private detective to find missing Jason Orange
17 December 2019, 16:02
Robbie Williams has said that no-one knows where the Take That star is since leaving the band several years ago.
Jason quit the group in 2014, but the remaining members hoped to bring him back into the fold for their 30th anniversary celebrations last year.
However, he couldn't be contacted despite their efforts, and it appears that they still can't track him down.
Robbie has now told The Sun that he now might have to take on more desperate measures.
"You know you can have that Find My Phone thing?" he joked.
"The whole of Take That should have a 'locate Jason Orange thing' because none of us know where he's gone.
"I should hire a private detective — he finds out where Jason Orange is, we inject him with a beeping thing, a chip, then we know where Jason is at all times."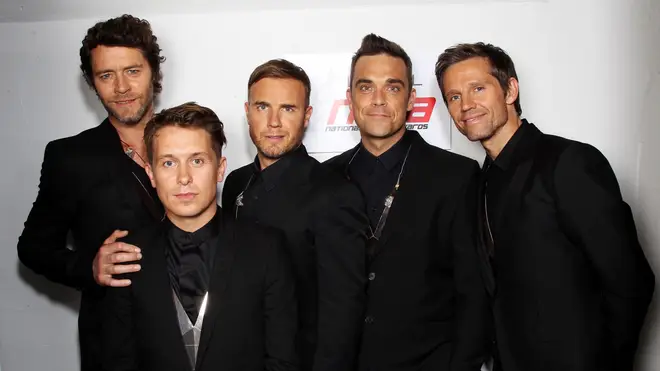 Last Christmas, Take That enjoyed a look back at their history in a TV special to celebrate 30 years as a band.
However, Robbie, Gary Barlow, Mark Owen and Howard Donald were left heartbroken when their calls for Jason to appear weren't returned.
"It was almost worse for me than when Robbie left," said Mark at the time.
In 2014, Jason insisted there had been "no fallings out", but stated that he no longer wanted to tour.
"I want to start by saying how proud I am of what we have achieved together over the years," he said at the time. "However, at a band meeting last week I confirmed to Mark, Gary and Howard that I do not wish to commit to recording and promoting a new album.
"I have spent some of the best years of my life with Take That and I'd like to thank everyone who has been a part of my journey, including my bandmates, who I feel are like brothers to me."
Last year, Take That staged a 30 year anniversary Greatest Hits tour to support their Odyssey compilation, but Jason did not take part. While Robbie didn't go on tour with the trio, he did at least provide a video performance of their hit 'Everything Changes'.
Robbie Williams recently topped the album chart with this new LP The Christmas Present. He told Smooth Radio that he has "no chance" of scoring this year's Christmas number one.