8 of pop music's biggest feuds and fallouts
23 October 2020, 14:10 | Updated: 23 October 2020, 14:36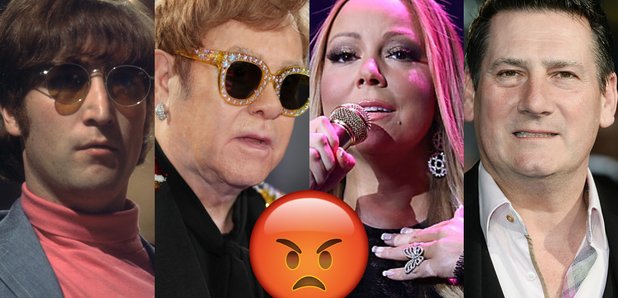 There have been some amazing pop teamups over the years. Elton and Kiki, Lionel and Diana, Kenny and Dolly etc.
But often, popstars simply do not get on.
When two (or more) legends lock horns, it can get nasty. Here are a handful of times when pop's biggest icons had very public feuds.
1. Robbie Williams vs Take That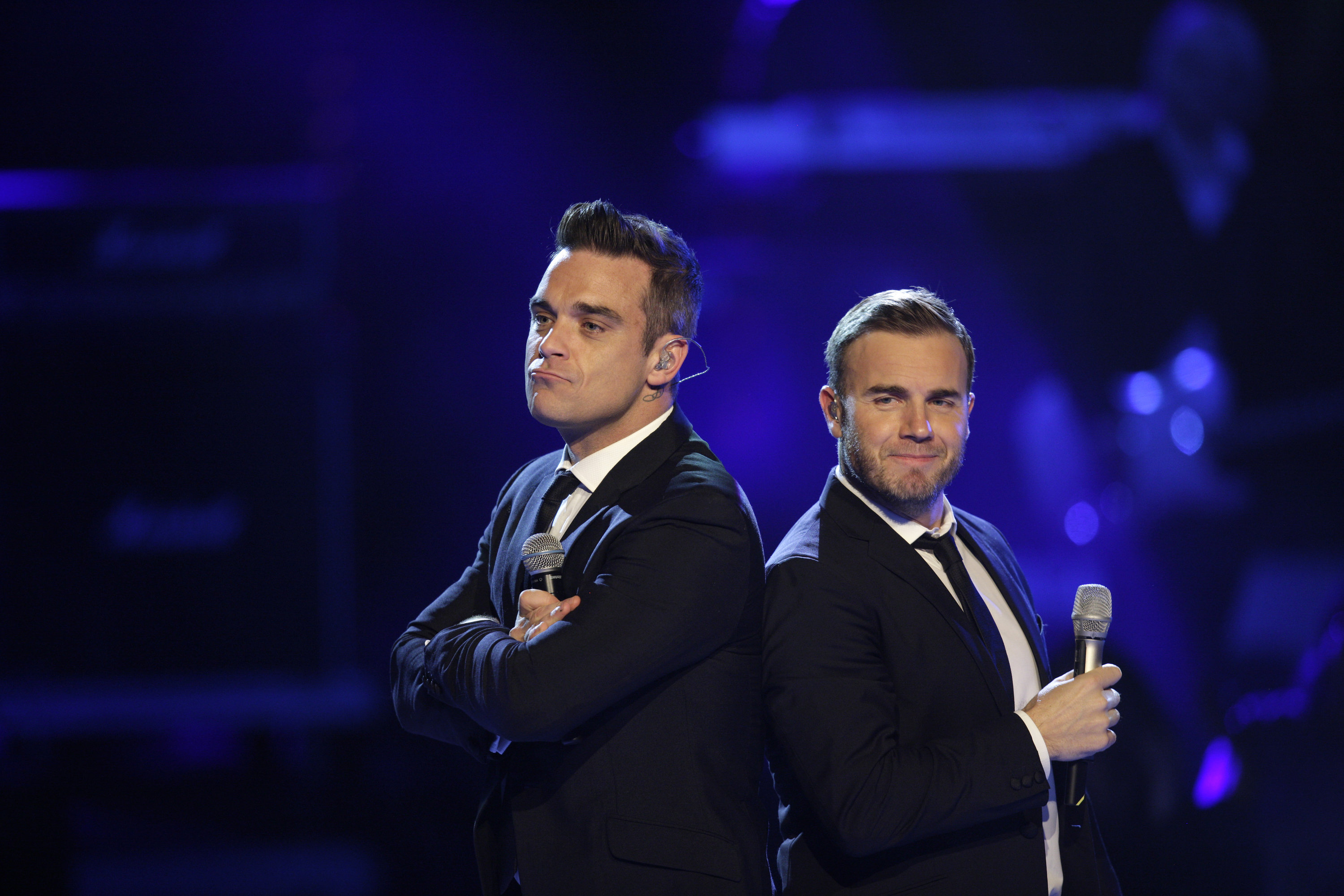 They're all best mates again now, but there was more than a decade of bad blood between Robbie and his former bandmates.
Ever since he quit the band in 1995 and scored a huge solo career, Robbie made it known whenever he could how much he couldn't stand his former colleague Gary Barlow.
"I wanted to crush him. I wanted to crush the memory of the band - and I didn't let go," he said in 2010. His hit 'No Regrets' was all about the animosity he felt after he left.
All's well that ends well!
2. Elton John vs Madonna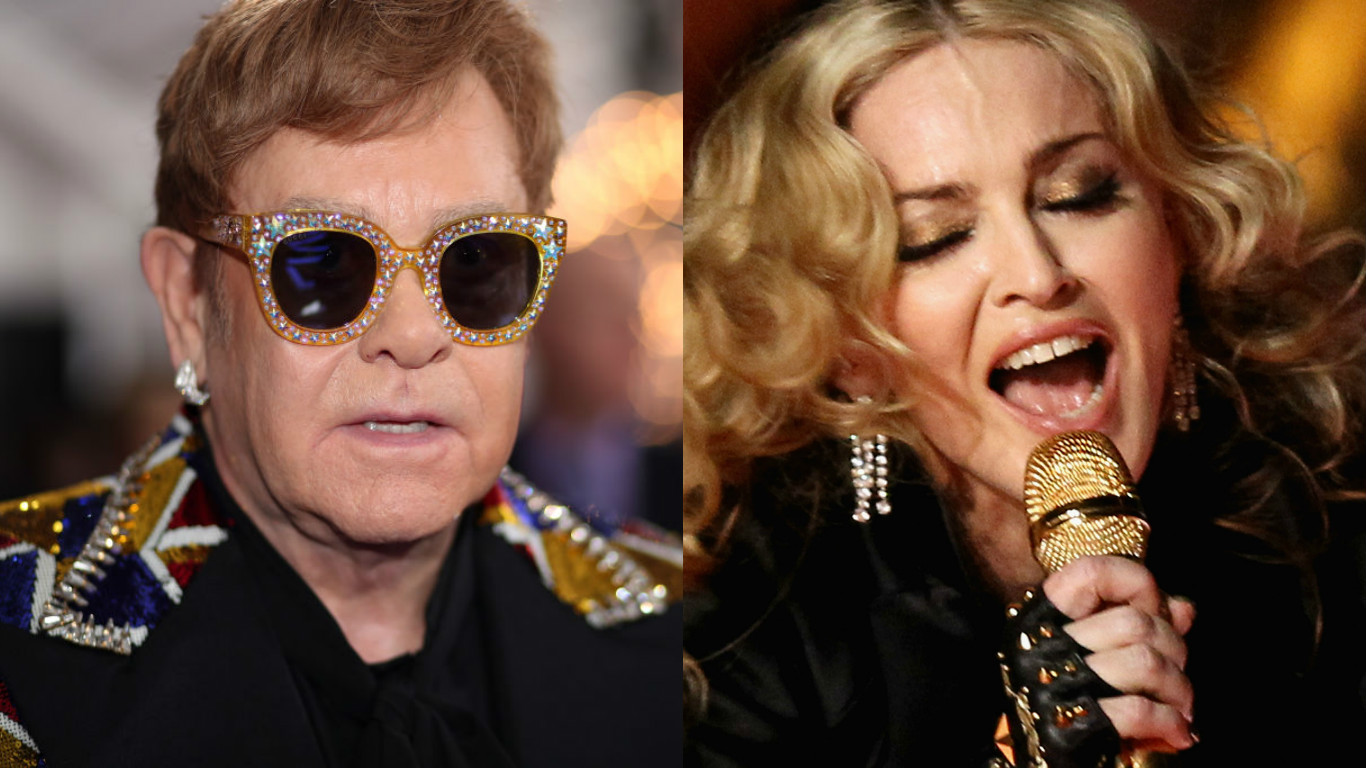 The former good pals sparked a war of words in 2002, after Elton said Madonna's 'Die Another Day' was the "worst Bond tune ever".
Two years later, he also accused her of lip-syncing, which he went on to say a few more times over the years before describing her as a "fairground stripper" in 2012.
In 2016, Elton claimed that they made up over dinner, but we wouldn't be surprised if a few more catty words came out.
3. Aretha Franklin vs Patti LaBelle AND Dionne Warwick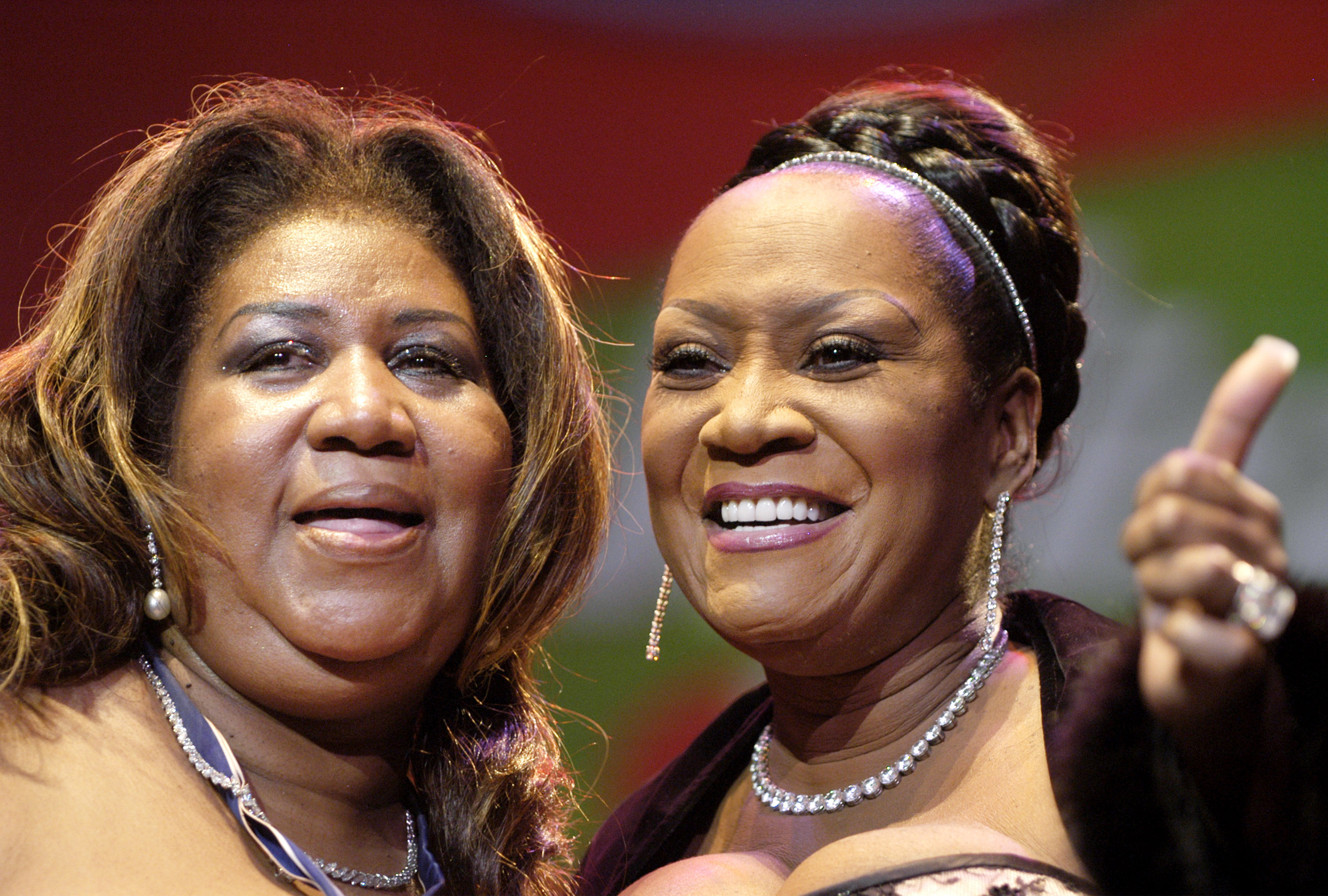 The Queen of Soul has said that there is no feud between her and fellow soul icon Patti. However, she soon launched her own line of food products after Patti's sweet potato fries were a hit, saying: "Ms Patti's gonna have to move that pie to the side."
Meanwhile, there is also a decades-long spat between Aretha and Dionne, with the most recent beef occurring due to a "libellous" statement Dionne made about Aretha five years ago.
At Whitney Houston's funeral in 2012, Dionne said that Aretha couldn't be at the funeral, but that she loved Whitney as was Whitney's godmother. According to Aretha, this was false and she sent "a lengthy fax" to the media last year, saying she was not Whitney's godmother, because she was "far too busy" to be anyone's godmother. Wow.
4. Simon vs Garfunkel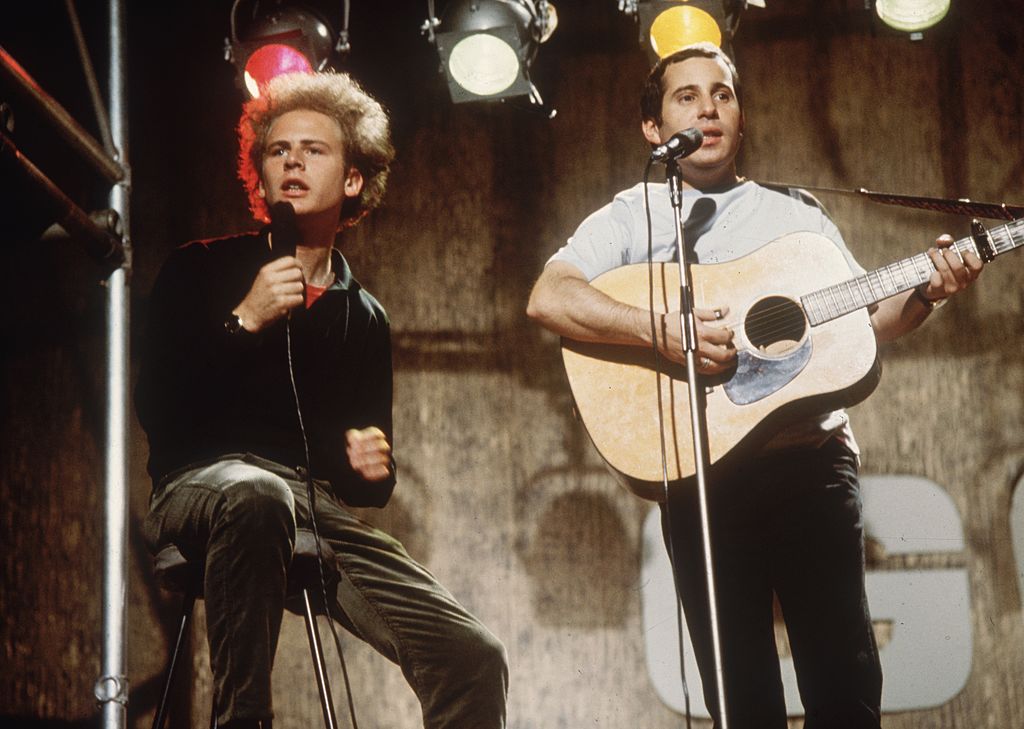 The iconic duo were close friends for years, before Art Garfunkel was not too happy at Paul Simon breaking off for solo projects, and it became a sore topic for decades.
In 1968, director Mike Nichols offered them both roles in his adaptation of the book Catch-22. However, Paul's character was cut before production began, and Art shot the film, and frustrations grew. They parted ways after their classic album Bridge Over Troubled Water in 1970.
They reunited for a huge gig in 1981, but plans for a world tour and new album were cancelled after they continued to bicker behind the scenes. There was also a frosty reunion at their Rock and Roll Hall of Fame induction in 1990.
After Art's pleasant compliment during their speech: "I want to thank most of all the person who has most enriched my life by putting these great songs through me: My friend Paul here," Paul responded with a jibe: "But it's true, I have enriched his life quite a bit, now that I think about it."
5. John Lennon vs Paul McCartney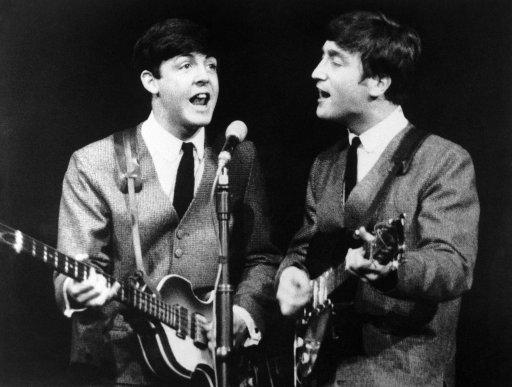 Beatles fans were largely unaware of any beef between their heroes in the 1960s, but their friendship went sour in 1970 after Paul moved to legally dissolve the band's partnership.
In an angry interview with Rolling Stone, John said: "I pretty damn well know we got fed up of being sidemen for Paul. Ringo was all right, but the other two really gave it to us. I'll never forgive them."
Paul responded with a subtle dig on his 1971 album Ram, in which he mocked John's sudden love for world-peace battles with the line 'Too many people preaching practices'. John later recorded the track 'How Do You Sleep?' aimed at Paul, including the line: "The only thing you done was 'Yesterday.'"
They repaired their friendship somewhat by the mid-1970s, but any hopes for a full reunion were ended when John was killed in 1980.
6. Prince vs Michael Jackson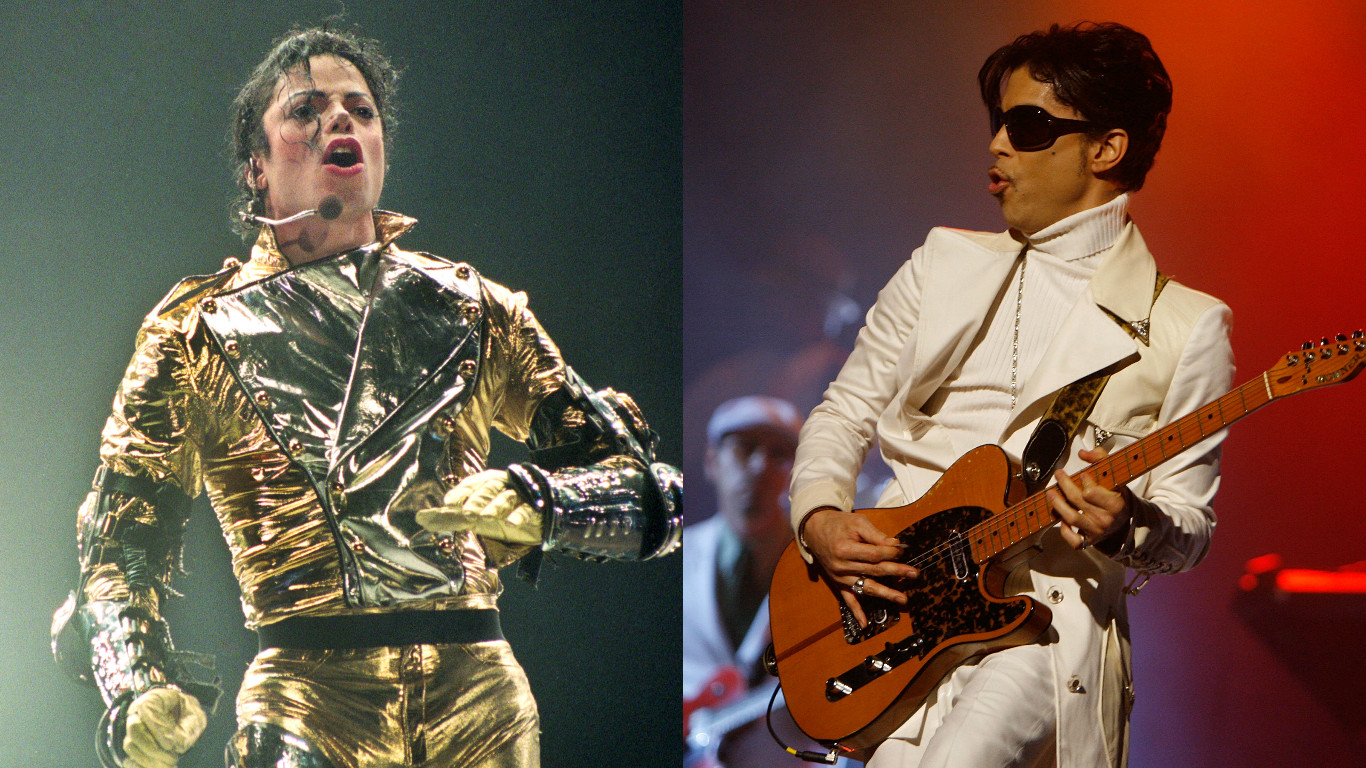 They were arguably pop's two most talented male singers of all time, but they never collaborated. Their supposed feud began when Michael stole Prince's thunder somewhat, releasing Thriller soon after 1999 in 1982.
After seeing the success of Prince's Purple Rain, Michael apparently attended many of his gigs in Los Angeles to study his competition.
When they once shared a studio, they are said to have taken each other on in a game of table tennis, with Prince the victor. Revolution drummer Bobby Z once said: "They'd shoot hoops at Paisley Park. Prince had a deep-seated competitive nature, so it's easy to see where he would measure himself against Jackson's success."
Michael was also apparently not pleased that Prince turned down the chance to appear in the charity single 'We Are the World' in 1985, and to duet with him on Bad two years later. "That Wesley Snipes character? That would have been me," Prince said in 1997 about the 'Bad' music video.
In 2006, Prince played a rather aggressive bass guitar solo in Jackson's face at a gig in Las Vegas, which didn't go down to well. He apparently told organise will.i.am: "I go to his house for breakfast, knock on the door, first words he says: 'Why was Prince playing the bass in my face? Prince, he's always been a meanie.'"
7. Mariah Carey vs Whitney Houston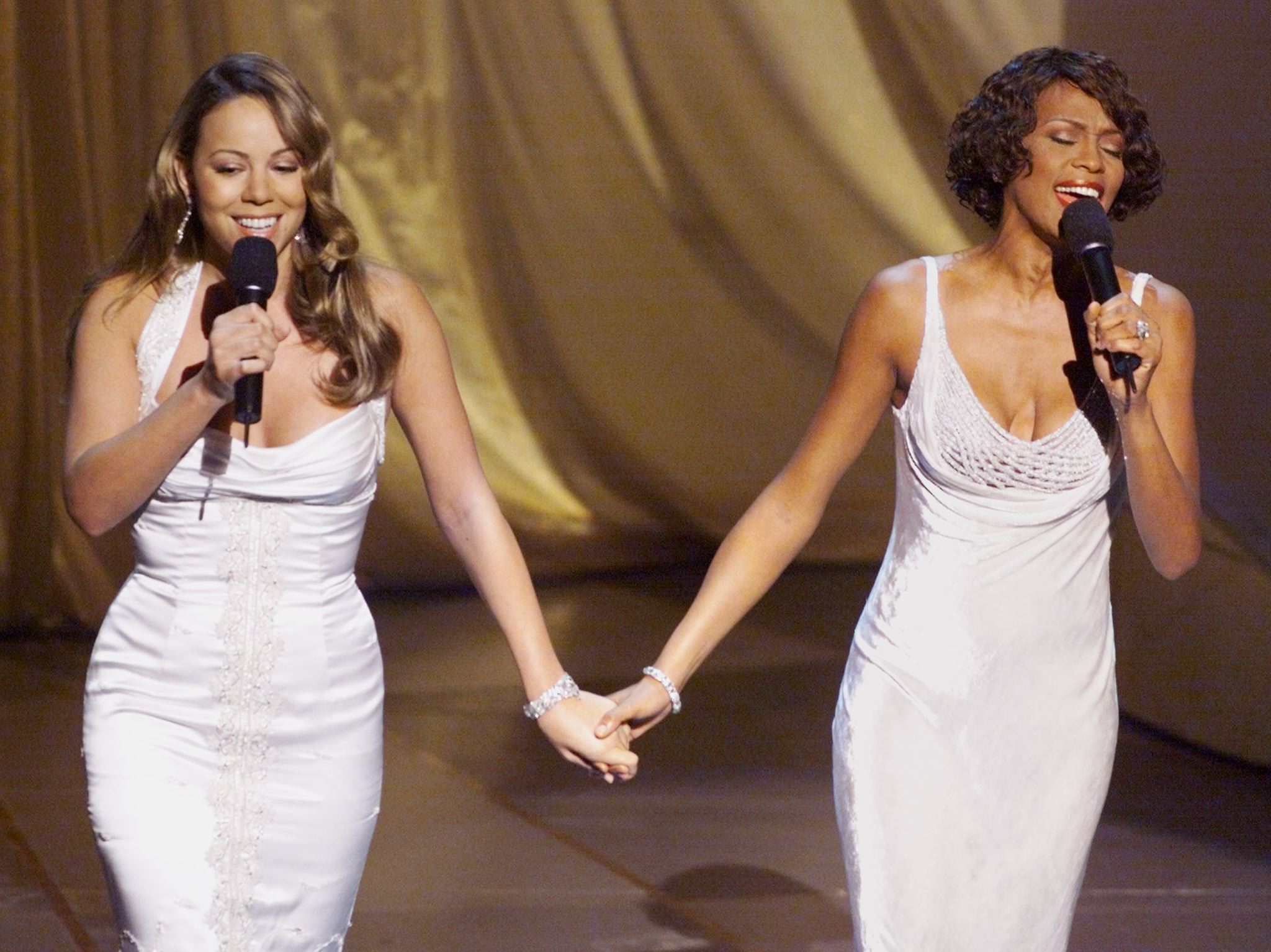 Mariah was truly Whitney's biggest rival in the early 1990s, and a feud soon began after Whitney was asked about her supposed rivalry during a 1990 TV interview.
She retorted: "What do I think of her? I don't think of her." Ouch.
Thankfully, their alleged fallout was not what it seemed, as they went on to duet on the song 'When You Believe' in 1998. They also poked fun at their past feud while presenting 'Best Male Video' at the 1998 MTV Video Music Awards, appearing in identical but "one of a kind" dresses, before embracing each other in a warm hug.
After Whitney's death in 2012, Marah appeared at her service, and later said: "I'm almost incapable to be talking about this still. I don't think people could ever really understand our relationship. There was always this supposed rivalry in the beginning and then we did the duet and became friends. I loved her."
8. Tony Hadley vs Spandau Ballet
Spandau Ballet have had a rocky history to say the least. After court cases and public spats, they buried the hatchet and reunited for a number of successful tours and albums.
That was until 2017, when lead singer Tony Hadley suddenly quit the band.
The other band members later said that Tony wasn't welcome to return. Gary Kemp said: "He didn't want to do it anymore. As far as he was concerned he just wanted to do his solo work." When asked if Tony could return, drummer John Keeble answered immediately, "no".