The Story of... 'Hold On' by Wilson Phillips
25 July 2023, 15:53 | Updated: 25 July 2023, 15:56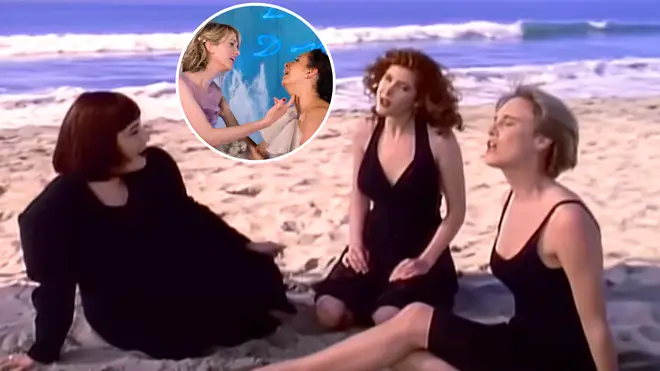 'Hold On' is one of the catchiest and best-loved songs of the early 1990s.
The biggest hit for American trio Wilson Phillips, the song was a massive hit around the world in 1990.
'Hold On' would go on to have a new lease of life in the early 2010s thanks to a certain comedy film, but what was the song about and who wrote it?
Who are Wilson Phillips?

Wilson Phillips: (L-R) Chynna Phillips, Carnie & Wendy Wilson. Picture: Getty

Wilson Phillips is a Los Angeles-based American pop trio that were founded in 1989.

The group is made up of Chynna Phillips, a child of John and Michelle Phillips of The Mamas & The Papas, and sisters Carnie and Wendy Wilson, the children of Brian Wilson of The Beach Boys.

In the 1970s and 1980s, Phillips and the Wilson sisters all lived in the Los Angeles region. The three of them created their singing and vocal harmonies since they all grew up around music.

The group signed a contract with SBK Records in 1989.

Brian Wilson performing with daughters Wendy and Carnie Wilson in 2015. Picture: Getty

Michelle and Chynna Phillips in 1987. Picture: Getty

In Wendy Wilson's bedroom, they practised singing together. When they were ready, Michelle Phillips arranged a meeting with producer Richard Perry, who was in charge of Carly Simon's 'You're So Vain'.

Glen Ballard accepted them when Perry introduced him to the group. Ballard, a rising composer and producer, achieved his greatest success when he collaborated with Michael Jackson on 'Man In The Mirror', a number one smash in 1988. Later, he would co-write and produce the Jagged Little Pill album by Alanis Morissette.

With Ballard, Wilson Phillips produced a four-song demo that featured 'Hold On'.

Who wrote 'Hold On' and what is it about?

Glen Ballard co-wrote 'Hold On'. Picture: Getty

'Hold On' was written by Glen Ballard, with the lyrics by Chynna Phillips. Additional songwriting credits were given to Carnie Wilson.

This song offers support to someone who is going through a difficult moment. The songs has a lot of compassion as well as some harsh love ("No one can change your life except for you") and ("Things'll go your way if you hold on for one more day").

The lyrics were written by Chynna Phillips in reference to her drinking and drug abuse.

The lyrics were written by Chynna Phillips in reference to her drinking and drug abuse. Picture: Getty

Wilson Phillips and producer Glen Ballard were collaborating when he brought Chynna a cassette tape with some music that required lyrics.

Phillips brought it home to work on the lyrics, but she didn't get it through the front door before inspiration struck.

She wrote about the hurt of lost love and the material that surrounds it as she was riding in her automobile and her mother Michelle was inside the home.

"I thought to myself, 'Well, AA tells me, just hold on, just one day at a time,'" Phillips told Rolling Stone. "I thought, 'OK, if I can just hold on for one more day, then I can do this.'"

She also explained to Kelly Clarkson: "I just said if I don't change my course, I'm going to be in a lot of trouble."

"I remember one guy I played it for said, 'That's not going to go anywhere. That's not a very good song. It's really corny,'" Phillips said. "I just remember thinking to myself, 'God, I hope he's wrong.'"

Rock legend and Eagles star Joe Walsh also appeared on the track, playing guitar.

Where was the video filmed?

Wilson Phillips - Hold On (Official Music Video)

Wilson Phillips are seen singing 'Hold On' on beaches and mountaintops in the music video.

The mountain shots were filmed in California's San Gabriel Mountains, under British filmmaker Julien Temple's direction.

How did it perform in the charts?

Three months ahead of their debut album's release, Wilson Phillips released 'Hold On' in February 1990.

The song caught off on radio and finally dethroned Madonna's 'Vogue' from the top spot. It was also ranked as 1990's biggest song of the year by Billboard.

In the UK, it peaked at number 6 in the chart.

What films has the song appeared in?

Wilson Phillips Wedding Performance | Bridesmaids | Screen Bites

This song has a significant role in the 2011 movie Bridesmaids, as characters played by Kristen Wiig and Maya Rudolph fondly recall the song from their teenage years.

Wilson Phillips make an appearance to sing the song at the wedding at the conclusion of the film.

'Hold On' was a recurring theme on the TV show Chuck as the smarmy Buy More manager Emmett Milbarge's favourite song, especially in the Season 3 premiere 'Chuck Versus the Pink Slip'.

Harold and Kumar also sing the song as a duet while they are driving in the film Harold & Kumar Go to White Castle.