Titanic cast then and now: Where are the stars of the 1997 movie today?
6 June 2023, 14:19 | Updated: 12 July 2023, 10:39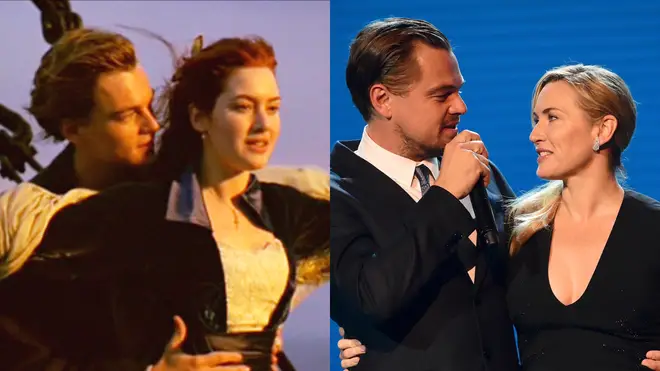 Titanic became the biggest film of all time when it was released back in 1997.
James Cameron's romantic drama epic was a huge smash box office hit around the world, grossing over $2.2 billion.
With Celine Dion's 'My Heart Will Go On' providing the musical backdrop, the film turned Leonardo DiCaprio and Kate Winslet into international superstars.
Over 25 years on, the film about the real-life tragic event in 1912 is still beloved by fans. But where are the main cast now?
We've sadly had to say goodbye to some its leading actors over the years. Gloria Stuart, who played the elderly version of Rose in the present day, passed away in 2010 at the age of 100.
Bill Paxton, who played treasure hunter Brock Lovett, died in 2017 aged just 61 after having a stroke following complications from heart surgery.
British acting legend David Warner also passed away in 2022 aged 80 after battling lung cancer.
Leonardo DiCaprio (Jack)

Leonardo DiCaprio then and now.

Picture: Getty

Already a teen star by the time Titanic came around, this was his first true leading role that gained Leonardo international attention.

Aged 20 at the time when he landed the role of third-class passenger Jack Dawson, he had previously appeared in films like What's Eating Gilbert Grape?.

He proved that Titanic wasn't a one-off, as he has since become one of Hollywood's greatest ever stars. He has since appeared in many box office hits such as The Aviator, Inception, Shutter Island, Catch Me If You Can, and The Revenant, and reunited with Kate Winslet for 2008's Revolutionary Road.

After having five Oscar nominations, Leonardo finally won his first Academy Award for best actor for his 2015 film The Revenant.

Kate Winslet (Rose)

Kate Winslet then and now.

Picture: Getty

Kate Winslet was a British up-and-comer at the time of Titanic, having appeared in films such as Hamlet, Sense and Sensibility and Jude, but her as Rose DeWitt Bukater was her international breakout role.

Then aged 21, Kate beat the likes of Gwyneth Paltrow and Claire Danes for the role, and she earned an Academy Award nomination for it.

Kate has gone from strength to strength since then, and in 2009 she won an Academy Award for best actress for her performance in The Reader.

She also won an Emmy in 2021 for her role in Mare of Easttown, and she recently reunited with James Cameron for Avatar: The Way of the Water.

Billy Zane (Cal)

Billy Zane then and now.

Picture: Getty

Billy Zane played the dashing yet rather evil villain Cal Hockley in Titanic, having previously had small roles in the Back to the Future films, and Dead Calm opposite Nicole Kidman.

Since Titanic, he appeared in The Believer alongside Ryan Gosling, and on Broadway in Chicago, where he played Billy Flynn.

He also had a recurring role on Charmed and voiced the main baddie in the video game Kingdom Hearts.

Frances Fisher (Ruth)

Frances Fisher then and now.

Picture: Getty

Before playing Rose's mother Ruth in Titanic, Frances had starred in the US daytime TV soap The Edge of Night, and her breakout role was in the Academy Award-winning film Unforgiven, opposite Clint Eastwood, her partner at the time. The couple also had one child together, Francesca.

After Titanic, she appeared in the 1999 film True Crime alongside Eastwood, and in the 2003 Oscar-nominated movie House of Sand and Fog.

On TV, Frances has appeared in Watchmen and The Sinner.

Jason Barry (Tommy)

Jason Barry then and now.

Picture: Getty/The Agency

Aged 25 when filming Titanic, Irish actor Jason Barry is best known for playing Tommy, a third-class passenger who befriends Jack on board.

Jason later had a recurring role in the Irish crime series Love/Hate, and in 2014 he played Edgar Willcox in United Passions, a film detailing the history of FIFA.

In 2016, he performed voice-overs and motion capture work as Corporal Sean Brooks in Call of Duty: Infinite Warfare.

He has two children and is married to actor Kristin Alayna.

Danny Nucci (Fabrizio)

Danny Nucci then and now.

Picture: Getty

Austrian-born Danny was raised in Italy before his family moved to America when he was a child.

He had already appeared in blockbusters like Alive, Eraser and The Rock before landing the role of Jack's best friend Fabrizio in Titanic.

In recent years, he has predominantly appeared on TV, including appearances in Growing Pains, Quantum Leap, Family Ties, The Twilight Zone, House, Without a Trace, Criminal Minds, The Mentalist, CSI: NY, Castle, The Fosters and Arrow.

Kathy Bates (Molly)

Kathy Bates then and now.

Picture: Getty

Kathy Bates was arguably the biggest established star in the Titanic cast. By 1997, she was a regular on stage and screen and won a Golden Globe and Oscar for her role in 1990's Misery.

After playing the real-life character Molly Brown in the film, Kathy has continued to work non-stop on TV and film.

Kathy received nominations for the Academy Award for Best Supporting Actress for her roles in Primary Colors (1998), About Schmidt (2002), and Richard Jewell (2019).

Her TV work has seen 14 Emmy Award nominations, including two for her leading role on Harry's Law.

In 2016, she received a star on the Hollywood Walk of Fame.

Victor Garber (Thomas Andrews)

Victor Garber then and now.

Picture: Getty

Before playing the ship's builder Thomas Andrews, Canadian actor and singer Victor Garber was a seasoned Broadway and film star.

He was a four-time Tony Award nominee by 1997, and his film appearances included Sleepless in Seattle and The First Wives Club.

Since Titanic, he has appeared in the films Argo and Sicario, and he starred in Big Game alongside Samuel L Jackson.

On TV, he is best known for his role in Alias, for which he earned three Emmy nominations. He has also popped up on Glee, The Flash, Modern Family, Legends of Tomorrow, Schitt's Creek, Power, Power Book II: Ghost, and The Orville.

Bernard Hill (Captain Smith)

Bernard Hill then and now.

Picture: Getty

Manchester-born actor Bernard Hill was best known in the UK before Titanic for playing Yosser Hughes, in Alan Bleasdale's Boys from the Blackstuff in the 1980s.

He also had roles in films like Ghandi and Shirley Valentine before landing the role of Captain Smith.

But his biggest role was still to come, as in 2002 he played King Theoden in the Lord of the Rings films.

His other parts have included True Crime with Clint Eastwood, The Scorpion King, Wimbledon, Unforgotten and Wolf Hall.