Where does Captain Tom Moore live and does he live with his daughter?
20 May 2020, 15:19 | Updated: 20 May 2020, 18:37
Captain Tom Moore has captured the nation's heart and become a national hero - but where does he live in the UK? And does he live alone?
The veteran Tom Moore, who turned 100-years-old on April 30, has raised over £32 million for the NHS helping him land a knighthood so now, many want to know where he lives to send him a congratulatory card.
Encouraged by his daughter Hannah, Tom walked lengths of his garden to raise the money through his Just Giving page and as the donations started to pour in, attention on the Captain increased worldwide.
Since his rise to stardom, Captain Tom has had a number one single with singer Michael Ball, has appeared on hundreds of news stories and will be given a knighthood by the Queen.
But just where does Captain Tom Moore live and does he live with daughter Hannah Ingram-Moore? Read on to find out...
Where does Captain Tom Moore live?
Captain Tom Moore is originally from Keighley, West Yorkshire.
He grew up in the town with his father, a family builder and mother, a head teacher and was educated at Keighley Grammar School before training as a civil engineer.
During World War II, Captain Tom was initially stationed in Cornwall before being transferred to serve in Burma and India, returning to the UK after the war to work as an instructor at the Armoured Fighting Vehicle School in Bovington, Dorset.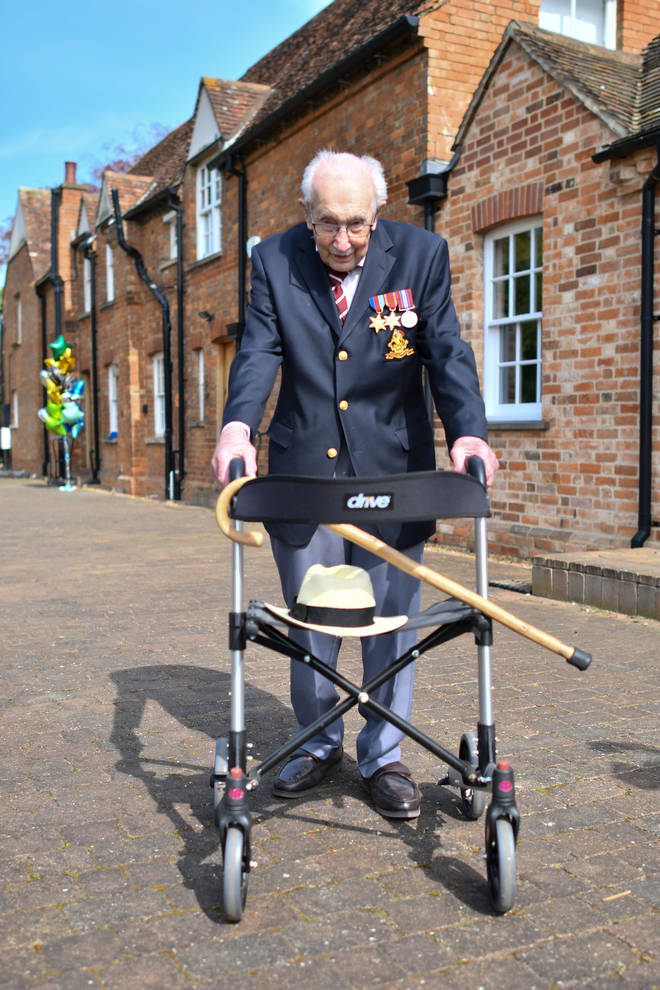 In 1968, Captain Tom met his wife Pamela when he was 50-years old and she was 35, and the two of them settled down in Welney, Norfolk close to Tom's work at Cawood/March Concrete.
The couple had two daughters, Hannah and Lucy.
After Pamela sadly died in 2006, Captain Tom moved to live in Bedfordshire and has been settled there ever since.
Does Captain Tom Moore live with his daughter?
For the past 14 years, Captain Tom has lived with his daughter Hannah Ingram-Moore and her family.
It is here, at Hannah's Marston Mortaine, Bedfordshire home that Captain Tom's famous walks of the family's 25 metre garden caught the attention of the nation.
Captain Tom also lives with son-in-law Colin Ingram and grandchildren Benji and Georgia.
Hannah Ingram-Moore is a business recruitment officer and the director of Maytrix, a company she co-founded.
It was Hannah's her idea that her father should walk laps of his garden to raise money for his 100th birthday on April 30.
The amazing £32 million raised for the NHS comes after Captain Tom broke his hip 18 months ago.
Daughter Hannah told LBC: "He is your stoic Yorkshire man. And having broke his hip 18 months ago he knows full well that if he didn't keep walking he would stop walking altogether.
"When he was in his eighties he had two new knees, and the way he got around that was by cycling every day a week after he'd had them done.
"He's compelled to stay fit and active, he says there's no fun in getting old but at least try and stay as fit as you can."