La Toya Jackson facts: Michael Jackson sister's age, husband, children and career revealed
31 March 2022, 11:29 | Updated: 19 May 2022, 13:18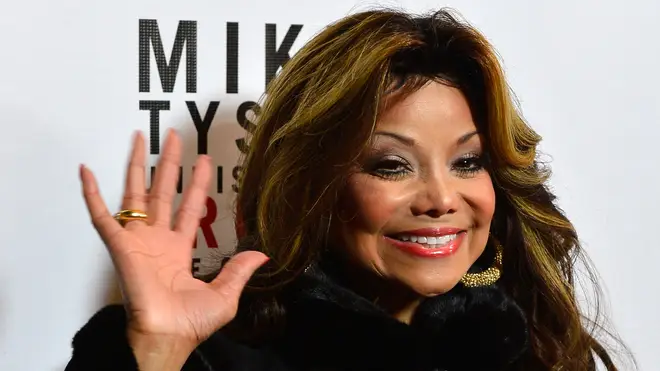 La Toya Jackson is the fifth and middle child of the famous Jackson siblings, and she carved out an entertainment career of her own.
La Toya has been a singer-songwriter, actress, businesswoman and TV star over the years.
She first found fame while taking part in the family's variety TV show, The Jacksons, in 1976. She then had success as a solo artist in the 1980s and 1990s, releasing nine albums over 15 years.
Her most successful songs were 'Heart Don't Lie', 'If You Feel the Funk', 'Bet'cha Gonna Need My Lovin'', 'Hot Potato', 'You're Gonna Get Rocked!', and 'Sexbox'.
La Toya Jackson - If You Feel The Funk • TopPop
La Toya is also a two-time New York Times best-selling author, and posed for Playboy magazine in 1989 and 1991.
In more recent years, she has become a reality TV personality, appearing on shows such as Celebrity Apprentice and The Masked Singer.
How old is La Toya Jackson and who are her siblings?

La Toya Jackson when she was young in 1978. Picture: Getty

La Toya was born on her sister Rebbie's sixth birthday on May 29, 1956 in Gary, Indiana. She celebrated her 65th birthday in 2021.

She is the fifth of 10 children born to parents Joe Jackson and Katherine Jackson and is the middle female child between Rebbie and Janet.

Aged 16 in 1972, La Toya joined her brothers with a tap dancing routine when her father arranged for them to perform in Las Vegas.

At the time, The Jacksons were lower-middle class and devout Jehovah's Witnesses.

La Toya with brother Michael and James Brown. Picture: Getty

Her siblings are:

Maureen Reillette 'Rebbie' Jackson (born May 29, 1950)
Sigmund Esco 'Jackie' Jackson (born May 4, 1951)
Toriano Adaryll 'Tito' Jackson (born October 15, 1953)
Jermaine La Jaune Jackson (born December 11, 1954)
Marlon David Jackson (born March 12, 1957)
Brandon Jackson (March 12, 1957 – March 12, 1957)
Michael Joseph Jackson (August 29, 1958 – June 25, 2009)
Steven Randall 'Randy' Jackson (born October 29, 1961)
Janet Damita Jo Jackson (born May 16, 1966)
Her father also had a daughter, Joh'Vonnie Jackson (born August 30, 1974) from an affair.

Who was La Toya Jackson's husband?

La Toya Jackson and Jack Gordon. Picture: Getty

La Toya had a tumultous marriage to her former partner Jack Gordon, and she has no children.

In 1987, Jack Gordon was hired to co-manage La Toya by her father, Joseph. Gordon later took over her management completely.

Under Gordon, La Toya's public image became increasingly sexualized, and she began to be distanced from her family.

She was disfellowshipped by the Jehovah's Witnesses, and defied her father by moving out of the family home.

La Toya and Michael Jackson in 1984. Picture: Getty

In 1989, she became ostracised by the Jackson family after posing topless for Playboy magazine. Two years later, she posed again for the magazine, and later said that she initially refused to do so, but Gordon beat her until she relented.

Later that year, Gordon and La Toya were married. She later claimed she had been forcibly married, with Gordon claiming it was for her own protection against kidnapping by her family.

She later said: "I told him, 'No way, Jack! I can't marry you. You know what marriage means to me. I've never been in love; I don't even date... It's not right. I don't love you. I don't have feelings for you.'"

Six months into the marriage, she asked Gordon for an annulment. Gordon repeatedly smashed her head against the corner of the hotel room table, saying that he would never let her go.

It was here that La Toya lost all contact with her family, and wrote an autobiography which accused her father of physical abuse.

For the next decade, Gordon controlled La Toya with various threats, lies, and domestic violence. She said: "When he hit me, the first time I was in shock, I just recalled my ear ringing, just ringing so hard."

He confiscated her passport, transferred her bank accounts into his name, hired bodyguards to watch her constantly, and banned her from seeing her family.

In 1993, Gordon beat her repeatedly with a brass dining room chair, leaving her with black eyes, a swollen lip and chin "the size of a clenched fist", and cuts requiring multiple stitches.

LaToya Jackson and Jack Gordon. Picture: Getty

Gordon was arrested, but then released, claiming he beat La Toya in self-defense.

The same year, Gordon arranged a press conference where he made La Toya read a statement claiming to believe the sex abuse allegations against her younger brother Michael.

When La Toya found out that Gordon was planning to feature her in a pornographic film, she finally decided to leave him. She phoned brother Randy, who flew to New York to help her escape.

Days later, she filed for divorce and sued him for years of abuse under the Violence Against Women Act.

La Toya also ended her estrangement with the entire Jackson family, and returned home.

Gordon died of cancer on April 19, 2005, aged 65.

What is La Toya Jackson's net worth?

La Toya Jackson has an estimated net worth of around $4 million, according to Celebrity Net Worth.