Prince Harry doing ballet with 4-year-olds is the sweetest thing you'll watch today
4 April 2019, 10:31 | Updated: 4 April 2019, 16:33
Prince Harry joined a group of children in a ballet class at a YMCA in South Ealing, London and got told off for 'wobbling' as he joined the 4 to 6-year-old kids to show off his ballet moves.
The Duke of Sussex, 34, was on a solo visit without his wife Meghan Markle to discuss the challenges faced by young people today and how social media affects their mental health.
Stepping into a ballet class on his tour of the YMCA, the Prince asked Emanuel Lester, 5, what his favourite part of dance class was.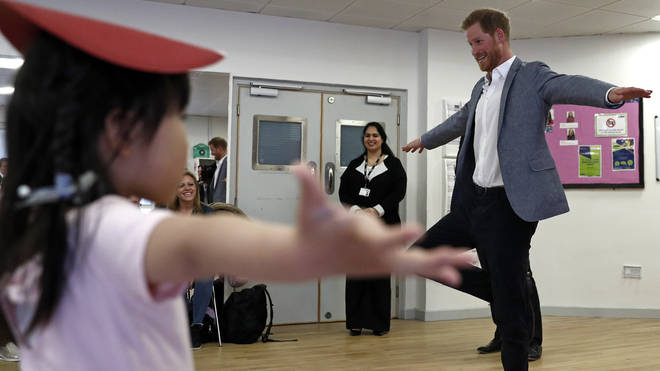 Emanuel's response of "ballet challenge" prompted teacher Jade Groves to explain that he was referring to when the children balanced on one leg with a plastic disk balanced on their heads.
Jade went on to say: "Do you want to show him?" and all of the children stood up, and to their delight, Prince Harry joined in on the challenge.
"Arms out, one leg up!" Jade instructed, as Harry stood facing the class balancing on one leg.
"You wobbled", one of the children pointed out, as the Duke of Sussex struggled to keep his balance.
After his ballet class, Prince Harry crouched down speak to the children, ushering them to come closer.
He asked Arya Twydell, 5, how long she had been doing ballet for, and was left laughing when she shouted: "100 years!"
He praised the group of young dancers that they deserved "gold stars", then to tease Emanuel Lester, he added: "Except you."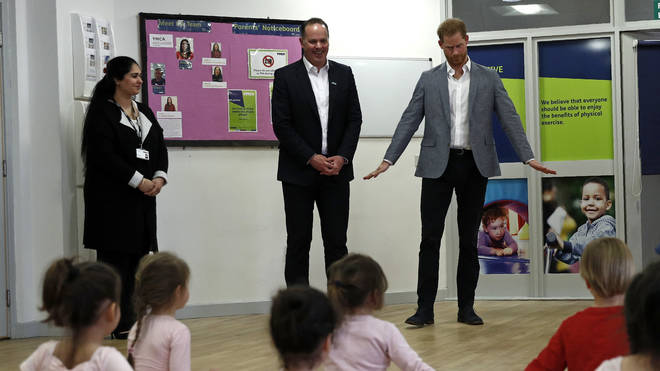 The Duke of Sussex then sat down to a roundtable discussion to speak to member of 12 organisations about the challenges facing young people in today's society.
The Prince was in south London to learn more about YMCA's #IAMWHOLE campaign which - in partnership with the NHS - encourages young people to discuss their mental health
"There is too much negativity surrounding mental health, and no wonder it's so hard for young people to actually talk about it.
"Look at growing up in today's world. Social media is more addictive than drugs and alcohol yet it's more dangerous because it's normalised and there are no restrictions to it."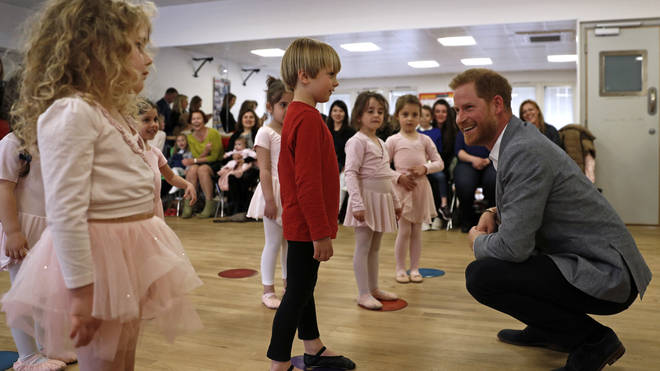 The Prince then went on to discuss young people's current preoccupation with the video game, Fortnite, adding: "That game shouldn't even be allowed. What is the benefit of having that game in your household, no matter what age you are. It's created as an addiction to keep you in front of a computer as long as possible."
Chief Executive of Young Minds, Emma Thomas, who chaired the session, told Town and Country afterwards,"I think it was really fruitful. It wasn't just a sharing of experiences but very much how do we come together to do more together for young people.
Reflecting on Prince Harry's involvement in mental health, she added: "I think you could hear from his passion today that it's a long-term commitment...It's clear around the social media side and the online games that he has a real concern around that."