Bryan Adams joins Coldplay for epic rendition of 'Everything I Do' at Vancouver concert
25 September 2023, 11:44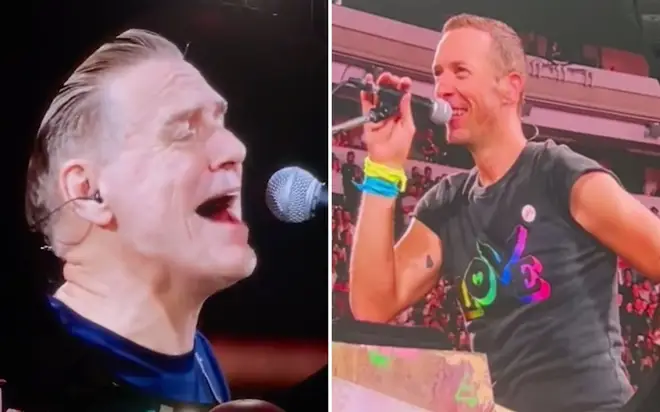 Coldplay have made a habit out of inviting surprise guests on stage with them in recent months.
Whenever the British pop rock giants roll into town, you can bet your bottom dollar that they'll be bringing with them a famous local name.
The band love an epic cover version too - despite their many hits - and will snatch any opportunity to perform a joyous sing-a-long.
They can transform their stadium shows into an occasion which comes across as freeing and feel-good as a karaoke session sometimes, though, just one with thousands of people in attendance.
Currently in the midst of their 'Music For Spheres' tour which extends in 2024, Chris Martin and company have treated fans to a few notable covers of late.
There was the Backstreet Boys' pop smash 'Everybody (Backstreet's Back)', and Elton John's timeless space ballad 'Rocket Man' which they performed after paying tribute to the legendary singer who had recently called time on his career in playing live.
So when Coldplay recently headed to Vancouver, there was a hometown icon the band couldn't refuse to bring out.
That's precisely what occurred, when none other than Bryan Adams joined the Brits on stage for a heartfelt cover of 'Everything I Do (I Do It For You)'.
Chris Martin invited the legendary Canadian singer (and now photographer) onstage during their concert at BC Place on Friday 22nd September.
Of course, they couldn't perform anything other than Adams' 1991 number one rock ballad.
Bryan arrived on stage with acoustic guitar in hand, performing the first verse on his own with Martin supporting him on the piano.
The Coldplay frontman then joined in singing throughout the choruses and encouraged the enormous crowd to partake.
For the fist-pumping guitar solo, R&B guitarist H.E.R. shredded in front of the audience, who is supporting Coldplay throughout their current world tour.
'Everything I Do (I Do It For You)' was originally featured in the Kevin Costner-starring medieval action-adventure movie Robin Hood: Prince of Thieves, which also came out in 1991.
Bryan Adams' ballad became a global sensation at the time, and still to this day holds the chart record for the longest-running consecutive UK number one song after spending 16 weeks at the top.
Bryan took to his Instagram to thank Coldplay for the privilege of playing to his home crowd after the show.
Adams wrote: "Hello my hometown! Last night playing an impromptu song with @coldplay, great vibes. Cheers to Chris and the band for having me. #coldplay #everythingidoidoitforyou".
The success of 'Everything I Do (I Do It For You)' can't be overstated, as it reached the summit of pop charts around the world after its initial release.
The soft rock ballad - which was produced by Shania Twain's ex-husband Robert "Mutt" Lange - also bagged Bryan Adams a Grammy Award.
It won the Grammy for Best Song Written Specifically for a Motion Picture or Television and was nominated for Record of the Year but lost out to Natalie Cole, the daughter of crooning Christmas jazz singer Nat King Cole.
Adams has recently announced he'll be releasing a live concert DVD recorded from London's historic Royal Albert Hall on 8th December just in time for the festive season.
Bryan Adams: Live At The Royal Albert Hall will see the Canadian rocker perform three different albums recorded on the same day - Into The Fire, Cuts Like A Knife and culminating with Waking Up The Neighbours with the audience watching.