Watch Michael Bublé's hilarious and heartwarming Carpool Karaoke with James Corden
27 October 2018, 16:05
We want to be in this car so bad!
James Corden and Michael Bublé belted out some of the Canadian singer's most famous hits in a special edition of Carpool Karaoke.
The Late Late Show host welcomed Michael to his car journey for Channel 4's Stand Up to Cancer charity event last night (October 26).
Corden first attempted a go at Bublé's 2009 hit 'Haven't Met You Yet', while the duo also sing 'It's a Beautiful Day'.
"It is a fact Bublé is looking good right now," Corden said, with the singer adding: "There's two Bublés. There's a fat Bublé. Then there's a, 'Hey, I've a Got Record Coming Out Bublé'."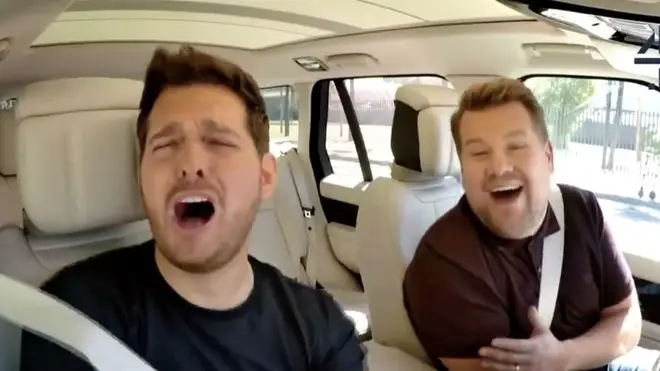 The charity telethon was particularly personal for Michael, since his young son Noah is currently in remission from liver cancer, after battling the disease for the last two years.
During the episode, Bublé spoke openly about Noah's cancer battle, saying: "It is so hard to have to acknowledge it. Obviously we got his diagnosis and that was it, my whole life ended.
"At first it was just, it is too hard to talk about. They said it wasn't great so we took it day by day. We had the best doctors."
"I wasn't OK," he continued. "When this all started I became the strength to somehow pull us and lift us. When they got it out and chemo was done, I just fell. My wife picks me up now."
Speaking about Noah is now in remission, he said: "He is five years old now and I say to him, Spiderman is amazing but they [characters] are fake, they are not real. You are my hero, you are my superhero."
Watch the whole episode below:
Michael Buble Carpool Karaoke - Stand Up To Cancer
Michael recently dismissed reports that he was retiring from the music business, with plans for "a new album coming out, TV appearances, and a possible tour" in the works.
The Canadian star will feature in a special programme on Smooth Radio this Sunday (October 28), where he will discuss his favourite music and how his family coped with a difficult two years after Noah's diagnosis in 2016.
Nobody But Me - A Michael Bublé Special with Margherita Taylor will air on Sunday at 9pm on Smooth Radio.