Take That podcast: Gary, Mark and Howard discuss emotional band break-up and Robbie's exit
26 October 2023, 09:30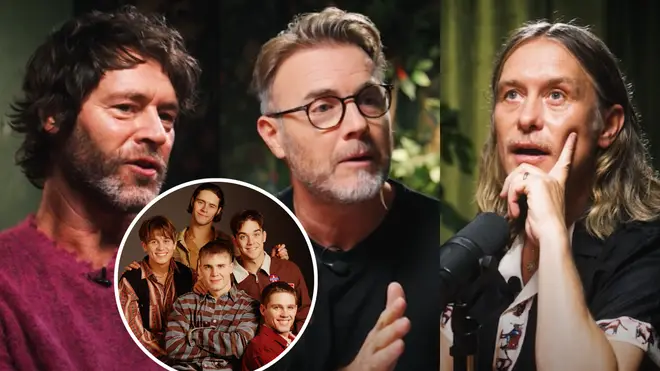 In the second episode of Take That's new podcast, the boys look back at the personal battles they had to face as they dealt with superstardom in the '90s.
Take That: This Life, a brand new podcast, celebrates the return of one of the UK's most successful bands, Take That.
Across six episodes, Gary Barlow, Mark Owen and Howard Donald will recount pivotal moments from their epic 30+ year career, charting their journey from five young lads playing Manchester clubs to number one albums, record-breaking tours and everything in between.
The six-part podcast lifts the lid on the band's musical journey from the 90s until now, as remembered by the three people at the heart of it all. They'll share forgotten memories, discuss parts of their lives never heard before and receive surprise video messages from special guests.
In episode two, available on Global Player now (the full video version will be available on Friday October 27), the trio look at their mid-90s pomp.
Opening up about dealing with fame as a young man, Howard said: "It's a real tough one…the people outside your house, taking pictures over your gate or whatever it may be. It's a really difficult one to even to know [how to deal with] because of it going so fast.
"It was a rollercoaster of emotions, we were here, there, everywhere. I found the whole thing of fame quite a tough one, because I know that at that point, and you were the same Gaz, we had girlfriends we were trying to hold down and we were told off different people, whether it's a record company or management that oh, you shouldn't have girlfriends, you need to look available for the fans.
"I found it really difficult to be away from home and I remember I used to tell Nigel [Martyn-Smith, manager], I want to go home and see my mum, when in reality I wanted to go home and see my girlfriend."
Howard said that mental health wasn't a topic of conversation back in the '90s, and that the band didn't actually know each other that well: "As much as we got on with each other, which we really did, and discounting from 2005, because that's when we really got on with each other, that's when we really understood each other, back then I don't think we really understood each other as good as we should have.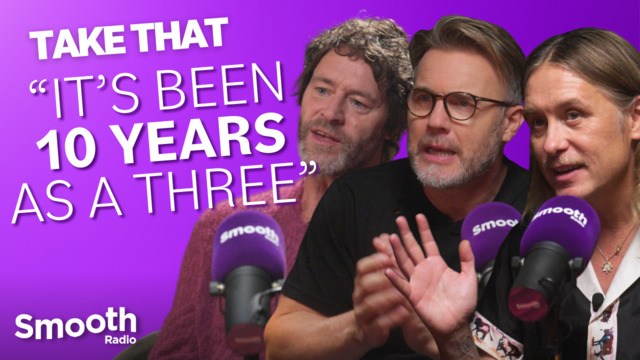 Take That interview: Band reflect on 10 years as a trio ahead of new album: "You know Robbie, he might come back"
"Because of the speed of everything we never really spoke about what was going on at home. I was going through a bit of a tough time because I was feeling it and we never really spoke about that. It was quite a difficult time in life, even though success was great.
"But success didn't overrule where I really wanted to be, which was at home. I guess in a way, when we did split up eventually it was a massive relief, but at the same time, it was like, oh no, I want to be on that side of the fence again because I didn't really know what to do with myself because it's all I knew. I knew vehicle paint and I knew it wasn't going to go back to that.
"I didn't really know where I was, what I wanted to be, what I was doing with myself and a bit of depression came in and you know, the suicidal thoughts of not being in a band, but knowing I didn't really have the strength to end it. I knew I wasn't going to do it but I was still thinking about it."
Mark replied: "But you also had nobody to talk to about it, you'd probably never spoken to Nigel. Nowadays you'd probably have a little bit more tools to be able to work through that. I never knew until 15 years late or whatever it was that you were actually having that all, I didn't know."
Howard: "I think it is one of the biggest stigma in men, that they don't want to talk about it because they're too ashamed about it."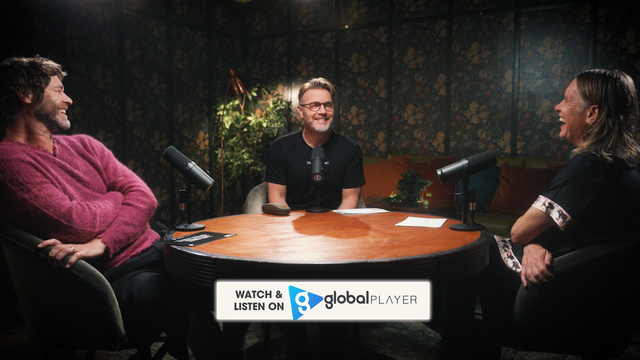 Watch The Trailer For Take That's New Podcast: This Life!
They also opened up about the end of the first incarnation of Take That in 1996, and how Robbie's departure the year before was the beginning of the end.
I think we announced our breakup in '96. Obviously, feelings were very tense. I was very tense about getting up on stage in front of all this press to announce this. How did it make you feel?
Gary said: "I felt relieved. It was like a pressure cooker for me. I think all the build up over the years of I don't want to release a record and it not be as good as the last one.
"All the build up of worrying I used to do, it was 'oh thank God for that'. We did it, we made it, made it through. The only bit that wasn't perfect was that Rob had left. That was the bit that wasn't perfect, but we'd moved on from that a little, we were in a new year."
Mark asked: "Do you think that was the beginning [of the end], when Rob left?"
Gary replied: "I think we were already splitting up, yeah."
Take That: This Life is available on Global Player. New episodes are available every Thursday morning, with the full video versions available on Global Player on Fridays.