Take That reflect on 10 years as a trio ahead of new album: "You know Robbie, he might come back"
19 October 2023, 14:11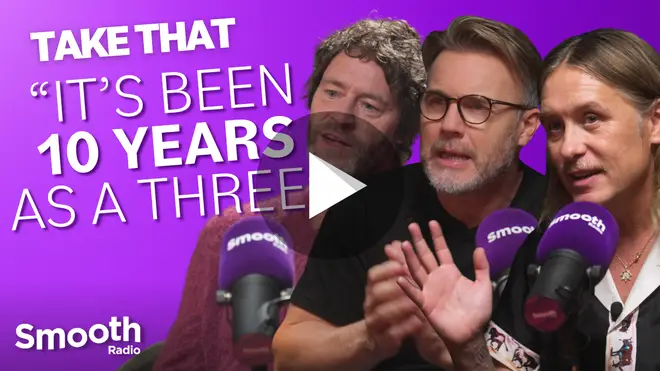 Take That are back!
Amazingly, it's been 10 years since Take That re-emerged as a trio, following the departures of Jason Orange and Robbie Williams as full-time members of the band.
Take That will soon release their ninth studio album This Life - featuring the fantastic lead single 'Windows' - which sees Gary Barlow, Mark Owen and Howard Donald take on a mature Americana sound. It is their first new studio album in six years and their third as a trio (four if you count the 2018 compilation Odyssey).
To mark the new album, Take That have launched their official podcast Take That: This Life, a six-part Global Original podcast, released every Thursday starting today (October 19).
While recording the series, Smooth Radio's Jenni Falconer sat down with the boys for a special interview about the podcast.
The boys also discussed their amazing Coronation concert earlier this year, their return to touring in 2024, and reflecting on their decade as a three-man band.
Discussing the podcast idea, Gary said: "How do we reach people with this [new album]? And of course, in the last few years, everything's changed, everything's different. And so the label came to us and said, listen, we can do this, and Strictly and all these things, but we think a good idea would be to actually talk to your fans through a long medium.
"So for us, straight away, being a band who've spent our whole life putting stuff into 20 seconds to try and tell people about your music, the idea of having 45 minutes, an hour to talk about what you've been doing, it's really interesting and good. And if people have the patience to sit and listen to it, fantastic. So we're giving it a try."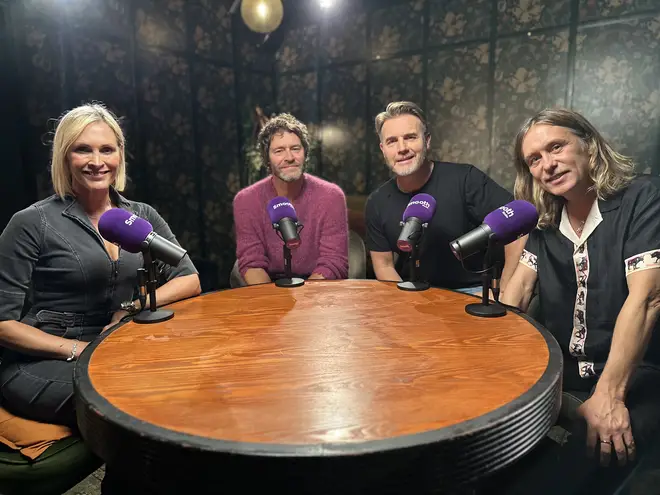 Mark said: "The thing behind the idea, which I really loved, was it takes you somewhere else, a podcast, rather than touching on stuff of questions that you always get asked every time when you come to do promo. It's actually nice to have sit round a table and discuss between ourselves, our feelings of what we felt on certain things, certain album releases or certain tours when one of us got injured.
"And it takes you somewhere where I think that the fans and the people listening will actually get their interest, thinking, oh, hang on a minute, I've heard all that, but I've not heard this before. This is new."
Looking back at performing for the King earlier this year, Howard said: "It was funny, that gig, because actually, I mean, as amazing as it was, I was more nervous of performing in front of a crowd again. And it wasn't it was our first time back, the royalty thing wasn't even in my head.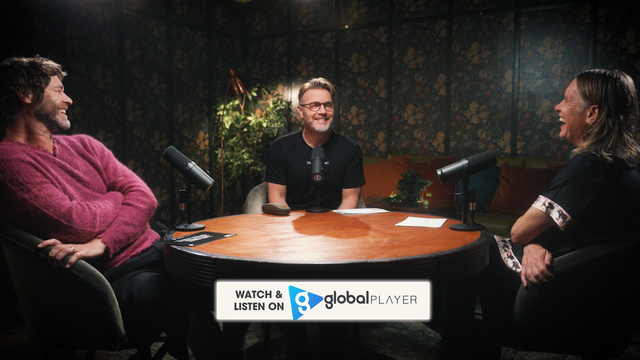 Watch The Trailer For Take That's New Podcast: This Life!
"I was just thinking about performing in front of the crowd and actually making sure I got my lyrics right, to 'Never Forget', because it was incredible and it was very emotional. The next day I remember going to Heathrow because we had to fly to America and just again, everyone was recognising you and wanted pictures and it was too much. It was actually too much for me."
And reflecting on their last 10 years, Gary told Jenni: "We've been a three since 2013. We've played hundreds of shows as three, and this feels like Take That. You know what Rob's like, next year the year I don't know, he'll come back and go, 'should we do a tour?'. And we'll maybe do one, but this is Take that right now and it's lovely."