How Cher and Tina Turner became life-long best friends: a timeline
8 June 2023, 15:06 | Updated: 16 June 2023, 14:03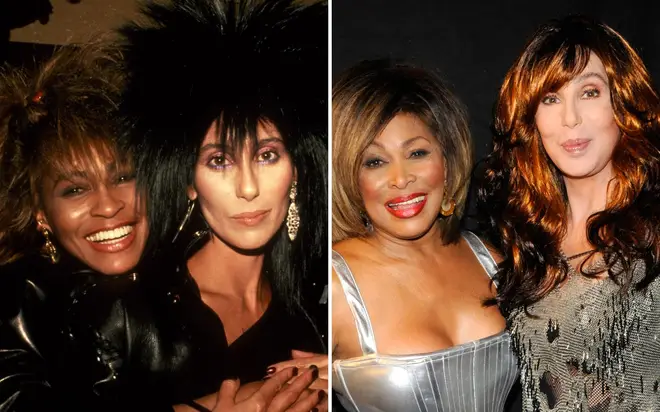 They're both iconic divas in their own right.
And both women were groundbreaking in their respective fields of music: Cher being considered the Goddess of Pop, and Tina Turner known as the Queen of Rock 'n' Roll.
Both Cher and Tina Turner were trailblazers and helped pave the way for women in music to have more ownership and say over their own careers.
Becoming renowned as one part of musical duos, Sonny & Cher and Ike & Tina Turner, there was plenty of common ground the stars shared.
Their musical partnerships weren't only for entertainment purposes however, as they were both married to their partners Ike Turner and Sonny Bono.
But as on-screen success blossomed at the time, off-screen things worsened. Both women survived their difficult relationships with each other's help and went on to create their own fame and fortune.
So it was understandable why these two music legends formed an unbreakable bond which turned into a lifelong friendship.
Let's look at how Cher and Tina Turner became best friends and stayed that way for nearly fifty years:
When did Cher and Tina Turner first meet?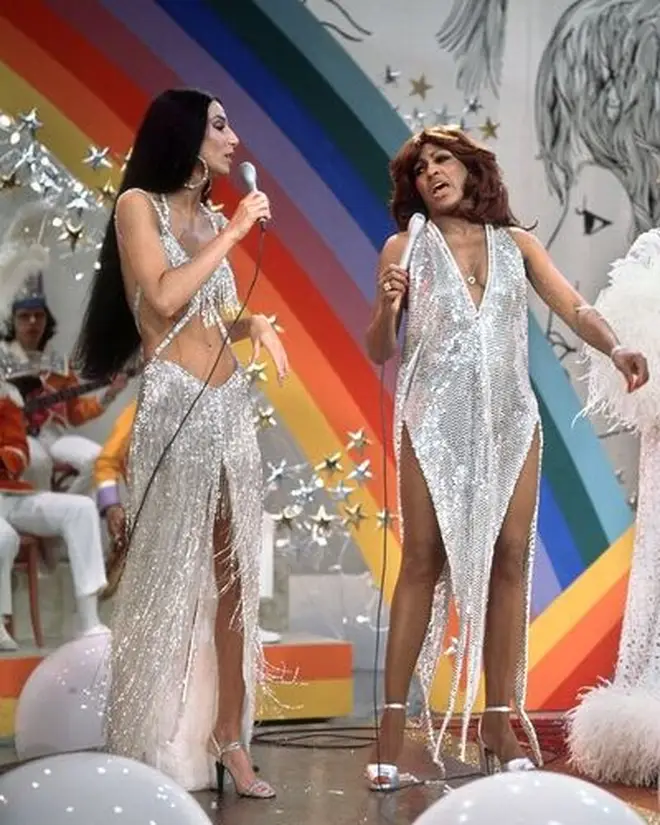 Cher and Tina Turner first met in 1975 when Tina was a guest on the 'If I Could Turn Back Time' singer's solo variety show, Cher.
In a 2008 interview with Oprah Winfrey, Cher recalled meeting Tina for the first time saying: "The first time Tina and I worked together, she came into the studio and I was expecting, you know, Tina Turner."
"But she comes in wearing a little silk shirt and trousers and high heels. ... Then we started talking, and I have a sailor's mouth, and Tina is so genteel—she talks like such a lady."
"She just kept looking at me, like, 'Whoa, where did you come from?' Cher added. "I remember I thought, 'I'm going to have to dance with Tina Turner."
"Do you know what that feels like? It's like dancing with a hurricane."
When did the pair become genuine friends?
Cher on Getting Older (Oprah Interview ft. Tina Turner)
Cher and Tina Turner struck up a friendship almost immediately, out of mutual respect and admiration for each other's careers in the beginning.
Tina remembered how she felt when she first met Cher, saying: "Cher was so free. She was in control of her career and her life and what was in the studio."
At the time, Cher had recently left her husband Sonny Bono citing infidelity and involuntary servitude, though she had also started an affair with music mogul David Geffen herself as her divorce was being finalised.
But it took a huge amount of guts for Cher to leave Sonny, who owned all of the intellectual property they'd created together, and Tina was in awe of her decision to make a clean break.
Why did Cher and Tina Turner bond so quickly?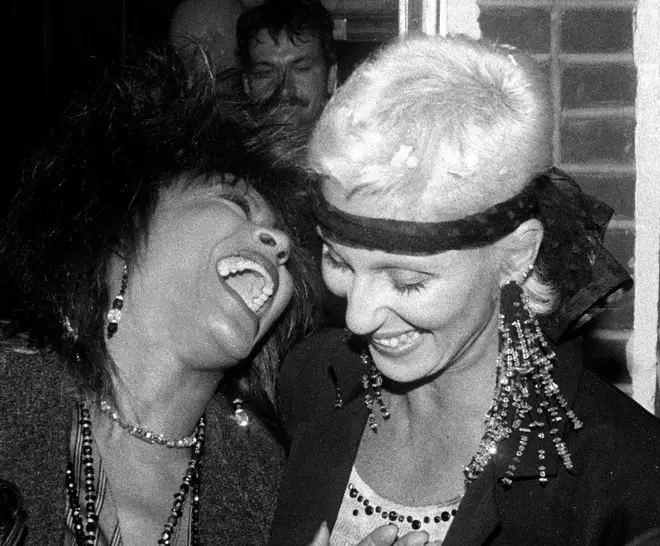 Not only were Cher and Tina Turner formidable performers and people, they'd also shared similar experiences in their marriages to their partners.
Tina most definitely suffered much more physical abuse, but both she and Cher were treated as the lesser partner in their marriage and musical duos despite being arguably the main reason for their successes.
They were both young when tying the knot - Tina was 22 and Cher was only 16 - and had made their careers with their partners, so the decision to leave their loveless marriages also impacted their careers.
But both artists were brave enough to cut their ties and carve their own paths in the face of enormous adversity.
After years of depending on their partners, they both confessed that becoming independent people and performers was a huge challenge.
"Neither one of us was ever on a plane by ourselves," Cher says. "I didn't know how to make out a check. I met Sonny when I was 16." Living in the spotlight didn't help, she says. "I made so many stupid mistakes. ... It's hard because you make all your mistakes in front of thousands of people."
Tina said finding her independence was intimidating, but nowhere near as bad as being with her ex-husband Ike.
"I released myself," Tina declared. "I wasn't intimidated by not knowing. I simply said, 'No, I don't know that.' I was okay with not hiding from it."
Did they ever perform together live?
Cher - Shame Shame Shame (with Tina Turner) (The Cher Show, 04/27/1975)
Cher and Tina Turner would perform together a number of times, each performing being more explosive than the previous.
They first duetted together on 'Shame Shame Shame' on Cher in 1975 which became immediately iconic, with Tina coming back in 1977 as a solo star which would be her first televised performance without Ike singing 'Makin' Music is My Business'.
Elton John joined the Goddess of Pop and Queen of Rock 'n' Roll for a rowdy rendition of 'Proud Mary' in 1999 for the charity concert Divas Live.
But their final performance together was on the Oprah Winfrey Show in 2008 where they duetted on 'Proud Mary' once again, before Tina revealed that she would be touring for the final ever time.
Was Cher still close to Tina Turner before she died?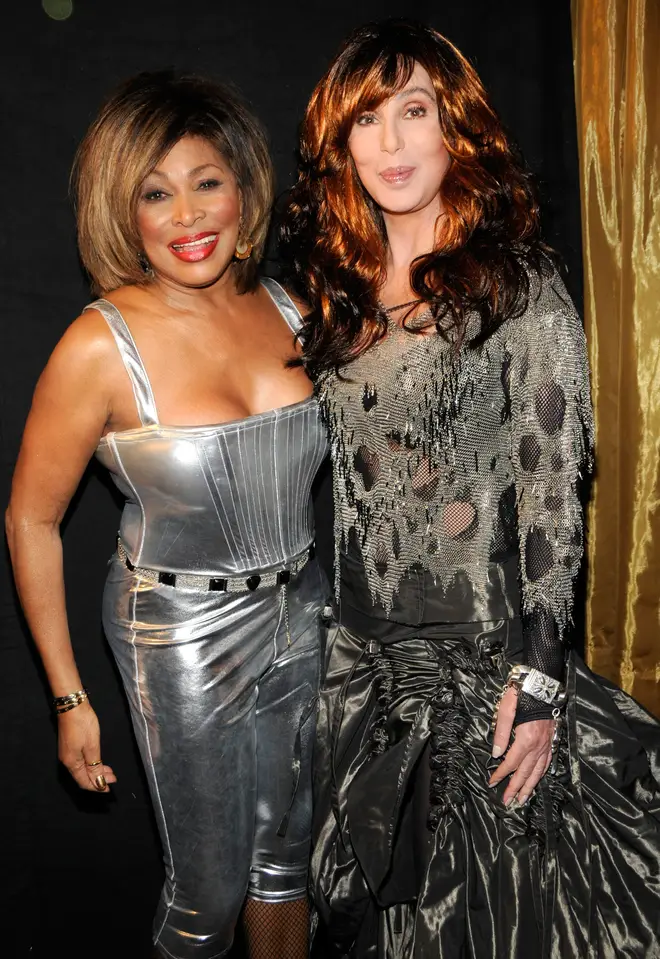 Like all lifelong friends, Cher and Tina Turner were incredibly close until the end when Tina died on 24th May 2023 at 83.
After Tina retired from music in 2009 and spent her days in Switzerland with her husband Erwin Bach, Cher kept in touch frequently, especially as she battled illness.
When Tina died, Cher called into MSNBC's The Beat with Ari Melber just hours after the news broke to pay tribute to her dear friend.
Cher knew that Tina was struggling with illness towards the end of her life, and said: "I started going to visit her because I thought, 'I need to put this time into our friendship', so she knows we haven't forgotten her."
"So we all took turns going and spending time with her and it made her happy" Cher continued, revealing they'd crack each other up with their "distinct" laughs.
Cher called Tina "a force" and "one of the great artists" in rock music history, saying that though "she might not have won every battle, but she fought every war. She was there fighting for all the things she believed in."
Tina and Cher were fighters, in both their professional and personal lives. They recognised that in each other and established an unbreakable bond.
That's even despite their differences, with Cher confessing that she believed they were "perfect friends for each other," but "I swore like a sailor and she never did."