Anthony Hopkins shares joyous video dancing in his kitchen to Dean Martin's 'Mambo Italiano'
14 November 2023, 12:56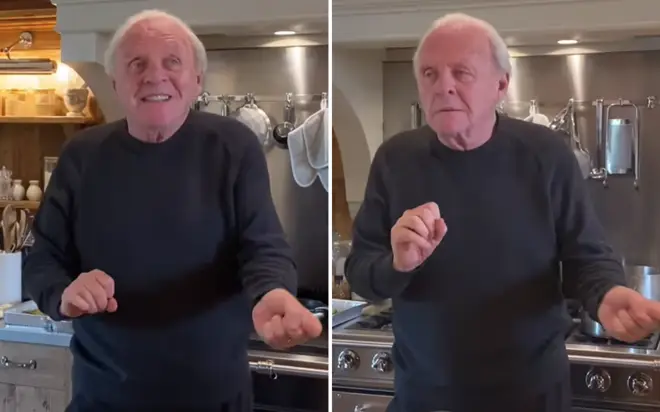 Age evidently isn't slowing him down.
Sir Anthony Hopkins, at the ripe age of 85, is having more fun in life than he likely ever has. At least, that's how it looks from the outside, and long may it continue.
The Silence of The Lambs acting legend has recently created yet another viral sensation with the latest video uploaded to his personal Instagram.
No wonder over five million people following his social media moves closely, when it's a continuous stream of gold.
Showing himself during a Sunday cooking session, the Academy Award-winning actor can't contain his joy, as he dances about his kitchen.
Listening to 'Mambo Italiano', the song from The Rat Pack's legendary crooner Dean Martin, Sir Anthony shakes his hips like a man half his age.
It seems the older he gets, the more eccentric and vibrant the actor becomes, and he's become an Instagram sensation in his own right because of it.
His latest post warmed the hearts of his fans around the world, including a batch of A-Listers that can't get enough of Sir Anthony.
The likes of Leona Lewis, Naomi Campbell and actor Jeffrey Dean Morgan all showed their love for the Meet Joe Black star.
His loving followers couldn't hide their glee with the 85-year-old screen legend strutting his stuff.
One person commented calling him "my idol", another a "genius", and another follower said: "Nothing better to wake up to other than Anthony Hopkins jammin' in the kitchen".
Sir Anthony captioned his video with: "Hey goomba do you like how I dance the rumba…? Sunday vibe," typically not taking himself too seriously.
Brit actor Sean Maguire couldn't hide his affection for Hopkins, commenting: "Never stop being wonderful."
Oscars 2021: Anthony Hopkins' belated acceptance speech from Wales pays tribute to Chadwick Boseman
As well as becoming a social media phenomenon, Sir Anthony is still widely regarded as one of the greatest actors of all time.
In 2021, he became the oldest-ever person to win an Academy Award for acting at the age of 83, with his portrayal of a man battling dementia in The Father.
He won his first Oscar nearly thirty years before, for playing the screen-stealing psychopath Hannibal Lector, being nominated a further four times.
In recent years he's starred in less terrifying films like the Chris Hemsworth and Tom Hiddleston-starring Thor in 2011 and its subsequent sequels in 2013 and 2017, being cast in the role of Norse god Odin.
Though, he wasn't too enamoured with the filming experience which he detailed in an interview with The New Yorker in June of this year.
"They put me in armour; they shoved a beard on me. Sit on the throne, shout a bit. If you're sitting in front of a green screen, it's pointless acting it," he added.
Clearly, he's having a lot more fun dancing around his kitchen, and we're all here for it.