Dolly Parton recalls 'Islands in the Stream' 40 years on: "I miss Kenny Rogers every day"
7 July 2023, 10:30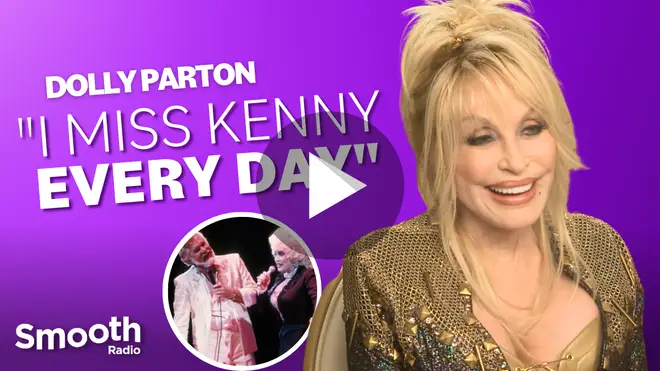 In 1983, two of country music's greatest-ever stars teamed up for one of the greatest duets of all time.
Dolly Parton and Kenny Rogers' track 'Islands in the Stream' would transcend country music and has stood the test of time 40 years on. You'll no doubt hear it at every disco, wedding, office party and karaoke session for many years to come.
Not only that, but the Bee Gees-penned song helped Dolly and Kenny have an enduring friendship that lasted until his death in 2020, aged 81.
Smooth Radio and Smooth Country presenter Eamonn Kelly caught up with Dolly Parton for an exclusive interview about her incredible career, and her upcoming album Rockstar.
Eamonn shared with Dolly how he interviewed Kenny several years ago, and how his eyes "lit up" when Dolly was mentioned.
KENNY ROGERS & DOLLY PARTON - ISLANDS IN THE STREAM - HQ Audio
Dolly said: "Well, I feel the same way about Kenny and I'm so proud of 'Islands in the Stream'. That's another thing I'm as proud of as anything I ever did in my musical career to make the choice to do that.
"And Barry Gibb, of course. There's people on this end of the world contributing to the music like they do. But I was happy to be part of that. I can't believe it's been 40 years and I miss Kenny every day because we had a great, great relationship.
Dolly explained what it was like working with legends like Barry and Kenny: "Everything is different. I'm always honoured when great artists like Barry who produced the record and he and his brothers wrote it, 'Islands in the Stream', for instance, and then Kenny.
"Just for them to even think of me. It's like Barry said, they said they tried to find the right people, they didn't know what they were going to do with the song, almost dumped it. And then Barry asked Kenny if he knew a girl named Dolly Parton and Kenny said, 'yeah, I think I do, I think I could reach her'.
"And I happened to be right up the street so that was just meant to be. And so I went down and within two or three hours we had that whole record done.
"And so it's always great. I'm not intimidated, I just want to do good. I get a little bit nervous, I guess, or get butterflies. You want to do well and keeping up with the likes of Barry and Kenny, but I just figure I'll just always be me and do me and that seems to work."
Dolly also spoke of how she wrote two of her best-known songs - 'I Will Always Love You' and 'Jolene' - in a very fruitful short period for the same album.
"I found them on the same cassette tape. Now it could have been a day or two apart, but it was during that same period of time and they're both actually on the Jolene album. They are on the same record and so I must have thought those were two really good songs.
"So I'm sure it had to be within that week where I had them on the cassette because sometimes I write and then a day or two go by before I put something else down. But yeah, they were written within the same period of time."
With Dolly being as busy as ever, she told Eamonn how she manages to find some downtime. She said: "Well, my life is my music is kind of like a lifestyle with me. I know how to take my rest and my breaks and all that. But I'm a very early-morning person.
"I do so much of my creative stuff in the wee hours. I call them like 'from three to seven'. I write so many songs during that period of time, but of course I could write anywhere if I've got the time to do it. But I really am in a real creative mood at that time. My mind is clear, the energies of the world kind of died down.
"So I feel like I have a more direct link to God, to that creative force or whatever you call it. So I really love writing in the mornings like that when I'm rested enough. And it's like just one of those things that seems to be when I do some of my best work."
Dolly Parton's new book Behind the Seams: My Life in Rhinestones - all about her iconic fashion and style - is released on October 19.
Her new album Rockstar - featuring duets with many iconic stars such as Paul McCartney, Elton John, Sting, Debbie Harry, Miley Cyrus and many others - is released on November 17.