8 classic songs with heartbreakingly sad real-life backstories
28 June 2018, 16:26 | Updated: 2 July 2021, 16:05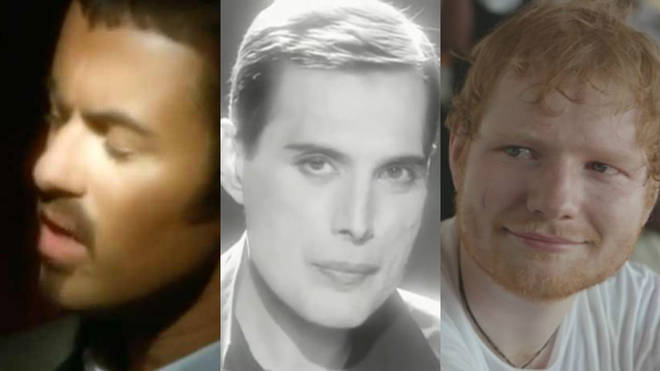 These are the songs that were born out of tragedy and heartbreak caused by real events.
There are plenty of tearjerker songs, but some songs hold extra emotional weight.
Who's chopping onions around here?
George Michael - 'Jesus to a Child'

This song was a melancholy tribute to George's Brazilian lover Anselmo Feleppa, whom he had met when performing in Rio de Janeiro in 1991. Feleppa died two years later from an AIDS-related brain haemorrhage.

George had been unable to write music for the next 18 months due to his grief, but then wrote the words to 'Jesus to a Child' in just over an hour, which helped him move on with his life.

George would regularly dedicate the song to Feleppa before performing it live.

Queen - 'These Are the Days of Our Lives'

This Queen song was originally written by Roger Taylor about his children, and how parenthood made him look back on his own life.

Inevitably, the song took on a totally new meaning when it was announced that Freddie Mercury had AIDS and knew he was going to die soon when he recorded it. The video was Mercury's last filmed performance, and Brian May later speculated that Freddie was "saying his goodbye" in the video.

The most heartbreaking moment in the video comes when a smiling Freddie tells the camera: "I still love you."

Michael Jackson - 'Gone Too Soon'

Dionne Warwick actually first performed, but never recorded, this song in 1983 on a TV special as a tribute to many performers who had died, including Elvis Presley, John Lennon, Sam Cooke, Buddy Holly, Otis Redding and Karen Carpenter.

Later the same day, Michael Jackson called writer co-writer Buz Kohan explaining he had wept while watching the performance.

Jackson's version of 'Gone Too Soon' was dedicated to the memory of his friend Ryan White, a teenager from Indiana who had been expelled from his school for having HIV/AIDS. White died in April 1990, shortly before he would have completed high school.

Eric Clapton - 'Circus'

Eric Clapton was suffering from serious pain after his four-year-old son Conor died in a tragic accident. He wrote 'Tears in Heaven' about the relationship between father and son, and the hopes that they might meet again.

Not as famous as that classic track, is this song, which looks back on the last night Eric and Conor spent together.

Explaining the song to the BBC in 1998, Eric said: "The last night I spent with Conor, we went to the circus. We went to see one of those huge things that they do in America where they have three rings going on at the same time. You've got clowns and tigers and everything. They don't do anything in half measures. They just pile it all in.

"After the show, we were driving back to New York City and all he could remember, all he could talk about was this clown. He'd seen a clown with a knife, which I didn't see at all.

"Some clown was running around brandishing a knife, which was something quite frightening but he liked it - I mean, it excited him. And so that is in the lyrics. But, and I suppose what I was doing, I was paying tribute to this night with him and also seeing him as being the circus of my life. You know - that particular part of my life has now left town."

Ed Sheeran - 'Supermarket Flowers'

Ed Sheeran wrote this ballad for his mum, because her mother and his grandmother was ill in hospital while he was recording his next album.

He later said that he hoped to write a song from his mum's perspective, in order to sum up how his mother would be feeling, but also show her his own feelings for both women.

After he played it to his dad, he insisted that Ed play it at the funeral, which was only attended by five people in a private ceremony. Ed told Zane Lowe: "My grandfather just turned to me, he was like, 'you have to put that out, that has to go on the record'. It's such a good memory, that's why it's ended up on there."

Paul McCartney - 'Little Willow'

This song was written for the children of Paul McCartney's former Beatles bandmate Ringo Starr's first wife, Maureen Starkey Tigrett, who had recently died of cancer.

It wasn't the first time Paul had offered a song to a child of his Beatles bandmates. He previously wrote 'Hey Jude' in part for John Lennon's son Julian, after his parents had separated.

The Drifters - 'Save the Last Dance for Me'

This song was co-written by Doc Pomus, who was inspired by the melody his partner Mort Shuman gave him, and a wedding invite he had been given.

He wrote the song about his own wedding day, at which he sadly wasn't able to dance with his bride. He had contracted polio as a child, and had to rely on crutches or a wheelchair.

He wrote the lyrics on the back of the wedding invite, remembering his feelings of jealousy as his new wife danced with his brother Raoul. The song added hints that she might be tempted away from him in order to add some tension, but he made sure to keep the song from being too possessive, hoping to remind his wife to save her love for him.

The Temptations - 'I Wish It Would Rain'

This song sees lead singer David Ruffin performing, in a pained voice, the story of a heartbroken man who is desperate to hide his sorrow. His lover has just left him, and he wishes that it would start raining, so that he can hide the tears falling down his face, as "a man ain't supposed to cry".

The song came about after writer Rodger Penzabene had just found out his wife had been cheating on him with another man. Not sure how to handle the pain and unable to stop loving his wife, he expressed himself in this this song, and its follow-up 'I Could Never Love Another (After Loving You)'.

Tragedy followed by Penzabene ended his life on New Year's Eve 1967, a week after the single's release.