Willie Nelson's 10 greatest songs, ranked
21 September 2023, 12:43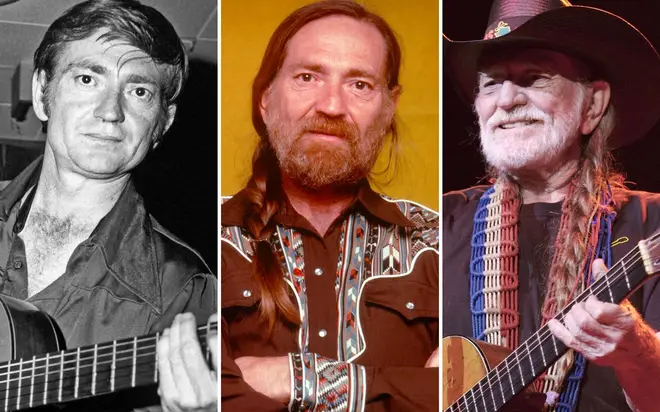 Outlaw country music wouldn't be the same without him.
In fact, outlaw country music may not have even existed if it weren't for the rebellious songwriting of Willie Nelson.
Alongside his peers in Johnny Cash and Waylon Jennings, Willie broke free of the creative constricts of the Nashville establishment and became one of country music's greatest-ever icons because of it.
Even his look became synonymous with outlaw country - his flaming red hair complete with braids, the scarlet bandana, and his penchant for a big smoke made Willie immediately recognised within the mainstream music masses.
But it was also his timeless songwriting and knack for crafting contemplative cover versions which have seen him endure.
In the year that Willie Nelson incredibly reached his 90th birthday, we're ranking his ten greatest songs:
'Good Hearted Woman'

Willie Nelson - Good Hearted Woman (Live From Austin City Limits, 1979)

Willie and Waylon duetted on 'Good Hearted Woman' in 1976, though Jennings had already released his own solo version at the tail end of 1971.

Inspired by an advert promoting Ike & Tina Turner saying: "good hearted woman loving two-timing men", Willie's then-wife Connie Koepke wrote down the lyrics as he and Waylon came up with them during a poker game.

The pair released it and 'Good Hearted Woman' went to the top of the charts in the US, breaking them both into the mainstream with a platinum album to boot.

'Roll Me Up And Smoke Me When I Die'

Willie Nelson - Roll Me Up and Smoke Me When I Die (Live Version)

Fellow smokers Kris Kristofferson and Snoop Dogg joined Willie for this 2012 track, the trio together declaring their most enduring love: cannabis.

Joking about what to do with their ashes once they all shuffle off their mortal coil, Willie later named his memoir after the song too.

A life-long proponent of cannabis culture - cementing his outlaw image over the years - 'Roll Me Up And Smoke Me When I Die' was even released on the 20th April, otherwise known as 420 day.

Whilst this reinforces Willie's philosophy in life, it also indicates he's still capable of having a laugh.

'Blue Eyes Crying In The Rain'

Willie Nelson - Blue Eyes Crying In The Rain (Official Video)

Originally recorded by Fred Rose in 1946, 'Blues Eyes Crying In The Rain' has been recorded by many artists, including the likes of Gene Vincent and Hank Williams.

But Willie's version arguably became the most popular, scoring him his first No.1 hit on the US country charts in 1975.

The song featured on Red Headed Stranger, Nelson's concept album about a killer on the run which riffed on himself and his own image.

It's sparse, bare-boned arrangement was a highlight from the album, and opened up a new audience for the outlaw country legend.

'Funny How Time Slips Away'

Willie Nelson - 1997 - Funny How Time Slips Away

A bittersweet ballad about bumping into a former lover, 'Funny How Time Slips Away' has since become one of Willie's most covered songs.

The likes of Elvis Presley, Bryan Ferry, Al Green, and Tina Turner have all put their own spin on the heart-aching song.

Willie himself has even re-recorded it on several occasions, quite possibly because he's been married four times and it's taken on a new meaning with each past partner.

"It's been so long. . .but it seems now that it was only yesterday", another example of Willie's timeless songwriting.

'Night Life'

Willie Nelson - Night Life (Live From Austin City Limits, 1979)

Willie released 'Night Life' himself in 1965, but it took Nelson and the song some time to get to that point.

Penned around 1958, Willie was broke and tried to sell the song to various other artists, having to record it under the name Paul Buskirk and the Little Men.

The song became a hit in 1963 after Ray Price sung it, with Nelson releasing his original version a couple of years later.

Countless over the years like Aretha Franklin, Eric Clapton, and BB King have uttered the enduring lines "the night life ain't no good life, but it's my life," which set Willie on his path to outlaw success.

'Always On My Mind'

Willie Nelson - Always On My Mind (Official Video)

Elvis Presley scored UK top 20 hits with his gorgeous cover of 'Always On My Mind', but Willie's rendition was arguably more successful, most definitely in the US.

Recording his own take on the regretful ballad about lost love in 1982, Willie transformed the song into a huge mainstream hit.

Willie's version hit the top of the US country charts almost immediately, later winning three Grammy Awards including Song Of The Year, the first time it was ever awarded to a country musician.

He described how he felt after first hearing the song in his 1988 autobiography, Willie:

"'Always On My Mind,' bowled me over the moment I heard it, which is one of the ways I pick songs to record. There are beautifully sad songs that bowl me over... haunting melodies you can't get out of your mind, with lines that really stick."

'My Heroes Have Always Been Cowboys'

Willie Nelson - My Heroes Have Always Been Cowboys (Official Audio)

Heart-achingly retrospective songs are Willie Nelson's bread-and-butter, and none come quite as vulnerable as 'My Heroes Have Always Been Cowboys'.

Written by songwriter Sharon Vaughn, Willie recorded the song in 1980 for Robert Redford movie The Electric Horseman, where he made his acting debut.

Interestingly, the lyrics don't just glamourise the life of an outlaw, but rather describe it as a series of missed opportunities and regrets.

"Just take what you need from the ladies and leave them with the words of a sad country song," Willie poignantly sang.

'Georgia On My Mind'

Willie Nelson - Georgia On My Mind (Live From Austin City Limits, 2018)

The Ray Charles classic was written about someone missing their home, but has since taken on a broader meaning, with many believing it's about missing a loved one.

It's timeless appeal encouraged Willie to cover 'Georgia On My Mind' for his 1978 album Stardust, an album of pop standards which was intended to connect his younger audience with classic songs.

Willie said in his 1988 autobiography: "Great songs are great songs no matter when they're written."

"The other thing is, my audience right now is young, college age, and mid-twenties. They'll think these are new songs, and at the same time we'll get the sentiment of the older audience who grew up with these songs but don't necessarily know the artist. We will bridge that gap."

He was correct - the song became one of Willie's biggest hits, and he was even asked to perform it at Ray Charles' funeral in 2004.

'Crazy'

Willie Nelson - "Crazy" [Live from Austin, TX]

Willie wrote 'Crazy' around the same time he wrote 'Night Life' and other future country standards, but couldn't even sell the song for $10.

Luckily, Patsy Cline was encouraged to record 'Crazy' by her husband Charlie Dick and her producer Owen Bradley, transforming the ballad into an instant hit and popularising Willie in the process.

It's an iconic lament for a lover who's left with someone else, knowing that the relationship was destined to fail but feeling gripped by love and yearning regardless

Tragically, Cline would die in a plane crash two years after scoring her biggest ever hit, but she opened the door for Willie to later become a country music icon.

'On The Road Again'

Willie Nelson - On the Road Again (Live at Farm Aid 1985)

Coming to Willie in a moment of inspiration (well, airsickness) whilst travelling on a plane, 'On The Road Again' blossomed into the outlaw country singer's most culturally impactful song.

In fact, inspiration struck so quickly that he had to pen the lyrics on the back of a barf bag.

'On The Road Again' was used for the 1980 film Honeysuckle Rose which Willie also starred in - though the film was a flop, the song was nominated for an Academy Award the following year.

He later won the Grammy Award for Best Country Song, with the song becoming his biggest crossover hit at the time on mainstream radio and charts.

The song became so popular at the time, that frequent jokes came off the back of it like: "Did you hear Willie Nelson got hit by a car? Yeah, he was playing on the road again."

After hearing a number of similar gags, Willie said it was funny "for a few years" - though the jokes faded away, the impact of 'On The Road Again' certainly didn't.