Bruce Willis' daughter Rumer "misses her papa" as she shares heartwarming photo of her dad
21 November 2023, 12:39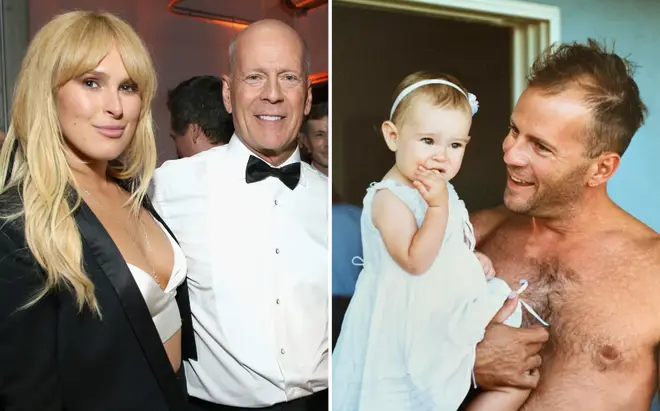 It's a heartbreaking situation for the Willis family.
To see the demise of Hollywood hero Bruce Willis is tough enough from the outside looking in, so it must be unimaginably difficult for those closest to him.
After the star was diagnosed with aphasia in 2022, his family rallied around him, releasing a further statement that he had been diagnosed with dementia in 2023.
They wrote: "Bruce has always found joy in life - and has helped everyone he knows to do the same."
"It has meant the world to see that sense of care echoed back to him and to all of us," as tributes and support from friends and fans flooded out.
Bruce was diagnosed with frontotemporal dementia which can drastically alter someone's personality and behaviour.
Seeing her dad slowly slip away from her, his daughter Rumer Willis shared a heartwarming picture of the pair together with the caption: "Really missing my papa today."
Sharing a picture of her dad holding her as a baby, she's dressed in a cute white gown whilst a young Bruce looks natural and shirtless.
Dementia is a cruel disease, and evidently, as Bruce's condition has worsened, his daughter is beginning to grieve his loss whilst he's still here.
His girls have evidently been digging through old photos of the Die Hard actor, with his other daughter Tallulah also sharing a similar post in recent days.
Tallulah posted a picture of her sitting on her dad's lap, with a few other pictures of them together including one of Bruce laughing and joking as a younger man.
She captioned her post saying: "damn, these photos are hitting tonight. You're my whole damn heart and I'm so proud to be your Tallulah Belle Bruce Willis."
Amidst his battle with the awful disease, Bruce Willis has been spotted out in public for the first time in months.
Being seen going incognito by wearing a black hoodie from his car window, it's understandable that his family want to protect his integrity.
According to the NHS website, frontotemporal dementia "causes problems with behaviour and language" and like other forms of dementia, it typically worsens gradually.
Though it's not clear how Bruce's dementia has progressed, we're all with him and his family as he battles this devastating disease.