Bruce Willis' wife Emma reveals it's "hard to know" if actor is even aware of his dementia condition
26 September 2023, 14:09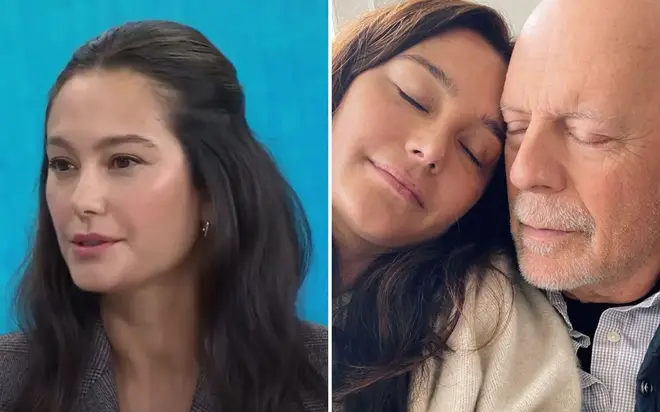 It's been six months since Bruce Willis' was diagnosed with dementia.
The Hollywood action hero first announced his retirement from acting in March 2022 after being discovered with aphasia.
Aphasia is a neurological condition which causes damage to the brain and affects language expression and comprehension, often leaving the brain incapable of speaking.
After his family rallied around the iconic actor, things worsened earlier this year when Bruce Willis was given a further blow.
Earlier this year, Bruce's loving wife and primary caregiver Emma Heming Willis revealed the star was diagnosed with frontotemporal dementia.
Now over half a year later, his primary "care partner" has revealed more devastating news about his progress.
In a recent interview, Emma told Today's US host Hoda Kotb that it's "hard to know" if the actor is even aware of the extent to which his condition has degenerated.
Emma described Bruce - known for his iconic roles in Die Hard, Pulp Fiction, and The Fifth Element - as "the gift that keeps on giving".
She said throughout this entire process, the 68-year-old actor has taught his family "love, patience, and resilience" in the face of this horrendous diagnosis.
Willis spoke on Today offering an update on Bruce's condition, as she continues to advocate for people living with the condition known as FTD.
According to the National Institute on Aging, the symptoms of FTD include issues communicating, emotional instability, and difficulty walking, as well as working.
After Bruce's initial aphasia diagnosis has progressed and resulted in FTD, Emma says coming to terms with her husband's decreasing health has been a "blessing and a curse".
Frontotemporal dementia is a condition that is frequently misdiagnosed, and "to finally understand what was happening so that I could be into the acceptance of what is – it doesn't make it any less painful."
"But … just being in the know of what is happening to Bruce makes it a little easier," Heming Willis said.
Bruce Willis' wife, Emma, gives health update: 'Hard to know' if he's aware of his condition
Frontotemporal dementia differs from Alzheimer's, as the condition affects a different area of the brain.
The Association for Frontotemporal Degeneration's chief executive officer Susan Dickenson, who joined Emma on Today added that the disorder can result in "unexplained changes in how a person is in the world".
"Somebody who normally speaks absolutely fine has trouble putting their thoughts into meaningful sentences, or they may lose the meaning of a specific word."
Bruce's final film was 2023's sci-fi thriller Assassin, and filmed several scenes before announcing his retirement during production.
Since he retired from health issues, fellow Hollywood action heroes Arnold Schwarzenegger and Sylvester Stallone offered their support:
"I think that he's fantastic. He was, always for years and years, is a huge, huge star. And I think that he will always be remembered as a great, great star," Arnold said earlier this year.
"And a kind man. I understand that under his circumstances, health-wise, that he had to retire. But in general, you know, we never really retire. Action heroes, they reload."
Bruce's long-time friend Stallone - who started Planet Hollywood together - said: "That kills me. It's so sad," after discovering Willis had been suffering.