Rob Delaney reveals his scenes as Elvis Presley in Rocketman were cut from the movie
17 June 2019, 15:10 | Updated: 17 June 2019, 15:42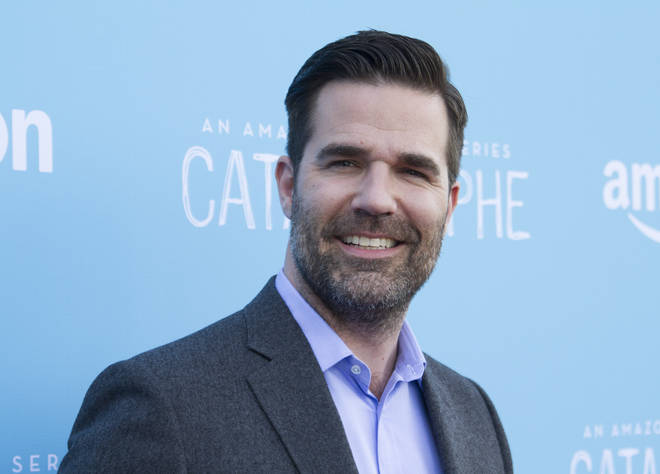 Actor Rob Delaney has announced that he played Elvis Presley in the Elton John biopic Rocketman, before his scenes were cut from the final film edit.
Rocketman is the fantasy biopic based on the life and music of Elton John. With Taron Egerton playing Sir Elton and Jamie Bell playing lyricist Bernie Taupin, it has gone unnoticed until now that another familiar face was due to appear in the film.
Rob Delaney, best known for Catastrophe and Deadpool 2 had been cast as Elvis Presley in the film, and had even filmed as the rock and roll star. He said: 'I did shoot a couple of scenes in the film as a guy named Elvis Presley, who you may have heard of, and they even dyed my hair black for it.'
VIDEO: Watch Elton John and Taron Egerton surprise fans with 'Your Song' duet >
Not only did he undergo a transformation for the role, but a slight beauty mishap meant that the hair and makeup team permanently dyed his hair black.
Delaney said: 'In the make-up trailer they said "Do you want the temporary dye or the permanent?" I was like, 'temporary please', and they put in the permanent by mistake, so it was black for six months after.'
Although Rob Delaney's scenes ended up being cut, he said that there was no bitterness about it: 'That's just the way the ball bounces sometimes. [...] I know when Sharon Horgan and I were making Catastrophe, we would frequently cut out things that we really enjoyed, just for time, so I bear no ill-will towards the makers of Rocketman.'
Rocketman's director, Dexter Fletcher, also revealed that he had an idea to include Freddie Mercury as a character in the film.
He said: 'There was an idea I had at one point, where Elton's in a restaurant with his mother. I thjought John Reid and Freddie could be at another table and they wave at each other!
'That would have been amazing, [but] it didn't come to pass.'
Read more: Does Taron Egerton really sing and play the piano in Rocketman?
Dexter Fletcher was also the director for the Queen biopic Bohemian Rhapsody, that won Rami Malek an oscar for his portrayal of leading man Freddie Mercury this year.