Hugh Grant facts: British actor's movies, wife, children, family and career explained
12 July 2023, 17:03 | Updated: 21 August 2023, 15:25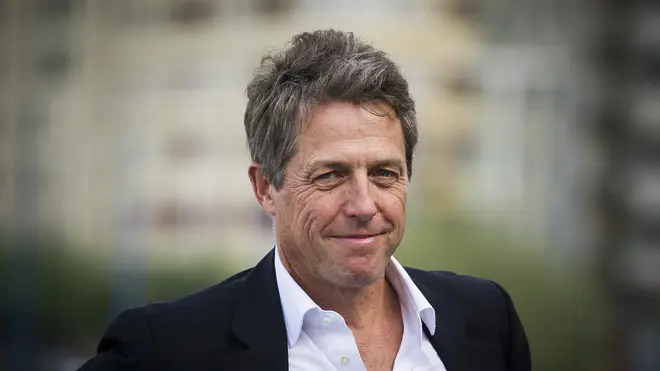 Hugh Grant is one of the UK's most successful actors of the last 30 years.
Known as the King of romcoms in the 1990s, Hugh Grant became known early on for his charming performances as a leading man in various films.
In more recent years, he has transitioned into more dramatic roles, but he usually still has a cheeky twinkle in his eye.
He has won a BAFTA, a Golden Globe, and an Honorary César for his work. Hugh first found fame for his roles in period dramas such as The Remains of the Day (1993) and Sense and Sensibility (1995).
Hugh then became an international star thanks to Richard Curtis's romantic comedy Four Weddings and a Funeral (1994) with Andie MacDowell, followed by other romcoms such as Notting Hill (1999) with Julia Roberts, Bridget Jones's Diary (2001) with Renee Zellweger, About a Boy (2002), Two Weeks Notice (2002) with Sandra Bullock, Love Actually (2003), and Music and Lyrics (2007) with Drew Barrymore.
More recent roles have included Cloud Atlas (2012), Florence Foster Jenkins (2016) and Paddington 2 (2017), A Very English Scandal (2018) and The Gentlemen (2019). He will next appear as an Oompa Loompa in Wonka.
How old is Hugh Grant and where is he from?

Julia Roberts And Hugh Grant Star in Notting Hill. Picture: Getty

Full name Hugh John Mungo Grant (yes, Mungo), was born on September 9, 1960. He celebrated his 62nd birthday in 2022.

He was born in Hammersmith, London, and was the second son of parents Fynvola Susan MacLean (née Wickham) and Captain James Murray Grant.

His grandfather, Colonel James Murray Grant, was known for his bravery and leadership at Saint-Valery-en-Caux during World War II.

Hugh's father was an officer in the Seaforth Highlanders for eight years in Malaya and Germany. He also ran a carpet firm, and raised his family in Chiswick, West London.

His mother was a schoolteacher and taught Latin, French, and music for over 30 years in West London. She died aged 67 of pancreatic cancer.

How did Hugh Grant get his start in acting?

Hugh Grant in 1986. Picture: Getty

Hugh Grant has credited his mother with "any acting genes that I might have".

He studied at New College, Oxford in English literature. He only ever saw acting as a creative outlet, and joined the Oxford University Dramatic Society.

His first film was 1982's Privileged, produced by the Oxford University Film Foundation.

Hugh had various jobs, such as working as an assistant groundsman at Fulham Football Club, writing comedy sketches for TV shows and working for Talkback Productions.

While at a screening of Privileged at BAFTA in London, he was approached by a talent agent. At first, Hugh declined, but later reconsidered, as acting for a year would be a decent way to save some money for his studies.

Hugh Grant congratulates Renée Zellweger at the Baftas with Bridget Jones' Diary line

He soon landed a supporting role in The Bounty (1984) with Mel Gibson and Anthony Hopkins, but wasn't allowed to play the role as he did not have an Equity card. To get this, he joined the Nottingham Playhouse and lived for a year in Nottingham.

He then created a sketch-comedy group called The Jockeys of Norfolk, with friends Chris Lang and Andy Taylor. They were a hit at the 1985 Edinburgh Festival Fringe, and they appeared on Russell Harty's TV show Harty Goes to...

Over the next few years, he landed bigger and better roles in TV and film, and by the early 1990s he had become something of a household name.

Is Hugh Grant married and does he have children?

Hugh Grant & Elizabeth Hurley in 1999. Picture: Getty

In 1987, Hugh met Elizabeth Hurley, who had been cast in a supporting role in his latest project.

They began dating during filming and their relationship was the subject of high media attention.

However, Hugh found himself in international tabloid hot water, when he solicited the services of a prostitute, Divine Brown, in 1995, while dating Hurley.

The couple separated in May 2000, but Hugh is godfather to her son Damian, born in 2002.

Hugh Grant has five children with two women.

In 2011, his daughter Tabitha was born, with Tinglan Hong, who had been misreported in the press as a receptionist at a Chinese restaurant in London. His daughter's Chinese name is Jing Xi, meaning "happy surprise".

Hugh Grant and wife Anna Eberstein. Picture: Getty

In 2012, his second child, son John, was born to Swedish television producer Anna Eberstein.

Hong and Grant then briefly reunited, and she gave birth to his third child, a son named Felix, in December 2012.

In 2015, Hugh and Eberstein had their second child, a girl. Their third child, another girl, was born in 2018.

The couple then got married in May 2018.