Notting Hill film: Where are the cast of the 1999 romcom now?
21 August 2023, 15:24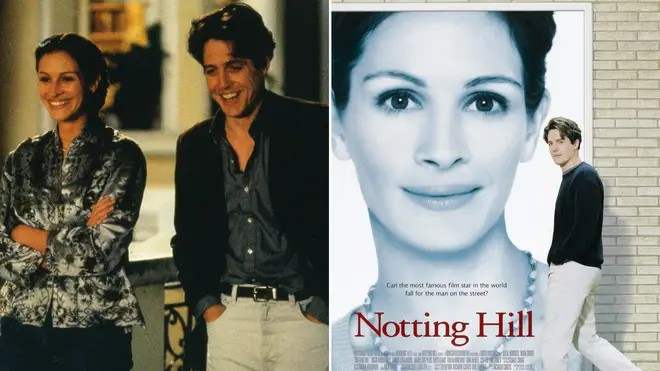 Notting Hill was a huge success, both critically and commercially, and became the highest-grossing British film of all time.
Notting Hill is a 1999 romantic comedy film that tells the story of a bookstore owner who falls in love with a famous Hollywood actress.
It also featured a stellar cast of actors, who delivered charming and memorable performances. But what happened to the stars of Notting Hill after the film's release? Where are they now, and what are they doing?
Here, we will take a look at the current status of the main cast members of Notting Hill, and see how their careers and lives have changed over the years.
Hugh Grant (Will)

Hugh Grant then and now.

Picture: Alamy/Getty

Hugh Grant is one of the most popular and charming actors in the world. After Notting Hill, Grant continued to work with writer Richard Curtis in films such as Love Actually (2003), where he played the British Prime Minister, and The Boat That Rocked (2009), where he played a pirate radio boss.

He also starred in other romantic comedies such as Two Weeks Notice (2002) with Sandra Bullock, Music and Lyrics (2007) with Drew Barrymore, and Did You Hear About the Morgans? (2009) with Sarah Jessica Parker.

Grant also ventured into more dramatic roles, such as playing a novelist who mentors a young writer in The Rewrite (2014), and a spymaster in The Man from U.N.C.L.E. (2015). He also showed his versatility by playing six different characters in the ambitious sci-fi film Cloud Atlas (2012).

He received critical acclaim and award nominations for his performances in Florence Foster Jenkins (2016) opposite Meryl Streep, and Paddington 2 (2017).

Grant also made his mark on television, starring in two acclaimed miniseries based on true stories. In A Very English Scandal (2018), he played Jeremy Thorpe, a British politician who was accused of conspiring to murder his former lover. In The Undoing (2020), he played Jonathan Fraser, a pediatric oncologist who was suspected of killing his mistress. For both roles, he was nominated for an Emmy Award.

Hugh is currently working on several upcoming projects, including Wonka, a prequel to Willy Wonka and the Chocolate Factory.

At the time of Notting Hill, Hugh was 38, and was still married to Elizabeth Hurley. In 2023, he is 62.

Hugh Grant congratulates Renée Zellweger at the Baftas with Bridget Jones' Diary line

Hugh Grant has been married to Swedish television producer Anna Eberstein since 2018. They have three children together. He also has two children from a previous relationship with Chinese receptionist Tinglan Hong.

Grant has been involved in various charitable causes, such as UNICEF, Comic Relief, and Marie Curie Cancer Care. He has also been an outspoken critic of the British tabloid press and a campaigner for press reform.

He testified at the Leveson Inquiry in 2011 about his experiences of being harassed and hacked by the media. He is also a co-founder and director of Hacked Off, an organisation that advocates for victims of press abuse.

Julia Roberts (Anna)

Julia Roberts then and now.

Picture: Alamy/Getty

Julia Roberts is one of the most successful and beloved actresses in Hollywood, who has starred in a variety of genres and earned numerous accolades.

Since her role as movie star Anna Scott in the romantic comedy Notting Hill (1999), opposite Hugh Grant, she has continued to charm audiences with her performances in films such as Erin Brockovich (2000), Ocean's Eleven (2001), Closer (2004), Eat Pray Love (2010), August: Osage County (2013), and Wonder (2017).

She has also ventured into television, with roles in the HBO film The Normal Heart (2014), the Amazon Prime series Homecoming (2018), and the Starz limited series Gaslit (2022).

Julia has been married to cinematographer Daniel Moder since 2002, and they have three children together: twins Hazel and Phinnaeus, born in 2004, and Henry, born in 2007.

Roberts is also known for her philanthropic work, as she has been involved with various charities and causes, such as UNICEF, Red Nose Day, ONE Campaign, and Stand Up to Cancer. She has travelled to different countries, such as India, Haiti, and Kenya, to raise awareness and funds for children's health, education, and rights.

Julia Roberts was 31 years old when Notting Hill was released. She is now 55 as of 2023. She was not married at the time, as she had divorced her first husband, singer Lyle Lovett, in 1995.

Hugh Bonneville (Bernie)

Hugh Bonneville then and now.

Picture: Alamy/Getty

Hugh Bonneville rose to fame with his role as Bernie in Notting Hill. Since then, he has appeared in numerous films and television shows, most notably as Robert Crawley, Earl of Grantham, in the critically acclaimed historical drama series Downton Abbey.

He has also starred in the biographical film Iris (2001), the war drama The Monuments Men (2014), and the family comedy Paddington (2014) and its sequels.

He has received several awards and nominations for his performances, including a Golden Globe nomination and two Emmy nominations for Downton Abbey.

Hugh Bonneville is married to Lucinda Williams, whom he met while working at the National Theatre. They have one son, Felix, who was born in 2001.

He was 35 at the time of Notting Hill, and he is now 59 as of 2023.

Emma Chambers (Honey)

Emma Chambers in 1999. Picture: Alamy

Emma Chambers was a talented and beloved English actress who starred in the hit film Notting Hill as Honey Thacker, the quirky and adorable sister of Hugh Grant's character. She was also well-known for playing Alice Tinker, the naive and lovable verger in the sitcom The Vicar of Dibley, alongside Dawn French.

After Notting Hill, Chambers continued to work in TV and film, but at a lower profile. She reprised her role as Alice Tinker in several Vicar of Dibley specials between 1999 and 2007.

Emma Chambers in Notting Hill (contains swearing)

She starred in the TV adaptation of Kingsley Amis's novel Take a Girl Like You (2000) as Martha Thompson, a bored housewife who is hostile to her beautiful lodger.

Chambers was married to fellow actor Ian Dunn since 1991.

Sadly, Chambers died of a heart attack in February 2018 at the age of 53. Her death was announced by her agent, who said she died from natural causes. Her family and friends paid tribute to her as a "bright spark" and a "unique and beautiful spirit".

James Dreyfus (Martin)

James Dreyfus then and now.

Picture: Alamy/GB News

James Dreyfus played Martin, the assistant of Hugh Grant's character. By this point he was a regular on British TV in the sitcoms The Thin Blue Line alongside Rowan Atkinson and Gimme Gimme Gimme with Kathy Burke.

In 2000, he moved to the US to join the cast of Bette, a sitcom starring Bette Midler as a fictionalized version of herself. Dreyfus played Oscar, her loyal but neurotic assistant. However, the show was cancelled after one season due to low ratings and creative differences.

In 2006, he won the Best Actor award at the Manchester Evening News Theatre Awards for his performance as Emcee in Cabaret at the Lowry Theatre. He also reprised his role in the West End production of the musical in 2007.

In 2006, he replaced Ardal O'Hanlon as Thermoman, a superhero from another planet who lives on Earth, in the sixth and final series of the sitcom My Hero. The show received mixed reviews and was cancelled after six episodes.

In 2008, he came out as gay in an interview with Attitude magazine. He said that he had been in a relationship with a man for eight years and that he was happy and comfortable with his sexuality. He also said that he did not want to be typecast as a gay actor and that he hoped to play more diverse roles in the future.

From 2012 to 2017, he appeared as Reverend Roger, a friendly but eccentric vicar, in the Sky Living comedy-drama series Mount Pleasant.

In 2019, he voiced a Skeksis in the Netflix fantasy series The Dark Crystal: Age of Resistance, and in 2021, he voiced an incarnation of The Master in the Big Finish Productions audio drama of Doctor Who.

Rhys Ifans (Spike)

Rhys Ifans then and now.

Picture: Alamy/Getty

Rhys Ifans is a Welsh actor who rose to fame with his role as Spike, the eccentric and hilarious roommate of Hugh Grant's character in Notting Hill.

Since then, he played the iconic British comedian Peter Cook in the TV film Not Only But Always (2004), for which he won a BAFTA award and was nominated for an Emmy.

He played the villainous Lizard in The Amazing Spider-Man (2012) and its spin-off sequel Spider-Man: No Way Home (2021).

He took on the role of Mycroft Holmes, the brother of Sherlock Holmes, in the modern adaptation of Elementary (2013-2019). He also played Grigori Rasputin, the mystic adviser to the Russian royal family, in the prequel film The King's Man (2021).

Rhys joined the cast of House of the Dragon (2022), a prequel series to Game of Thrones, as Ser Otto Hightower, the Hand of the King.

He was 31 years old when Notting Hill was released. As of 2023, he is 56.

He has not been married, and he does not have any children. He has had several romantic relationships with famous actresses, such as Sienna Miller, Anna Friel, and Kimberley Stewart.

Tim McInnerny (Max)

Tim McInnerny then and now.

Picture: Alamy/Getty

Tim McInnerny first rose to fame for his roles as Lord Percy Percy and Captain Darling in the 1980s British sitcom Blackadder.

Since his appearance in Notting Hill as Will's best friend Max, he has continued to work on various projects on stage and screen.

In 2006, he starred in the horror comedy Severance. He also appeared in the BBC adaptation of Bleak House.

Richard Curtis shares a little known fact about Notting Hill

In 2008, he played Sir Ector, the adoptive father of King Arthur, in the BBC series Merlin. He also voiced the character of Makarov in the video game Call of Duty: Modern Warfare 2 and its sequel.

In 2016, he joined the cast of Game of Thrones as Lord Robett Glover. In 2020, he played Redmayne, a politician and friend of John Profumo, in the BBC series The Trial of Christine Keeler.

He was 42 years old when the film was released, and as of 2023 he is 66.

Gina McKee (Bella)

Gina McKee then and now.

Picture: Alamy/Getty

Gina McKee had her breakthrough role as Bella in Notting Hill. In 2002, she starred as Irene Forsyte in the acclaimed adaptation of The Forsyte Saga. She received a BAFTA nomination for Best Actress for her performance.

In 2003, she played Queen Mary in The Lost Prince, a biographical film about Prince John, the youngest son of King George V and Queen Mary. She earned another BAFTA nomination for Best Actress for this role.

In 2007, she portrayed Anna in The Street and was nominated for a third BAFTA for Best Actress.

In 2011, she joined the cast of The Borgias, and in 2017, she appeared in Phantom Thread, starring Daniel Day-Lewis as a renowned dressmaker in 1950s London.

In 2018, she had a recurring role in Bodyguard, a thriller series about a war veteran who becomes the personal protection officer of the Home Secretary.

In 2022, she co-starred with Harry Styles and Emma Corrin in My Policeman (2022).

Gina McKee has been married to Kez Cary since 1989. She was 35 years old when the film came out, and as of 2023 she is 59.

Dylan Moran (Rufus)

Dylan Moran then and now.

Picture: Alamy/Getty

Irish comedian and writer Dylan Moran had become a favourite thanks to his stand-up comedy. He had a mainstream breakthrough in Notting Hill as quirky shoplifter Rufus.

In 2000, he co-created and starred in the critically acclaimed sitcom Black Books, where he played Bernard Black, a grumpy and eccentric bookshop owner. The show won two BAFTA awards and was nominated for several others.

He appeared in two successful British comedy films: Shaun of the Dead (2004), and Run Fatboy Run (2007), both alongside Simon Pegg.

In 2006, he made his West End debut in The God of Carnage.

In 2012, he performed his stand-up show Yeah, Yeah at various venues around the world, including London's Hammersmith Apollo and New York's Carnegie Hall. The show was recorded and released as a DVD and Netflix special.

In 2017, he returned to the stage with his stand-up show Grumbling Mustard, which he toured across Europe and North America. In 2020, he appeared in The Midnight Sky, a science fiction film directed by George Clooney.

In 2022, he divorced his wife Elaine Moran, whom he married in 1997 and had two children with.

He was 27 when Notting Hill came out and now he is 51 as of 2023.

Emily Mortimer (Perfect Girl)

Emily Mortimer then and now.

Picture: Alamy/Getty

Emily Mortimer had a small but memorable role in Notting Hill, named simply as 'Perfect Girl', whom Hugh Grant has a date with.

Since then, her career has gone from strength to strength, with roles in Scream 3 (2000), and Lovely and Amazing (2001), where she won the Independent Spirit Award for Best Supporting Female.

She appeared in Match Point (2005) directed by Woody Allen, The Pink Panther (2006) with Steve Martin, Lars and the Real Girl (2007), Shutter Island (2010) alongside Leonardo DiCaprio, and Hugo (2011) from Martin Scorsese.

She starred in Mary Poppins Returns (2018), where she played Jane Banks, the grown-up daughter from the original film, opposite Emily Blunt and Ben Whishaw.

Emily has also been active on TV, including as Mackenzie McHale on HBO's The Newsroom (2012-2014), created by Aaron Sorkin. She also co-created, wrote, and starred in Doll & Em (2014-2015), a comedy series about two best friends who work in Hollywood, alongside her real-life friend Dolly Wells.

In 2021, she made her directorial debut with The Pursuit of Love.

Emily has been married to American actor Alessandro Nivola since 2003. They met on the set of Love's Labour's Lost (2000) and have two children together.

She was 27 when Notting Hill came out and she is 51 as of 2023.