Prince Edward facts: Duke of Edinburgh's age, wife, children, net worth and more revealed
3 May 2023, 16:06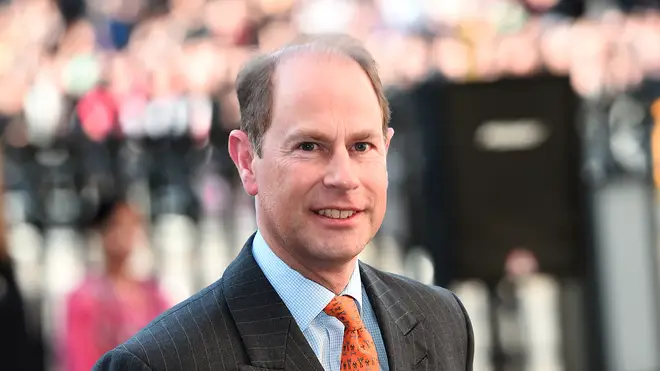 Prince Edward is the youngest of Queen Elizabeth II's children, and was once third in line to the throne.
Previously given the title of the Earl of Wessex, Prince Edward was made the Duke of Edinburgh, after his brother Prince Charles became King.
Edward lives with his family at Bagshot Park in Surrey, while their office and official London residence is based at Buckingham Palace.
But how old is Edward and who is his wife? Here's the important facts about the royal family member:
How old is Prince Edward and where was he born?

A young Prince Edward sits next to the Queen in 1972. Picture: Getty

Prince Edward was born on March 10, 1964, at Buckingham Palace.

He celebrated his 59th birthday in 2023.

He was the third son, and the fourth and youngest child of Queen Elizabeth II and Prince Philip, Duke of Edinburgh.

Edward was christened on May 2 1964 in the private chapel at Windsor Castle by the Dean of Windsor, Robin Woods.

His older siblings are Prince Charles, Princess Anne and Prince Andrew.

Was Prince Edward in the Army and what jobs has he had?

Prince Edward in 1984. Picture: Getty

After a brief stint in the Royal Marines, Edward worked as a theatre production assistant at the Really Useful Theatre Company, before assisting in TV producing. He later formed his own company, Ardent Productions.

After years of financial difficulties with the company, Edward stepped down in 2002 to begin full-time duties as a working member of the royal family.

Edward now holds patronage within over 70 charities and organisations, including the National Youth Theatre, the Sport and Recreation Alliance and the British Paralympic Association.

His charity work focuses on the arts, athletics, and the development of the Duke of Edinburgh's Award.

Who is Prince Edward's wife?

Prince Edward and Sophie Rhys-Jones on their wedding day in 1999. Picture: Getty

Prince Edward met Sophie Rhys-Jones, who was then a public relations executive with her own firm, in 1994.

Their engagement was announced in January 1999. Edward proposed to Sophie with an Asprey and Garrard engagement ring worth an estimated £105,000.

Their wedding took place on June 19, 1999, in St George's Chapel at Windsor Castle.

This was a change from the weddings of his older brothers, which were much larger events at Westminster Abbey or St Paul's Cathedral. However, they had ended in divorce by this point.

Who are Prince Edward's children?

Prince Edward with his family. Picture: Getty

Edward and Sophie's children are styled as the children of an Earl, rather than as prince/ss and royal highness.

The couple have two children: Lady Louise Windsor, born November 8, 2003, and James, Viscount Severn, born December 17, 2007.

Lady Louise was a bridesmaid at the Duke and Duchess of Cambridge's wedding in 2011. She was born with esotropia, and underwent an operation in an unsuccessful attempt to correct the problem in January 2006. However, she had further treatment in 2013 that corrected her vision.

James currently attends Eagle House School, a coeducational school near Sandhurst in Berkshire.

What is Prince Edward's net worth?

According to Celebrity Net Worth, Edward has an estimated net worth of £32 million ($45m).