Andy Taylor facts: Duran Duran guitarist's age, wife, children and career explained
26 July 2023, 12:56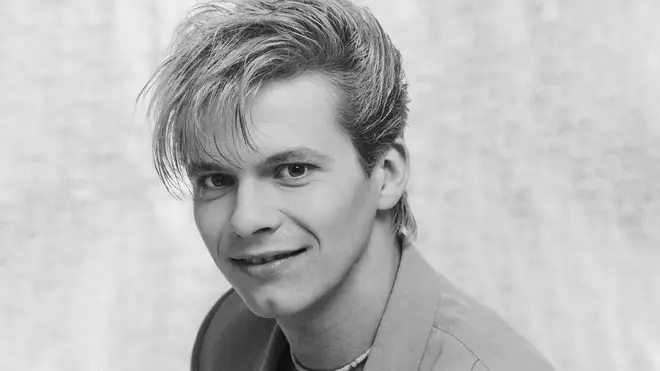 Andy Taylor joined one of the greatest bands of all time when he teamed up with Duran Duran got together in 1980.
The band had been going for a couple of years before guitarist Andy Taylor joined them, and shortly after Duran Duran started dominating the charts worldwide.
He has been part of Duran Duran in three different stints over the years, and is also a former member of supergroup The Power Station.
He has also recorded and performed as a solo artist, and has worked with the likes of Robert Palmer, Rod Stewart, and Belinda Carlisle among others.
In 2022, it was confirmed that Andy had been diagnosed with stage 4 metastatic prostate cancer. While not a full-time member of Duran Duran while battling the illness, he has contributed to the band's upcoming new album.
How old is Andy Taylor?

Andy Taylor playing in 2004. Picture: Getty

Andy Taylor was born on February 16, 1961. He marked his 62nd birthday in 2023.

He was raised in the northeastern English town of Cullercoats and was born in Tynemouth.

By the time he was 11, he was already performing in local bands, and by the time he was 16, he had already started his own.

Dave Black, a member of the brief, post-David Bowie incarnation of Bowie's sometimes supporting band the Spiders from Mars, taught him how to play the guitar.

He left school early to travel with many different bands in Europe and England, performing at air force bases and working men's clubs.

When did he join Duran Duran and is he related to the other Taylors?

Duran Duran in 1981 (L-R: Nick Rhodes (back), Simon Le Bon, John Taylor (front), Roger Taylor, Andy Taylor). Picture: Getty

Despite three Taylors being in the band (Andy, John and Roger), they are not related to each other, and it is just a coincidence.

John Taylor, Nick Rhodes, and Stephen Duffy first formed Duran Duran in Birmingham in 1978.

In April 1979, the trio played their first show. Simon Colley soon joined them, but he and Duffy quit a few months later. Andy Wickett also joined as lead singer.

They then hired Roger Taylor (not the Queen one), while Alan Curtis came in too. Wickett quit in late 1979.

Jeff Thomas then took over as singer, and they took up residence as the city's Rum Runner nightclub's house band in early 1980. Curtis quit the band, and Thomas was sacked due to disputes and various conflicts.

Andy Taylor responded to a Melody Maker post and travelled from Newcastle to audition in April 1980. Although Andy came from a completely different rock music background and had years of experience playing with cover bands, his varied playing style was considered as the ideal complement to the band.

Simon Le Bon, a London singer and acting student, was suggested to the band by an ex-girlfriend who worked at the Rum Runner in May 1980. Le Bon instantly made an impression on the band.

Duran Duran - Rio (Official Music Video)

In July 1980, at the Rum Runner, Duran Duran gave their debut performance with the lineup that included Le Bon, Rhodes, and the three Taylors.

Andy is credited with helping to shape and develop the group's early songs, collaborating imaginatively with Nick Rhodes to solidify the melodies and play around the keyboardist's patterns, and helping to shape the group's "rough, undisciplined mixture[s]" of punk, disco, and electronic styles into tight, cohesive structures.

Seven months after finalising its line-up, in December 1980, the band signed with EMI Records.

When did he form The Power Station?

The Power Station - Some Like It Hot

Tony Thompson, a well-known session drummer and former member of Chic, Andy Taylor, John Taylor, and Robert Palmer formed the band Power Station in 1985 when Duran Duran were on sabbatical.

Featuring the hit singles 'Some Like It Hot' and a cover of the T Rex song 'Get It On', their self-titled album, which was primarily recorded at the New York studio after which the band was named, reached the top 20 in the UK and the top 10 in the US.

Palmer joined the band for just one live performance that year, which was on Saturday Night Live. After Palmer abruptly left the group to return to the studio to advance his recently rejuvenated solo career, the group continued to tour and even performed at Live Aid with vocalist Michael Des Barres.

Thompson and Andy Taylor joined Palmer in recording the album Riptide in 1985, while Power Station producer Bernard Edwards, who had previously collaborated with Thompson in the band Chic, oversaw the production.

The Power Station's Robert Palmer, Andy Taylor and Tony Thompson in 1996. Picture: Getty

Taylor said: "I don't think any of us could have known at the time that this little venture would lead to the breakup of DD, but it did or at least it exposed the cracks in the pavement.

"I think we were all surprised at the amount of success the project achieved, particularly Robert, whose career was reignited in the USA. It was an extraordinary time, everything we were associated with just flew off the shelves.

"As well as being the opportunity to express a major musical statement, I guess it was also as much of a statement against the label demands."

Has Andy Taylor recorded solo albums?

Andy Taylor - Don't Let Me Die Young

Taylor had been a member of Duran Duran for six years when he felt both the group and himself were in free fall.

He and the other band members almost never spoke to one another because they were now spread over three countries. Taylor moved to Los Angeles, where he encountered former Sex Pistols guitarist Steve Jones and they started working together on Taylor's next solo record.

He released two solo albums, 1987's Thunder and 1990's Dangerous.

In 2023, he announced his first album in over 30 years, with Man's a Wolf to Man coming later in the year.

Is Andy Taylor married?

In 2022, Andy Taylor revealed that he had been married to his wife Tracey for 40 years.

They have four children together: Andrew, Georgina, Bethany and Isabella.

The couple currently live in Ibiza, Spain.