When Olivia Newton-John beautifully covered 'Country Roads' and became an American sweetheart
13 September 2023, 12:40
'Country Roads' is one of the all-time great country songs.
First recorded by John Denver in 1971, 'Take Me Home, Country Roads' - or also known simply as 'Country Roads' - saw country music go mainstream.
After its initial release, the song went to No.2 in the US Billboard charts and was only kept off of the top spot by the Bee Gees' 'How Can You Mend A Broken Heart'.
Safe to say it's become a country standard now, though songwriters Bill Danoff and his wife, Taffy Nivert, had never visited West Virginia themselves.
In fact, the song was inspired by a long drive the couple took through the long mountainous roads in the state of Maryland, and just added 'West Virginia' as the syllables fit.
Not that West Virginia cared, who have embraced it as an anthem of sorts, as 'Country Roads' has been a worldwide emblem for the state.
So what better way for a young, aspiring country musician to cover the song and endear themselves to the country music community on national television than by covering the beloved country ballad?
That's exactly what British-Australian icon Olivia Newton-John did in 1975, when she covered 'Country Roads' and became an instant American sweetheart.
Country Roads - Olivia Newton John | The Midnight Special
Still a fresh face in the United States at the time, Olivia appeared on the late-night musical variety series The Midnight Special.
With only one song to perform, she chose to cover 'Country Roads' and her gorgeous rendition made the country take notice.
By that time Olivia wasn't a complete unknown, as she'd already scored a top ten hit with 'Let Me Be There' in 1973 which saw her win a Grammy Award for Best Female Country Vocalist.
The following year, she won a further two Grammy Awards for 'Honestly, I Love You', scoring the Record Of The Year and Best Female Pop Vocal Performance.
So her stock was on the rise, achieving critical acclaim with her commercial success, which reached new heights three years later when she starred in Grease.
But her gorgeous cover of 'Country Roads' convinced the American people that Olivia was one of their own, with many not believing she was in fact Australian.
After seeing her cover, it also convinced the man behind the original, John Denver, to reach out to Olivia for a duet.
John Denver with Olivia Newton John "Fly Away"
Olivia's performance of 'Country Roads' on The Midnight Special wasn't her first - she had released the song as the first single from her 1973 album Let Me Be There.
So, John Denver was already aware of her sweet and serene country-pop stylings before he arranged the duet.
For John's 1975 single 'Fly Away', he wanted her voice to lift the chorus of the song, so they worked together and it became a full-circle moment for Olivia who greatly admired Denver as a budding singer.
The pair then performed 'Fly Away' together for Denver's 1975 Christmas special television show, John Denver's Rocky Mountain Christmas.
From then onwards, they became lifelong friends and collaborators, regularly performing live together notably in 1991 when they duetted on an immaculate rendition of 'The Flower That Shattered The Stone'.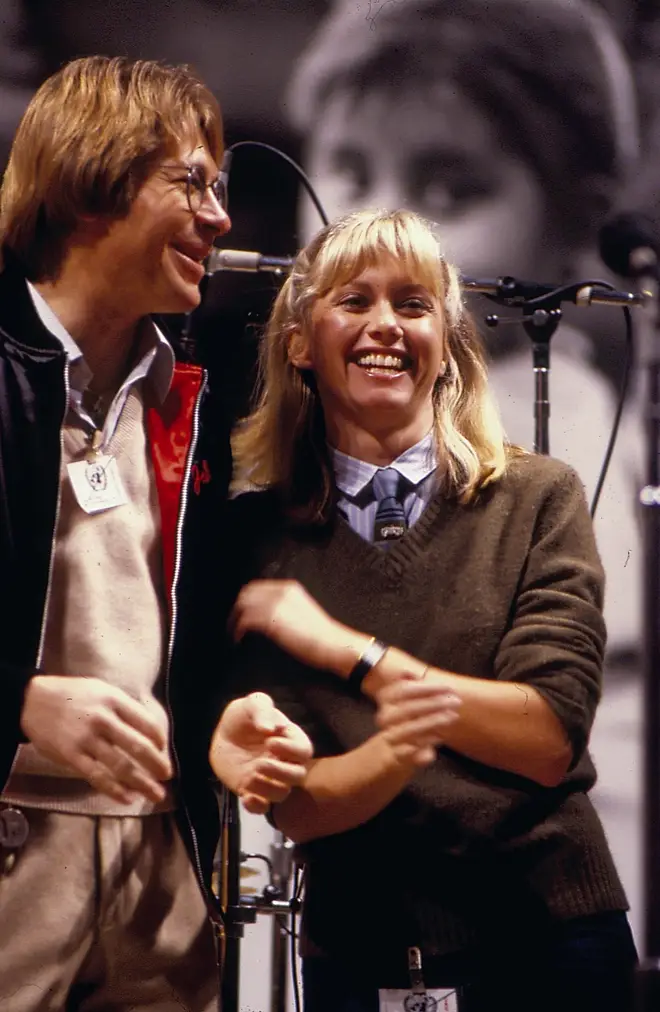 Their friendship remained until John's death in 1999, with Olivia acting as emcee and performing his classics when Denver was posthumously inducted into the Colorado Music Hall of Fame in 2011.
Strangely, Denver remained close to Olivia even after his death according to the Australian pop icon's autobiography.
In her 2019 book, Don't Stop Believin', the 'Hopelessly Devoted To You' singer revealed that she was frequently haunted by the ghosts of John Denver and Karen Carpenter, as well as her friend's daughter who died when she was a child.
"She has been with me ever since, along with my parents, my sister and other close friends who have passed away, like Karen Carpenter and John Denver."
"I often feel as if they hover around me when I perform. They are my spirit guides who I ask to support me before every show and they keep me strong."
"They're gone, but their love never dies."
There's a similar sentiment now that Olivia herself lost her battle with breast cancer on 8th August 2022, as her incredible music lives on.