Celebrity deaths in 2018: Remembering the stars we've lost this year
21 September 2018, 14:19 | Updated: 28 September 2018, 16:08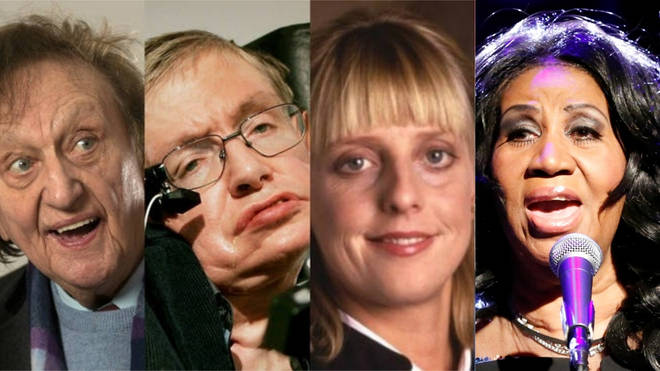 We look back at the famous faces we've sadly said goodbye to so far in 2018.
From actors to musicians to athletes, here are some of the most high-profile and inspirational stars who have passed away this year.
Cyrille Regis

Picture: Getty

The West Brom and Coventry striked died on January 14 aged 59 after having a heart attack.

He was a pioneer for black footballers in the late 1970s, was awarded an MBE in 2008.

Dolores O'Riordan

Picture: Getty

The Cranberries singer died on January 15 aged 46.

As the lead singer of the Irish rock band, she scored huge hits in the 1990s with 'Dreams', 'Linger' and 'Zombie'. She also appeared as a judge on the Irish version of The Voice.

Mark E Smith

Picture: Getty

Smith was the frontman of The Fall, and died on January 24 aged 60.

He fronted the post-punk group since 1976, and was the only constant member of the band over its 40-year history.

Dennis Edwards

Picture: Getty

Edwards was the former lead singer of The Temptations. He died on February 2, aged 74.

He was the singer behind some of the band's biggest hits, including 'Papa was a Rollin' Stone' and 'I Can't Get Next to You'.

John Mahoney

Picture: Getty

John Mahoney was best known for his role in Frasier as the title character's father Martin. He passed away on February 4, aged 77.

The Blackpool-born actor was also a prolific star on Broadway.

Billy Graham

Picture: Getty

Reverend Billy Graham died on February 21, aged 99.

The American evangelist was one of the world's most influential preachers, who counselled every President from Truman to Obama, and also had a close relationship with the Queen.

Eddy Amoo

Picture: Twitter/The Real Thing

Singer Eddy Amoo passed away on February 23, aged 74.

He was a member of 1970s soul group The Real Thing, along with his brother Chris and friends Dave Smith and Ray Lake.

Emma Chambers

Picture: BBC

Comedy actress Emma Chambers died on February 24, aged 53.

She was best known for playing the lovably dim Alice in The Vicar of Dibley, and also as Hugh Grant's sister in Notting Hill.

Sir Roger Bannister

Roger Bannister.

Picture: Getty

Bannister became the first athlete to run a sub-four minute mile. He died on March 3 aged 88.

He also won a Commonwealth and European Championship gold medal, and went on to become a leading neurologist.

Sir Ken Dodd

Picture: Getty

Legendary comedian Dodd died on March 11 aged 90.

He was one of the country's most beloved and hard-working comics for several decades, and was famous for his long stand-up shows, and his Diddy Men and tickling stick.

Sir Stephen Hawking

Picture: Getty

Influential scientist and author Stephen Hawking passed away on March 14, aged 76.

Known for being one of the smartest minds in the world, his book A Brief History Of Time was one of the best-selling books in the field of astrophysics.

Jim Bowen

Picture: Getty

Comedian and TV host Bowen died on March 14, aged 80.

He was best known for hosting popular darts show Bullseye from 1981 to 1995.

Bill Maynard

Picture: ITV

Actor Bill Maynard died on March 30 at the age of 89.

He was best known for playing Greengrass in ITV drama Heartbeat in the 1990s, along with various other roles.

Ray Wilkins

Picture: Getty

Chelsea and Manchester United legend Wilkins died on April 4, aged 61.

He was one of the most successful and popular footballers of the 1970s and 1980s.

Eric Bristow

Picture: Getty

Darts legend Bristow died aged 60 on April 5.

He was a five-time BDO world champion and one of the most popular figures of the game.

Timmy Matley

Picture: Smooth/Global

Irish singer Timmy Matley passed away on April 11, aged 36.

A member of The Overtones since 2010, he died after a two-year battle with skin cancer.

Dale Winton

Picture: PA

TV presenter Dale Winton died on April 18, aged 62.

He was best known for hosting various UK TV and gameshows, including Supermarket Sweep and Hole in the Wall.

Peter Stringfellow

Picture: Getty

Stringfellow died on June 7, aged 77.

The famous nightclub owner made a name for himself after The Beatles played at his venue in April 1963.

Anthony Bourdain

Picture: Getty

Celebrity chef Anthony Bourdain died on June 8, aged 61.

He first found fame with his book Kitchen Confidential: Adventures In The Culinary Underbelly, and for his various TV shows.

Leslie Grantham

Picture: Rex

The EastEnders star died on June 15, aged 71.

He was best known for playing Dirty Den Watts in the soap, and also hosted the game show Fort Boyard.

Joe Jackson

Picture: Getty

The patriarch of the Jackson family, and manager of the Jackson 5, died on June 27 at the age of 89.

A strict father, he launched Michael Jackson and the Jackson 5's career, and in 2002 was awarded a proclamation in the Rock and Roll Hall of Fame as the Best Entertainment Manager of All Time.

Alan Longmuir

Picture: PA

A founder member of the Bay City Rollers, Longmuir died on July 2, aged 70.

He helped create some of the group's biggest hits in the 1970s, including 'Bye Bye Baby' and 'Shang a Lang'.

Barry Chuckle

Picture: PA

Real name Barry Elliott, the veteran entertainer passed away on August 5 at the age of 73.

He was best known for being one half of the long-running children's and comedy duo The Chuckle Brothers, and their TV show Chucklevision.

Brother Paul said: "I've not just lost my brother, I've lost my theatrical partner of many, many years and my very best friend."

Aretha Franklin

Picture: Getty

The Queen of Soul passed away at the age of 76 on August 16.

Her death was met with an outpouring of tributes from the entertainment world and beyond, with many stars paying tribute at her star-studded funeral.

Burt Reynolds

Picture: PA

Hollywood legend Burt Reynolds died at the age of 82 on September 6.

The actor was best known for playing lead roles in various hits including Smokey and the Bandit, Deliverance and Boogie Nights.

Johnny Kingdom

Picture: ITV

Wildlife presenter Johnny Kingdom died on September 6 at the age of 79.

The nature filmmaker and photographer passed away after an accident on his land in Devon. He was best known for his various TV specials on ITV and Channel 4.

Peter Benson

Picture: ITV

Heartbeat actor Peter Benson died on September 6 at the age of 75.

The actor had many TV and theatre roles, but was best known for playing Bernie Scripps in the ITV series in all of its 18 series.

Fenella Fielding

Picture: PA

Actress Fenella Fielding died aged 90 on September 11.

She was most well-known for her many Carry On films, and received an OBE in 2018 for Services to Drama and Chairty,

Dudley Sutton

Picture: PA

Actor Dudley Sutton died on September 15, at the age of 85.

He was best known for playing Tinker in Lovejoy, and also appeared in Emmerdale and many other TV shows and films.

Dennis Norden

Sir David Frost - Summer Party. Picture: Getty

The It'll Be Alright on the Night presenter and comedy writer died on September 19 aged 96.

His children Nick and Maggie said: ""A wonderful dad, a loving grandfather and great great-grandfather - he gave his laughter-mongering to so many."

Chas Hodges

Picture: Getty

Singer Chas Hodges passed away aged 74 on September 22.

For many decades, he performed as one half of pub-rock duo Chas & Dave, alongside Dave Peacock.