The Story of... 'Never Gonna Give You Up' by Rick Astley
20 June 2023, 12:21 | Updated: 20 June 2023, 12:24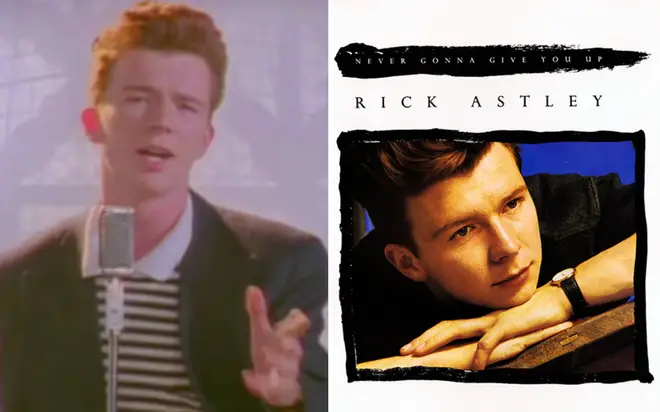 "Never gonna give you up, never gonna let you down."
That was the instantly memorable chorus to the chart smash that transformed hopeful pop star crooner Rick Astley into a household name.
But after his initial explosion of success which resulted in four consecutive hit singles and a number one debut album, his career in music was littered with ups and downs.
Until nearly a quarter of a century later however, when a viral phenomenon swept up his signature song, taking on a new life of its own entirely and completely reignited Rick Astley's singing career.
So who wrote 'Never Gonna Give You Up'? How it did perform in the charts? Where have you heard it recently? Here's all you need to know:
Who wrote 'Never Gonna Give You Up' and what inspired the hit?
Rick Astley - Never Gonna Give You Up (Official Music Video)
'Never Gonna Give You Up' was written by the British production powerhouse team of Stock, Aitken, and Waterman who had already scored huge hits including 'Respectable' by Mel & Kim and 'I Should Be So Lucky' by Kylie Minogue.
The track was inspired by a woman Pete Waterman had been seeing for three years, with Rick Astley confiding "You're never gonna give her up" after overhearing a three-hour phone conversation between the two.
Aitken and Waterman shifted around the characters in the story to make the narrator, Astley, the vulnerable character and a hit was born.
In a 2018 interview, Rick spoke about how he feels the song is entirely his despite not actually writing it, saying: "If you don't write the song and you haven't produced it, it's your song.
"But it takes a bit of time to bed in and for it to really become your song. Even some of the greats, Whitney Houston, or even going back to Frank Sinatra, they didn't write and produce the music" he added.
"So, when I sing 'Never Gonna Give You Up' now, that's my song. I don't care who wrote it, I don't care who produced it, it's my song."
How did 'Never Gonna Give You Up' make its way to Rick Astley?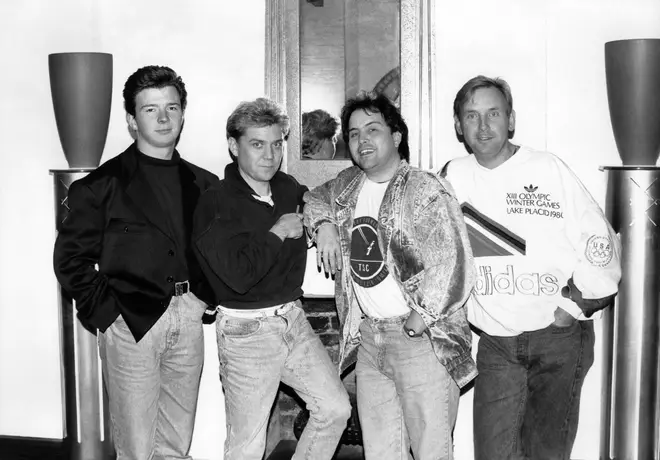 Rick Astley wanted a career in music, but hadn't found his feet as a solo singer before working with Stock, Aitken and Waterman.
He worked in their studio for two years before being considered for a song, operating tape machines, singing on other people's records, learning his trade behind the scenes and even making tea for the pop production trio.
They handed over the track to Astley, initially recording it in October 1986 but waited until the following July to release it, as delaying until they deemed it the right environment to break a new artist.
Mark McGuire, the recording engineer who worked on the song, recalled what expectations Stock, Aitken, and Waterman were of Rick as a potential star.
"Rick was the nicest artist I worked with there. He was extremely down-to-earth, but also incredibly shy, and although Pete Waterman had spotted him [singing in a soul band named FBI] and wanted him to record, he feared that Rick would be too shy in the studio to get anything done."
"So he asked him to work there for a while, get to meet everyone, hang out with them and have a laugh, so that he wouldn't be intimidated when it was time for him to record. He was, therefore, employed there as an 'assistant,' but not really to work as an assistant. It was merely a way of introducing him to the studio."
How did 'Never Gonna Give You Up' perform after its release?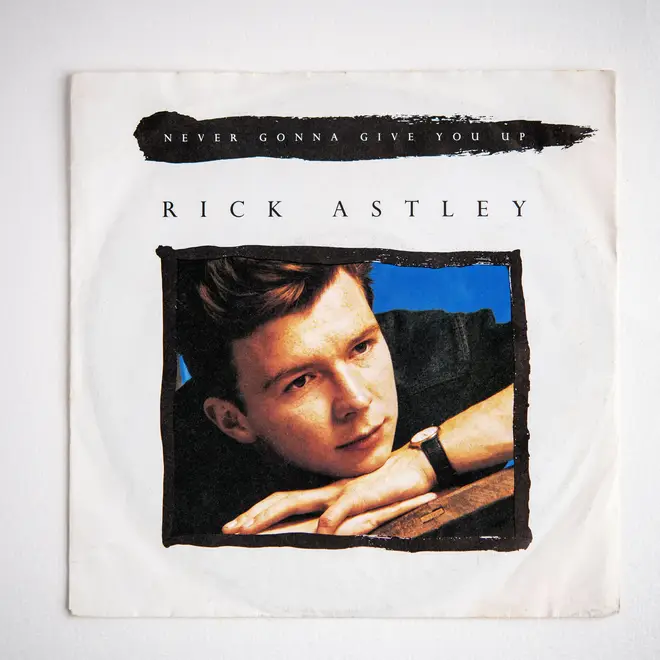 'Never Gonna Give You Up' was released on 27th July 1987 as the lead single from Rick Astley's debut album Whenever You Need Somebody.
It was a stratospheric success despite being Rick's debut single as a 21-year old singer, going on to top the charts in twenty-five different countries including the UK and the US.
Since becoming his signature song, the overwhelmingly positive response to 'Never Gonna Give You Up' paved the way for future singles 'Together Forever' (which also topped the charts) 'Whenever You Need Somebody" and a cover of 'When I Fall In Love' to also enter the top ten.
As of 2023, 'Never Gonna Give You Up' is one of the select few iconic songs to reach over a billion streams on YouTube.
What does 'Rickrolling' mean?
Foo Fighters With Rick Astley - Never Gonna Give You Up - London O2 Arena 19 September 2017
'Rickrolling' became a trend of lampooning internet surfers in 2007 by diverting links to websites to the music video for 'Never Gonna Give You Up' instead.
In March 2007, the first trailer for the Grand Theft Auto IV videogame was released - demand for the game meant that the views were so high that the website of the company behind the videogame (Rockstar) crashed.
To access the video, fans were posted in other various other websites, but one user on the 4chan online forum linked to the 'Never Gonna Give You Up' video instead claimed that it was the trailer, and thus, the trend was born.
Rick himself admitted he'd also been 'Rickrolled', revealing in The Times: "It's a bit strange to have videos of when you were a young guy out on the internet. It makes me laugh - I'm sure it annoys a lot of other people. It's a bit spooky."
Arguably the peak of 'Rickrolling' came in 2016 when rock giants Foo Fighters made the news by pulling the stunt in person on infamous protestors from the anti-gay Westboro Baptist Church, blasting the track from a truck next to the protestors outside of a concert in Kansas City, Missouri.
Because of the stunt, Rick Astley became close with the band, and even performed 'Never Gonna Give You Up' with them at a London concert in 2017.
Rick himself was the victim of a 'Rickrolling on a Reddit post in June 2020. A user claimed to have met Rick backstage when they were 12 years old, but posted a link to the song instead of a photo of the encounter. Rick later confirmed he had been swindled by his own pop hit.
Where else have I heard 'Never Gonna Give You Up'?
Ted Lasso Rick Roll us on a Funeral
If you haven't yourself been 'Rickrolled', then you would've definitely heard the song used in various films and television programmes.
It became a trending hit for children after its viral success, being used in Happy Feet Two, The Angry Birds Movie and The Lego Batman Movie.
More recently, 'Never Gonna Give You Up' was the focus of a scene in the football comedy Ted Lasso, when the mother of the character Rebecca reveals she listens to the track on a daily basis.
Later in the episode, Rebecca gives a eulogy at her father's funeral, but after losing her composure begins reciting the song's lyrics. She later 'Rickrolls' her mother in a home video scene at the end of the episode.
Rick Astley was incredibly touched by its usage, taking to social media to post that he was "completely blown away with what they did with that song."