The Story Of… 'Wake Me Up Before You Go-Go' by Wham!
13 July 2023, 13:52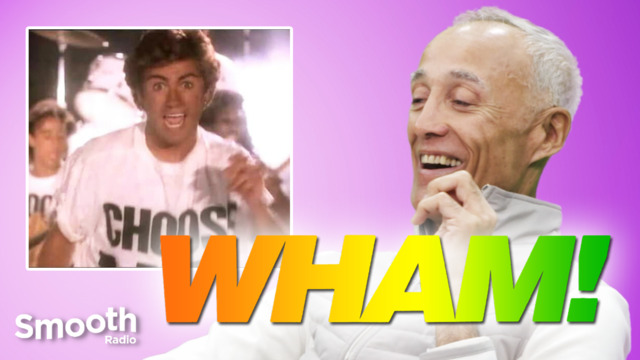 Wham's greatest music videos: Andrew Ridgeley breaks down his biggest hits | Smooth's Video Rewind
'J-J-J-Jitterbug'.
As soon as you hear the opening line to 'Wake Me Up Before You Go-Go', you better buckle in for a joyous ride for the next four minutes.
The song is pure pop perfection, and catapulted George Michael and Andrew Ridgeley right to the top of mainstream success at home and in the US.
Everything about 'Wake Me Up Before You Go-Go' became instantly iconic and synonymous with the 1980s - the optimism of the era, the colourful music video, and especially George's glorious hair.
But who wrote the song? What was the inspiration behind the Wham! track? What was the idea behind the 'CHOOSE LIFE' t-shirts? Here's all you need to know:
Who wrote 'Wake Me Up Before You Go-Go'?
Wham! - Wake Me Up Before You Go-Go (Official Video)
As with the majority of Wham! songs, George Michael penned the lyrics to and co-produced 'Wake Me Up Before You Go-Go'.
Their hands-on approach to their songwriting and producing separated George and Andrew from the era of pop groups or boybands that preceded them - they had full control of their output and image, and crafted it themselves despite being so young.
Talking about how he pieced the song together, George said: "I'd done a demo at home that just had a bass line and a vocal on it."
"Usually, I write the record in my head; I know what all the parts are going to be and I sing them to all our musicians. And it was great."
"We actually did it as a rehearsal. We used a LinnDrum because the drummer was late, and it was such a good track that we kept it."
What was the inspiration behind 'Wake Me Up Before You Go-Go'?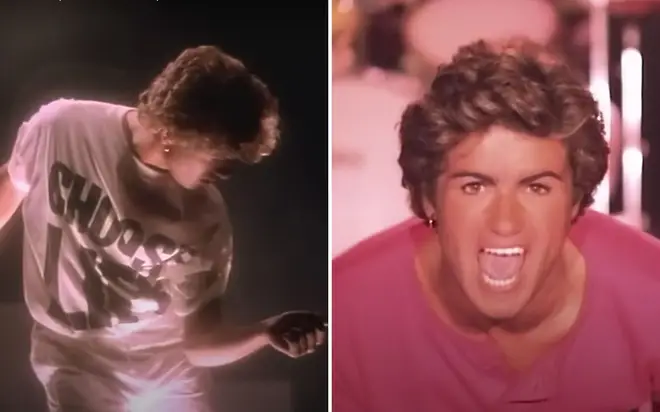 Despite Wham! having already made a success of themselves with their 1983 debut album Fantastic, Andrew Ridgeley still lived at home with his parents as it was easier to stay there when he was off tour.
One morning Andrew asked his mum to wake him up, so let a note on his bedroom door stating: "Wake me up up, before you go go."
He and George used to record all of the Wham! demos in that bedroom, and after George saw the note he got a kick out of it and almost immediately wrote their mega hit 'Wake Me Up Before You Go-Go'.
A "go-go" is a dancing club which the song's theme is centred around - it's about a guy who's head over heels for a girl who leaves to go dancing before he's woken up. The song is a plea for her not to go dancing without him again.
George wrote the song with a few throwback themes which lent a nostalgic quality to the lyrics, including "jitterbug" which was a popular dance during the 1930s, and writing "you make the sun shine brighter than Doris Day" who was an iconic actress throughout the 1940-50s.
He later explained what he wanted to achieve with the song, saying: "I just wanted to make a really energetic pop record that had all the best elements of Fifties and Sixties records, combined with our attitude and our approach, which is obviously more uptempo and a lot younger than some of those records."
"It's one of those tracks that gets rid of a lot of your own personal influences; it reminds me of so many different records that I couldn't actually nail them down."
How did the 'CHOOSE LIFE' t-shirt trend start?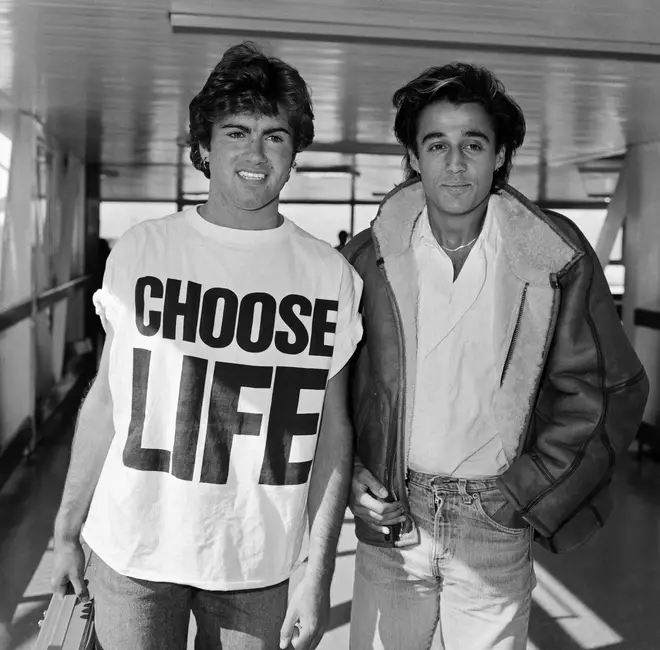 The t-shirts George and Andrew wore in the music video to 'Wake Me Up Before You Go-Go' became one of the most iconic trends of the decade.
Oversized t-shirts with the block capital logos came into circulation during 1983 but were popularised the following year with Frankie Goes To Hollywood's t-shirt 'Frankie Says Relax' and the t-shirt's Wham! wore stating 'CHOOSE LIFE'.
The 'CHOOSE LIFE' slogan was conceived by fashion designer and political campaigner Katharine Hamnett who designed the anti-drug abuse message.
After Wham! turned the t-shirt into an iconic image, other artists were also seen adopting the message with Roger Taylor wearing the 'CHOOSE LIFE' t-shirt in the music video for Queen's 'Hammer To Fall'.
Was 'Wake Me Up Before You Go-Go' a success after it was first released?
Wham! - Wake Me Up Before You Go Go [Top Of The Pops 1984]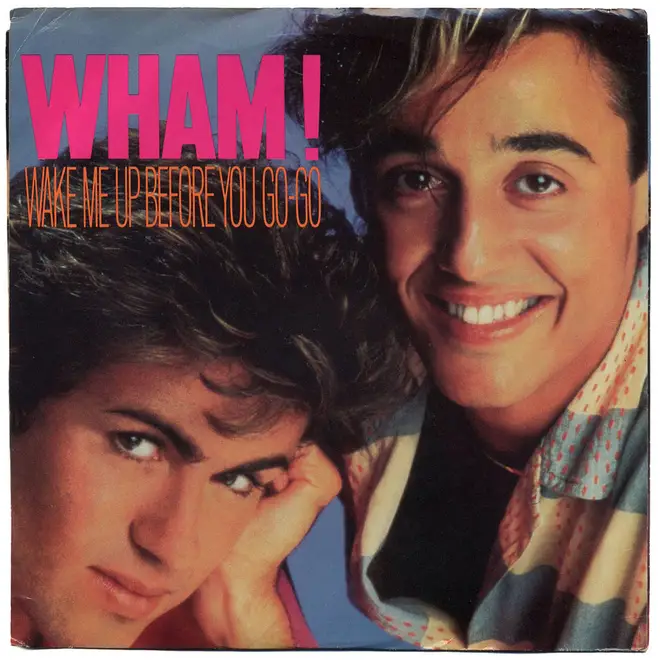 After its release in 1984, 'Wake Me Up Before You Go-Go' was an overwhelming success and transformed Wham! into a global pop phenomenon.
The bubblegum-pop song reached the top of the charts in both the UK and the US, where it stayed at the summit of the US Billboard Charts for three weeks.
Critics said: "the Motown groove and patent vocals of 'Wake Me Up Before You Go-Go' are perfect CHR [Contemporary Hit Radio] material which is executed expertly by this British duo," which saw the track go platinum by selling over two million copies.
It was the first single to be released from George and Andrew's 1984 album Make It Big, and helped launch the success of following singles 'Careless Whisper' (which was credited solely to George despite appearing on the album), 'Freedom', and 'Everything She Wants'.
'Wake Me Up Before You Go-Go' is frequently cited as one of the most iconic songs of the 1980s.
Has anyone else covered the song?
Glee - Wake Me Up Before You Go-Go (Full Performance + Scene) 4x17
'Wake Me Up Before You Go-Go' is so attached to Wham! and their image during the 1980s, that no notable artists have dared take it on themselves.
It's understandable why - the music video received plenty of circulation throughout the MTV era, and it became part of the pop culture zeitgeist, so it'd be difficult for an artist to put another spin on it.
The musical comedy-drama series Glee did pay tribute to the song and it's vibrant, positive vibe, with the cast covering the Wham! classic in episode seventeen of the fourth series, called 'Guilty Pleasures'.