The 20 greatest music videos from the 1980s
13 March 2020, 17:26 | Updated: 14 October 2020, 22:28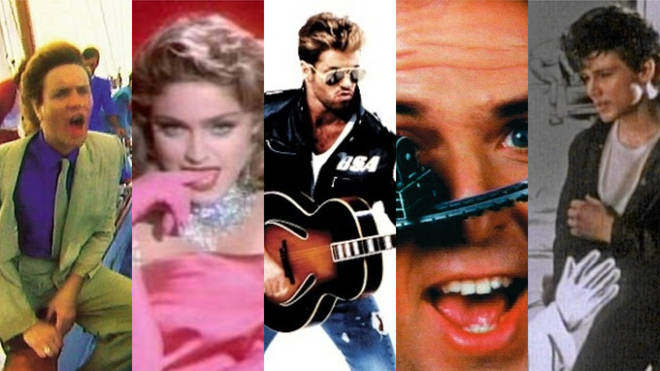 The music video as an artform really blew up in the 1980s, thanks to the MTV generation.
While artists from Bob Dylan to Queen to The Beatles had flirted with music videos in the past, it wasn't until the 1980s that it was the musical tool to sell records.
It could be argued that the '80s was the best decade when it came to flamboyant and fantastic music videos, and here are our absolute favourites:
The Police - Every Breath You Take

Dark and moody, this black-and-moody video perfectly summed up this song's tale of dangerous 'love', complete with Sting looking rather menacing indeed.

Genesis - Land of Confusion

Genesis as Spitting Image puppets? What more do you want? Plus, it acts as a mini-history lesson of what was going on at the height of the Cold War in the Thatcher/Reagan era.

Ray Parker Jr - Ghostbusters

This was the era where movie theme songs were taken seriously. Ghostbusters director Ivan Reitman also helmed the song's music video, getting the main cast members including Bill Murray to dance with Ray Parker Jr at the end.

Plus, you had a who's who of '80s stars shouting 'Ghostbusters!', from Danny DeVito to John Candy to Peter Falk. Incredible.

Tina Turner - What's Love Got To Do With It

So simple, but so effective. This video saw a passionate Tina Turner walking down the street in a leather miniskirt, shot in New York City during the spring of 1984.

It also featured Pamela Springsteen, Bruce Springsteen's sister, as a street dancer.

David Bowie and Mick Jagger - Dancing in the Street

This charity single for Live Aid shouldn't work whatsoever, but when you've got Bowie and Jagger having a right laugh in the music video, you can't really go wrong. It probably cost about a tenner to make, but we love it.

Eurythmics - Sweet Dreams (Are Made of This)

So many iconic shots in this video, from retro computers to Annie Lennox's androgynous image and orange hair, to... a load of cows in a field. Ah, the '80s.

Olivia Newton-John - Physical

Not one to watch with your Gran. Oh, my.

Dire Straits - Money for Nothing

OK, the computer graphics in this video are rather dated, but this was utter state of the art at the time.

It apparently took a lot to convince Mark Knopfler that the video was a good idea, and it helped Dire Straits become one of the best-selling bands of the '80s.

Cyndi Lauper - Girls Just Want to Have Fun

Dan Aykroyd co-starred in this quirky and colourful wrestling-themed music video.

Cyndy Lauper wanted it to be empowering for women, saying: "The year 1983 makes a watershed in the history of female-address video. It is the year that certain issues and representations began to gain saliency and the textual strategies of female address began to coalesce."

Duran Duran - Rio

The Duran Duran boys were the kings of lavish '80s pop music videos, from 'Hungry Like the Wolf' to 'Girls on Film', but we reckon this piece of yacht rock awesomeness is the most iconic.

Michael Jackson - Beat It

This mini movie about gangs on the street saw Michael Jackson become an even bigger international superstar, having noticed how to harness the true power of MTV.

Including some amazing choreographed dance scenes, it cost Michael over $150,000 after CBS refused to finance it. It paid off!

Madonna - Material Girl

'Like a Prayer' may be the more famous Madonna video, but when it comes to pure '80s glam, we have to go with this video, featuring the Queen of Pop's homage to Marilyn Monroe.

Paul Simon - You Can Call Me Al

Sometimes, less is more. Who'd have thought Paul Simon and Chevy Chase sitting next to each other with Chevy miming the lyrics would work so perfectly?

Prince - When Doves Cry

Directed by Prince himself, this video featured scenes from his Purple Rain movie, and it just shouts 'seductive brilliance' from start to finish.

Run DMC vs Aerosmith - Walk This Way

Symbolising the moment hip-hop became a serious force in the mainstream charts, rap met rock in this explosive mash-up video ahead of its time.

George Michael - Faith

The leather jacket. The jukebox. The tight jeans. George in his pomp. Perfection.

Robert Palmer - Addicted to Love

We doubt such a music video would be made in the #MeToo era, but there's no denying how iconic the sight of Robert Palmer performing in front of guitar-playing models remains to this day.

Peter Gabriel - Sledgehammer

Peter Gabriel had to sit on a sheet of glass for 16 hours to make this music video. It was worth the pain, as its claymation/stop-motion effects were groundbreaking, and are still so much fun to watch today.

Michael Jackson - Thriller

Michael Jackson changed everything with this music video. More like a mini-movie than a music video, this was a true event that hasn't really been beaten to this day.

Directed by John Landis, the video was full of dancing zombies and genuinely frightening jump scares, and even became the best-selling videotape of all time.

A-Ha - Take on Me

Directed by Steve Barron, this music video used the method of rotoscoping to create the realistic nature of the animation sequences.

This video would look great in 2020, let alone in 1984, and has been streamed over a billion times on YouTube.