Garth Brooks' 15 greatest songs ever, ranked
8 February 2023, 15:11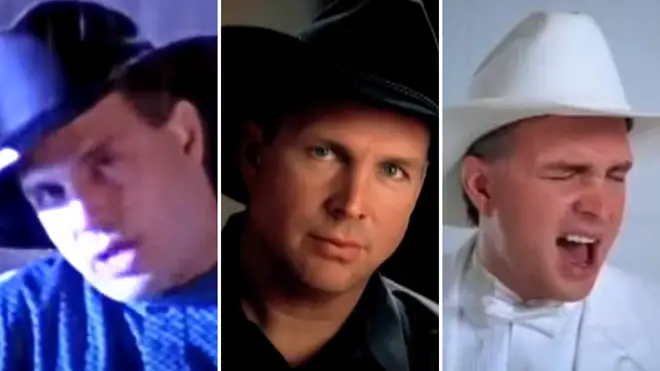 Garth Brooks is one of the world's most successful music artists, let alone in country music.
He is second only to The Beatles in terms of albums sold in the United States, and has shifted over 170 million records worldwide.
The most successful country artist ever, his peak came at the end of the 1980s and into the 1990s, with many country number one hits that have stood the test of time.
Here are Garth Brooks' very best songs for a perfect introduction playlist:
Shameless

Garth Brooks Shameless live 1991

This was originally recorded and written by Billy Joel in 1989, and two years later it was covered by Garth Brooks, who scored a hit with his version.

The song features harmony vocals by Trisha Yearwood, Garth's future wife.

Garth later said: "I fell in love with the album and fell back in love with Billy Joel's music. One of his songs really captured me, a song called 'Shameless'. I kept watching it, and when he did not release it as a single, we contacted his people in the hopes that we could cut it.

"His people sent us a letter acknowledging that he knew who I was and was very honoured that I was cutting it. That was quite a compliment for me then, as it is now. My hope is that Billy, as writer, hears this cut and says, 'Yeah, man, the guy's got balls'."

Callin' Baton Rouge

Callin' Baton Rouge - Garth Brooks

This uptempo bluegrass track was originally recorded by The Oak Ridge Boys on their 1978 album Room Service, and was later recorded by New Grass Revival on their 1989 album Friday Night in America, and more famously by Garth Brooks on his 1993 album In Pieces.

Garth's version peaked at number two on the US country singles charts in 1994.

What She's Doing Now

Garth Brooks - What She's Doing Now 1991

This ballad was co-written by Garth, and is about a man who wonders what his former lover is currently doing, and where she is now ("last I heard she had moved to Boulder").

"Crystal Gayle cut this song back in 1989," he said. "It came back to us for the Ropin' The Wind album. It is a song that has crossed all boundaries and borders around the world. This has made me extremely happy because the greatest gift a writer can ask for is to relate to someone. I can't help but think that this song might relate to a lot of people."

Standing Outside the Fire

Standing outside the fire - Garth Brooks - live 1994

This inspirational track was a rare top 40 hit for Garth in the UK in 1994.

"I was in Los Angeles in 1992, hanging out with a good friend, Jenny Yates," he explained. "In a conversation I was describing something that I thought was really close, but for me it just stood outside the fire.

"There was that brilliant moment of silence when we just looked at each other and smiled. Within an hour and half, this song was written. This is another song of inspiration, and Jenny is that way when it comes to inspiration.

"I don't know if I have ever met a bigger dreamer than Jenny - to the one who saw the vision and made it happen - may hats off to Jenny Yates."

Unanswered Prayers

Unanswered Prayers - Garth Brooks

This gorgeous ballad is one of Garth Brooks' most popular songs, and is one of the main tracks that helped the No Fences album stay on the top of the charts for many months.

He later explained: "Man, 'Unanswered Prayers' was a big part of my heart that went out on that record. A true life thing that happened to Sandy [Mahl, Garth's first wife] and myself.

"In October of '89, I saw my old high school flame. And I can say this now, at the time I couldn't. For the first two years of my married life, I really thought the girl that was for me was still that girl that was in high school.

"And now, man, just the realization that what you have is the best for you, and the best you could ever do in your lifetime. It sure makes you sleep well at night."

Two Pina Coladas

Two Pina Coladas - Garth Brooks - Audio

Taken from his 1997 album Sevens, this fun track follows a man down on his luck turning on the news to hear a person saying that "heartaches are healed by the sea."

Hearing this, he heads down to the beach, looking for a night on the town. After two piña coladas, he feels much better, and never wants to leave.

Ain't Goin' Down ('Til the Sun Comes Up)

Ain't going down ('Til the sun comes up) - Garth Brooks - live 1993

This honky tonk favourite from 1993 was the lead single from his In Pieces album.

In the song, a young woman goes out for a Friday evening date. Her mother tells her to be back in bed before dawn. When the teenagers see a show and get some food, they go out for some late-night dancing.

Eventually, they spend the whole night there and head back to her house at 4am. The girl doesn't get home in time, and is grounded and punished with chores, but she still sneaks out again at 6pm the next evening. Ah, young love.

The Red Strokes

Garth Brooks - The Red Strokes (Official Music Video)

00:03:50

Despite not being a massive hit in the US, this was Garth's biggest hit in the UK, reaching number 13 in the charts.

The love ballad sees Garth describing a romantic evening with his partner. He compares it to a work of art, using colour metaphors to describe their passion.

Its music video is a sight to behold, as Garth destroys a grand piano with all the paint he could find. It won the 1994 Music Video of the Year Award at the ACMs.

The River

Garth Brooks : The River (1920 x 1080p)

Released in late 1992, this became Garth's ninth number one hit on the Billboard country charts.

The ballad sees Garth use a river as an analogy for the pursuit of someone's dreams. He later said: "Of all songs, most of the letters I receive concern 'The River'. It is a song of inspiration... a song that I will be proud of a hundred years from now."

Much Too Young (To Feel This Damn Old)

Garth Brooks : Much Too Young To Feel This Damn Old (1920 x 1080p)

This is Garth Brooks' debut single from his first, self-titled, album. And what a way to start your career!

It is about a rodeo cowboy who has been competing for years and sadly doesn't have the strength to keep up with it anymore, as well as the stresses of being away from home, while watching a younger crowd taking over the business.

The Thunder Rolls

The Thunder Rolls - Garth Brooks

This track was the fourth and final single from Garth's album No Fences. It was his sixth number one on the country chart, and co-writer Pat Alger played acoustic guitar.

The song was first recorded by Tanya Tucker, but it was axed until 1995 when it appeared on her self-titled box set.

The original idea was Garth's, as he wanted to sing about the idea of "thunder rolling inside of a marriage and outside at the same time".

To Make You Feel My Love

Garth Brooks - To Make You Feel My Love (LIVE at Academy of Country Music 1999)

10 years before Adele made this Bob Dylan ballad a worldwide hit, Garth Brooks spotted its potential with his own version in 1998.

The song was a country hit, and was just perfect for a Garth Brooks ballad.

The Dance

Garth Brooks : The Dance (1920 x 1080p)

Released in 1990 as the final single from his debut album, this beautiful ballad was one of his first big successes as an artist.

Garth has explained that the song has a double meaning - both as a love song about the end of a relationship, and a story of someone dying because of something he believes in, after a moment of glory.

Its music video features glimpses of famous people who died "for a dream", including Martin Luther King Jr, John F Kennedy, John Wayne and country singer Keith Whitley.

Friends in Low Places

Garth Brooks Friends in Low Places Live 1990

This was a massive success for Garth in 1990, topping the charts and winning several awards.

According to co-writer Earl Bud Lee, the idea of the song came about when he and some songwriting friends had lunch at Tavern on the Row, a popular Nashville bar.

When the check came, Lee realized he had forgotten his money. When asked how he was going to pay for the meal, he replied, "Don't worry. I have friends in low places. I know the cook."

If Tomorrow Never Comes

Garth Brooks - If Tomorrow Never Comes (live 1989)

Released in 1989, this ballad was Garth's first country number one hit, and has been labelled as his signature song.

His first love song, it tells the story of a person who wants to make sure their partner is aware of how much they love them, in case the worst should happen.

In 2002, Ronan Keating released his own version of the song, which was a number one hit in the UK.