Hugh Jackman facts: Actor's age, wife, children, movies and career explained
15 September 2023, 19:51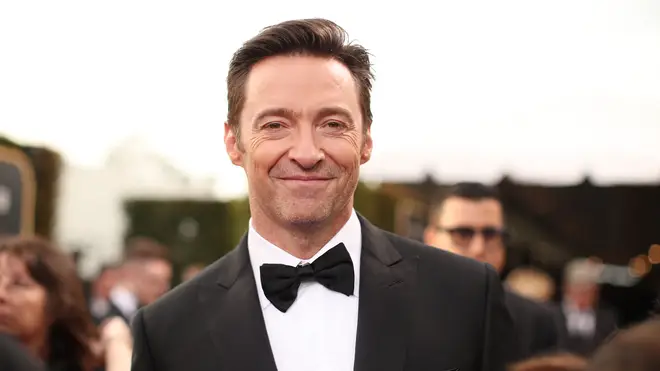 Hugh Jackman is one of the world's most popular actors.
In fact, he's one of the few truly great all-round entertainers, with an enviable portfolio of work encompassing TV, film, theatre and music.
The Australian actor is best known for his breakthrough role as Logan/Wolverine in the X-Men film series from 2000 to 2017, which earned him the Guinness World Record for "longest career as a live-action Marvel character". He will be reprising the role in the upcoming Deadpool III movie.
He has won a Golden Globe Award, a Primetime Emmy Award, a Grammy Award and two Tony Awards, as well as nominations for an Academy Award and a BAFTA. He was appointed a Companion of the Order of Australia in 2019.
Hugh Jackman's other leading films include Kate & Leopold (2001), Swordfish (2001), Van Helsing, The Prestige (2006), Australia (2008), Les Misérables (2012), Prisoners (2013), Eddie the Eagle (2016), The Greatest Showman (2017), and The Son (2022).
He is also known for his early theatre roles in Oklahoma! in 1998 and Carousel in 2002. On Broadway, he won the 2004 Tony Award for Best Actor in a Musical for his role in The Boy from Oz. From 2021 to 2022 he starred in the Broadway revival of the musical The Music Man, earning another Tony Award nomination.
Hugh has also hosted the Tony Awards four times, winning an Emmy Award for hosting the 2005 ceremony. He also hosted the 81st Academy Awards in 2009.
How old is Hugh Jackman and where was he born?

Hugh Jackman and mother Grace. Picture: Getty

Hugh Jackman was born on October 12, 1968. He celebrated his 54th birthday in 2022.

He was born in Sydney, New South Wales, to parents Grace McNeil (née Greenwood) and Christopher John Jackman, a Cambridge-educated accountant.

His parents were English, and had moved to Australia in 1967 as part of the "Ten Pound Poms" immigration scheme.

Because of this, in addition to his Australian citizenship, Hugh holds British citizenship thanks to his UK-born parents.

Hugh has four older siblings, and was the second of his parents' children to be born in Australia. He also has a younger half-sister, from his mother's remarriage.

His parents divorced when he was eight, and Hugh stayed in Australia with his father and two brothers, while his mother moved back to England with his two sisters.

Who is Hugh Jackman's wife?

Hugh and wife Deborra-Lee in 1999. Picture: Getty

In 1995, Hugh Jackman got his first major acting job in Australian drama series Correlli. It was here that he met his future wife Deborra-Lee Furness.

He later said that "Meeting my wife was the greatest thing to come out of it."

Hugh married Deborra-Lee in April 1996, at St John's in Toorak, Victoria, an area of Melbourne.

The actor personally designed an engagement ring for his partner, and their wedding rings include the Sanskrit inscription "Om paramar mainamar", translated as "we dedicate our union to a greater source".

Hugh and Deborra-Lee. Picture: Getty

Sadly, on September 15, 2023, Hugh and Deborra-Lee announced they were to divorce after 27 years of marriage.

"We have been blessed to share almost 3 decades together as husband and wife in a wonderful, loving marriage. Our journey now is shifting and we have decided to separate to pursue our individual growth," the statement read.

"Our family has been and always will be our highest priority. We undertake this next chapter with gratitude, love, and kindness. We greatly appreciate your understanding in respecting our privacy as our family navigates this transition in all of our lives."

How many children does Hugh Jackman have?

Hugh Jackman in Deborra-Lee. Picture: Getty

Deborra-Lee had two miscarriages during their marriage.

The couple later adopted two children: Oscar and Ava.

"I don't think of them as adopted – they're our children," the actor told The Herald Sun in 2011. "We feel things happened the way they are meant to. Obviously, biologically wasn't the way we were meant to have children."

Oscar and Ava are both of mixed race. "We specifically requested a bi-racial child because there was more of a need. People will wait 18 months to adopt a little blonde girl; meanwhile, bi-racial children are turned away," Hugh told People in 2007.

Hugh Jackman interview: Marriage, missing Olivia Newton-John and more

Born in 2000, Hugh's oldest child Oscar is 22 years old as of 2022. He is of African-American, Caucasian, Hawaiian, and Cherokee descent.

"When my son was younger, he found out he was part Bosnian, so we went and got this Croatian/Bosnian cookbook and he was very proud to carry that around when he was 7 years old," his mother Deborra told People in 2020.

Younger sibling Ava is of half-Mexican and half-German descent. "My daughter does dance and I go watch her," Hugh told Closer Weekly.

"But after The Greatest Showman I had 60 young girls in their tutus coming up to me and my daughter says, 'You are not coming to dance again!'"