Guy Chambers facts: Songwriters' age, wife, family, songs and Robbie Williams partnership explained
30 October 2023, 16:54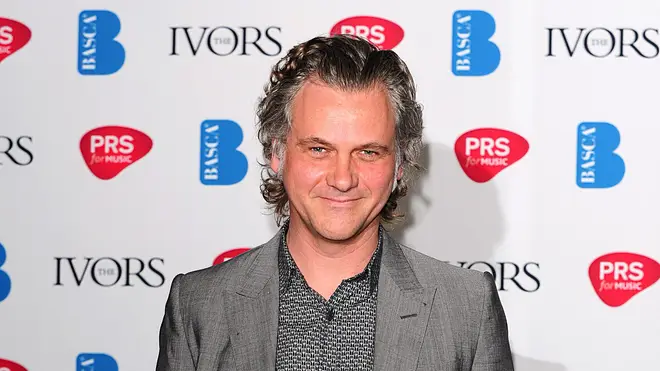 Guy Chambers is one of the most successful and prolific songwriters and producers in the UK, with more than 50 gold or platinum albums to his credit.
He is best known for his long-standing collaboration with pop superstar Robbie Williams, with whom he co-wrote some of the biggest hits of the late 1990s and early 2000s, such as 'Angels', 'Rock DJ', 'Feel' and 'Let Me Entertain You'.
He has also worked with a variety of other artists, ranging from Mark Ronson and The Wanted to Kate Melua and Beverley Knight.
How old is Guy Chambers?

Guy Chambers is 60 years old as of 2023.

He is from Hammersmith, London. He was born on January 12, 1963.

How did Guy Chambers get his start in music?

Guy Chambers with Robbie Williams (middle). Picture: Getty

Guy Chambers got his start in music from a young age. He was a member of the Unicorn Theatre in London, where he performed in musicals and plays. He also went to see shows every week with his mother, who was a musicals fan.

He studied composition and piano at the Guildhall School of Music in London, where he developed his skills as a musician and songwriter. He joined the band World Party in 1986 and co-wrote some of their songs.

He also worked as a producer and arranger for other artists, such as The Mission and Cathy Dennis. He formed his own band, The Lemon Trees, in 1992, but they disbanded in 1995 after releasing one album.

He met Robbie Williams in 1997 and began a successful collaboration that lasted for several years and produced many hit songs.

What songs has he written and which artists has he worked with?

Guy Chambers has written and co-written many songs for different artists, especially for Robbie Williams. Some of the songs he has written or co-written are:

'Angels', 'Let Me Entertain You', 'Supreme', 'Kids', 'No Regrets', 'Millennium', 'Rock DJ', 'Strong', 'Eternity', 'Feel' and many others by Robbie Williams.
'Real to Me' by Brian McFadden
'Come as You Are' by Beverley Knight

He has also produced or contributed many songs and albums, including ones by:

Robbie Williams
Caro Emerald
Miles Kane
Jamie Cullum

Who is Guy Chambers' wife and how many kids does he have?

Guy Chambers lives with his wife Emma and their four children in Camden and in Sussex where he enjoys "good wine, good food, cinema and pretty much everything French".

Why did Robbie Williams and Guy Chambers fall out? When did they become friends again?

Robbie Williams and Guy Chambers fell out in 2002 over a dispute involving a massive deal between Robbie and EMI, as well as a general break down of their songwriting partnership during the Escapology album.

The pair stopped working together and had a bitter feud that lasted for several years.

They became friends again in 2005, when Robbie announced at a press conference that they had settled their differences and would work together again in the future.

They reunited in 2012 and co-wrote Robbie's ninth studio album, Take the Crown, which included the hit single 'Candy'. They also collaborated on Robbie's 2013 album, Swings Both Ways, and his 2016 album, The Heavy Entertainment Show.

They have since maintained a close and productive partnership, as well as a personal friendship.